Fitbit Versa 2 Smartwatch Review
A simple, capable smartwatch at a fitness tracker price
When you shop through retailer links on our site, we may earn affiliate commissions. 100% of the fees we collect are used to support our nonprofit mission. Learn more. The Fitbit Versa 2 smartwatch earns a Best Buy recommendation in Consumer Reports' tests, and that's because it performs well across the board and offers an array of smartwatch features at a price that's more typical of a fitness tracker.
The Versa 2 can be bought for just a little over $100, which is less than half the price of another budget-minded smartwatch, the Apple Watch SE. The Versa 2 is also significantly cheaper than Fitbit's newer Versa 3, while not giving up much in the way of important functionality to its pricier sibling.
That said, the Versa 2, which was introduced in late 2019, is an older model so it does require a few sacrifices, compared to its newer and costlier smartwatch competitors. For example, it lacks stand-alone GPS, so you'll need to bring your phone along to track your distance and location while you're on a run or a bicycle ride. 
Sleep tracking: Like the company's fitness trackers, Fitbit's Versa 2 features a robust array of sleep tracking features, delivering everything from sleep duration to a breakdown of your nightly REM periods. Equally important, the battery life is sufficient to let you can wear the Versa 2 all day and all night for at least a couple of nights in a row.
Alexa voice assistant: The Versa 2 is kind of an Echo smart speaker . . . without a speaker. It has a mic, but no speaker, so when you summon the digital assistant, the response isn't spoken but instead pops up on the screen in text. Voice control is useful for setting timers, reminders, and getting basic info like a weather report, although many users will find the Versa's onscreen menus just as easy to use. 
Heart rhythm monitoring: The Versa 2 can detect abnormal heart rhythms that can potentially be a sign of cardiac issues like atrial fibrillation, aka AFib. However, doctors are divided about whether these kinds of features on a smartwatch are accurate enough to provide a real benefit.
Fitbit Pay: This Apple Pay-like feature allows you to link a credit card to your account and pay using the device, which is especially handy for buying a post-ride energy drink or cappuccino.
Spotify compatibility: The Versa 2 can pair via Bluetooth with a set of wireless earbuds, and you can link it to your Spotify account. That allows you to download your favorite Mountain Goats playlist to power a workout without your phone in tow. 
Fitbit Premium: This is a bit of a double-edged sword: FItbit's smartphone app is super-detailed and easy to use. However, to get access to its most advanced features—like readiness scores and mindfulness routines, as well as more detailed breakdowns of your sleep scores and health metrics—you need to buy a subscription to Fitbit Premium for $9.99 a month or $79.99 a year after a 90-day free trial. You don't have to be on the short list for mathematics' Fields Medal to realize that in less than two years you've spent more for the recurring app subscription than you did for the watch itself.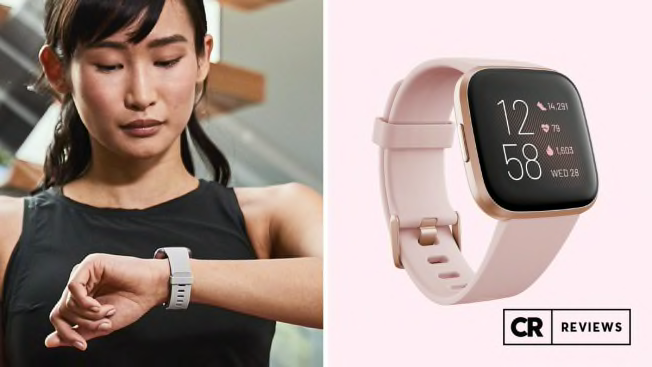 How Well Does the Fitbit Versa 2 Work?
Our trained testers put the Versa 2 through its paces in our dedicated laboratory, and we did some additional real-world evaluation on a separate sample also purchased at retail.
When unboxing the Versa 2, you'll notice that the first entry in the skimpy printed "Product Introduction" contains this caution: "Some users may experience skin irritation with this product" and follows up with four basic care tips: 1) keep it clean; 2) keep it dry; 3) don't wear it too tight; 4) give your wrist a rest by removing the band for an hour after extended wear.
The reason behind this warning? In 2014, an earlier Fitbit model was subject to a recall because some consumers were suffering from rashes and skin irritations. (There was also a more recent recall on the now-discontinued Fitbit Ionic smartwatch because the battery overheated and caused burns.) We didn't experience any of these issues with the Versa 2 during our relatively brief evaluation period.
Setup of the Versa 2 is all done through Fitbit's smartphone app, which works well for both Android phones and iPhones. The process is reasonably straightforward, though the "add a device" function is hidden inside a menu. 
Our lab testers give the Versa 2 top marks across the board, notably in step count accuracy and heart rate monitor accuracy. They also find it ease to use, to pair with headphones, and to read in bright sunlight. 
Fitbit, which is owned by Google, made its name as a manufacturer of fitness trackers, so it's no surprise that, in use, the Versa 2 feels a lot like a fitness tracker on steroids. Notably, its 1.3-inch AMOLED color touchscreen is vibrant and easy to read even in sunlight. Its larger size makes the menus easy to read and navigate. This represents a pretty significant advantage over a Fitbit fitness tracker, where workout info is sometimes truncated to fit the minuscule screen size. 
The Versa 2 lacks the stress monitoring sensors that are found on the more expensive Fitbit Luxe and the newer (and more expensive) Charge 5 fitness tracker. It's a peripheral function, so it's probably not a huge loss in an inexpensive smartwatch.
 As you might expect from a smartwatch, the Versa 2 allows for notifications when you get an email, a text, or a phone call. But fielding phone calls is a bit of a challenge. Even though the Versa 2 has a mic for its Alexa functionality, you can't use it while answering a phone call because the watch lacks a speaker. You can "answer" the call by touching the Versa 2's display, but you have to fish out your phone to actually talk, which is more than a bit of a pain. 
Battery life can be a make-or-break function for many smartwatches, especially if you plan to use it for sleep tracking (which gives you little time for charging). Fitbit promises more than six days of battery life for the Versa 2. I found that estimate to be a little optimistic—I got around three days of battery life before it needed to be charged, having worn the device all day, and using it for one night of sleep tracking. The Versa's dedicated charger leaves a lot to be desired—it feels a bit fragile and, worse, unless you're careful it's quite easy to attach the watch upside down so that it doesn't actually charge. 
Who Is the Fitbit Versa 2 For? 
The value-priced Versa 2 works for anyone who's intrigued by the idea of a smart watch, but isn't ready to make a big investment. It's also for a fan of Fitbit's fitness trackers who wants a bigger, better display and a bit more everyday functionality—a device that you can wear all day instead of tossing it in your gym bag with your sweaty t-shirt at the end of a workout.
How Consumer Reports Tests Smartwatches
Our trained testers test dozens of smartwatches in our dedicated labs in Yonkers, NY. They begin with the basics, evaluating "ease of interaction" (how fast a watch's display responds to our inputs) and "ease of pairing," as well as generating an overall "ease of use" score. Our techs then work up a sweat when they test step counts and heart rate monitoring, in which the data from the devices are compared to medical grade monitors.
We also test watches for ruggedness. We evaluate any claims that models make for water-resistant, using a pressure tank that can mimic submersion in deep water. For instance, based on the claims made by their manufacturers, some watches are tested at the equivalent of 164 feet for 10 minutes. Our testers also employ specially designed instruments to test the display for scratch resistance.