When you shop through retailer links on our site, we may earn affiliate commissions. 100% of the fees we collect are used to support our nonprofit mission.
Learn more.
At CES 2016, Fitbit CEO James Park announced the company's newest fitness tracker, one that could soon provide stiff competition for the comparably pricey Apple Watch.
At $199, the Fitbit Blaze is a 24/7 fitness tracker with smartwatch functionality. It tracks your runs and steps while letting you know how late you are for your next meeting. The Fitbit Blaze also offers music control functionality so you can jam while working out. The real kicker? The company claims it can perform for up to five days on a single charge, theoretically trouncing the Apple Watch's two-day average.
Unlike the Apple Watch, however, the Blaze doesn't support any third-party apps, making it less smartwatch, more smart fitness tracker.

As far as style points, it looks futuristic, much like the Apple Watch. The question is: Will people be eager to have something like that on their wrist all day long? But, like Apple once again, Fitbit will let users have lots of say in the look.
"One of the first things we learned in this industry is that fitness is personal—and if something isn't your style, you won't wear it," said Park. The Blaze's line of interchangeable bands will come in various colors and materials—black, plum, and blue for rubber bands; black, camel, and mist for leather bands; and stainless steel. It's up to you whether you want something that screams "deadlift!" or not.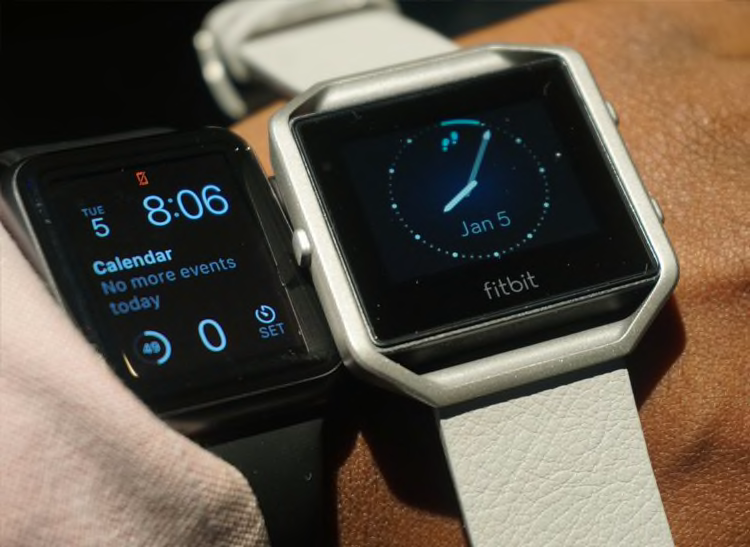 The traditional Fitbit app features are there, letting you challenge your friends through workouts and compare your progress. But Fitstar, a personal trainer app acquired by Fitbit in early 2015, has now been integrated into the Blaze. That means you can view Fitstar's workouts on your wrist and use them to guide you through simple exercises.
And, if you forget to initiate tracking at your yoga class, the Blaze can automatically recognize the activity and begin logging data. The Blaze features a heart-rate monitor like the athlete-focused Fitbit Surge, but the lack of dedicated GPS is a step back. If you want to track your run's location data, you'll need a smartphone.
The Fitbit will be available for purchase globally in March, but you can pre-order it from Fitbit's site today, and from retailers such as Amazon, Best Buy, Brookstone, Dick's Sporting Goods, Macy's, Sports Authority, Target, and Verizon starting January 6.