When you shop through retailer links on our site, we may earn affiliate commissions. 100% of the fees we collect are used to support our nonprofit mission.
Learn more.
With the launch of a smart thermometer, as well as an inexpensive fitness tracker, Withings is showing that this CES is all about parents, or at least the ones who want to track their kids' habits.
The company has had children's health on the brain for a while; it already has a smart scale for infants, as well as a smart baby monitor.
The new Withings Go is an activity tracker priced and seemingly designed for kids. At $69, it's priced so that losing it isn't a disaster, and its colorful accessories should go well with whatever fictional character your child has on his or her shirt.
It's also tiny, and fits in the palm of your hand. It's a disc that you can pop into various colored clip-on cases or watchbands. The cases comes in red, green, yellow, black, and blue, and can be worn on the wrist, belt, keychain, or pocket.
Thanks to the e-ink display (think Amazon Kindle), it's easy for your kids to see their progress when they're outside. That always-on e-ink display is really "always-on." The device can last for eight months on a single charge, according to Withings. Just replace the CR2032 button cell battery (which you can usually find at any convenience store) and you'll be good to go again; no more recharging fitness trackers after finishing homework.
In addition to tracking steps, it'll automatically detect when the user is swimming, and record that data as well. It syncs with the Withings HealthMate app, as well as Apple Health, among other fitness apps, just like Withings' other fitness tracking devices.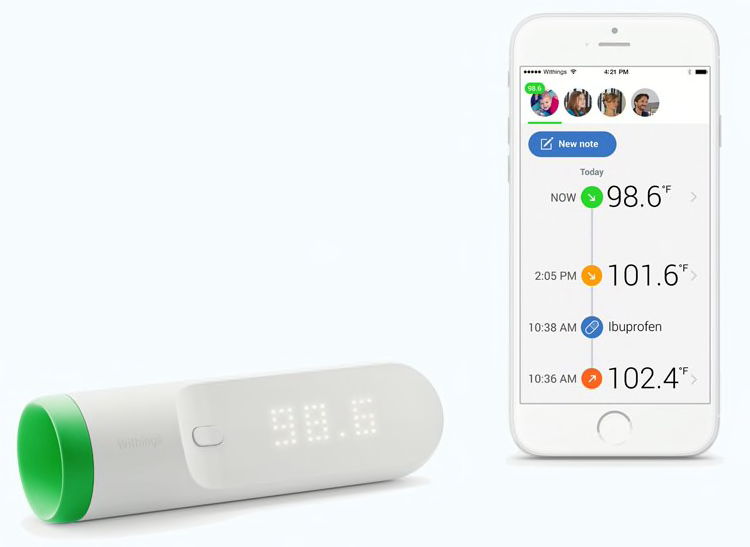 The addition of the Withings Go adds yet another option to Withings expanding lineup of smart fitness devices. In 2015, Withings created the Withings Activité Pop, a cheaper version of its $400 analog fitness tracker, Withings Activité.
The Thermo is Withings' infrared thermometer, recording your temperature with the push of a button. Inside the sleek-looking device are 16 sensors that can record 4000 measurements in 2 seconds, according to the company. It's got Wi-Fi built in, so data is automatically uploaded to Thermo's app.
It makes sense for Withings to expand its product line with the Withings Go, as well as Thermo, considering how the fitness tracker market is poised to explode—by 2018, 111.9 million wearable devices are predicted to ship, according to an eMarketer research study. The competition has a headstart in the low-end market, however; Fitbit has its own tracker, the Zip ($59), and Jawbone has its own, the Jawbone Up move ($49).
If kicking off the new year involves buying a fitness tracker, or you want to keep track of your child's activity without making a fuss if it goes missing, the Withings Go is another option for many, especially if the goal is to do more than count steps.