How Community Fridges—'Freedges'—Help Feed America
The local efforts to address food insecurity have grown during the pandemic but don't address underlying inequities When you ask Jim Nanni a question about refrigerators, get ready for a major data download.
As director of appliance testing at Consumer Reports, Nanni has tested thousands of refrigerators—French-door, top-freezer, side-by-side, you name it. He can reel off stats regarding cubic-foot capacities and energy ratings. So when the man hears about a type of refrigerator that's new to him, that's notable. The term that sent him to the search engine: community fridge.
A community fridge is an ordinary refrigerator like the many Nanni has tested, but it's not installed in somebody's kitchen. Rather, it is kept somewhere where the public can readily access it, often just out on the sidewalk or near a popular restaurant or store, and stocked by organized community groups or sometimes by individual volunteers with fresh food, produce, and frozen items for anyone to take, without limit and free of charge. Some have taken to calling them "freedges."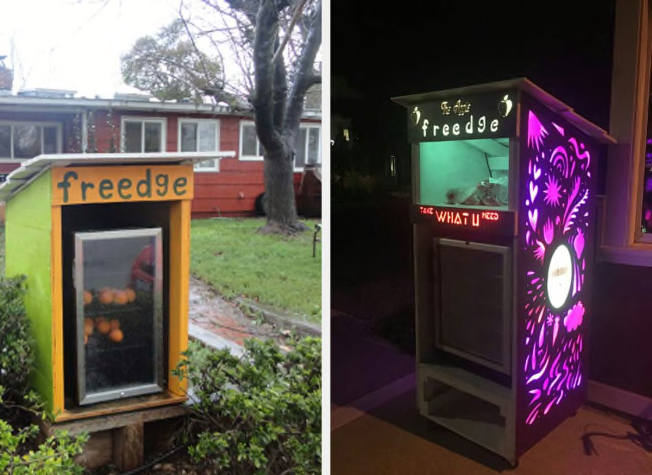 Red Hook is a waterfront neighborhood in northwest Brooklyn that in the 1920s was one of the busiest ports in the world but has since fallen into decline. The area, which was devastated by Superstorm Sandy in 2012, is home to the largest public housing development in Brooklyn, with some 6,000 residents. Located on Columbia Street, a well-trafficked thoroughfare, the Red Hook Community Fridge is adjacent to Jam'It Bistro, a Caribbean restaurant, which also supplies the electricity to keep it running.
Forbes and other volunteers keep the fridge, now enclosed in a custom-fitted wooden enclosure, stocked for its 7-day-a-week operating hours of 11 a.m. to 8 p.m., a task that typically requires a refill every other day. Most of the food comes from donations made by food companies, grocery stores, and local restaurants, with a small portion of food being left by individuals.
For its Aug. 16 maiden voyage, the fridge was stocked with sandwiches, milk, fruit cups, carrots, a six-pack of Yoo-hoo, and bottled water. "It was a rainy day, so the crowd wasn't too big, but the moment we cut the ribbon, a mother with two kids walked up to the fridge and was able to get food for the night." That was all the proof Forbes says she needed that "we were doing exactly what we aimed to do."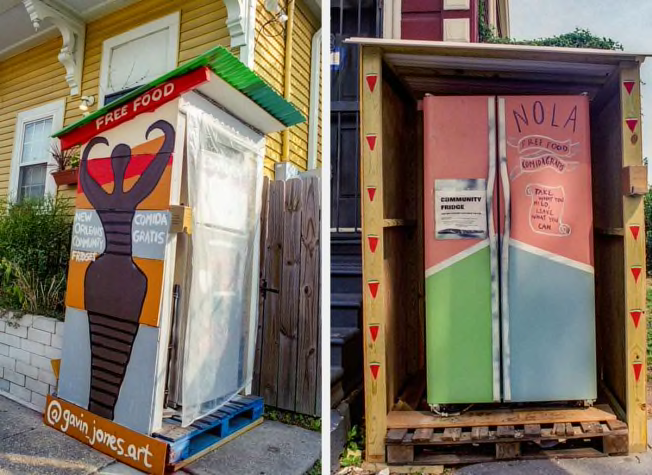 The aims of the community fridge movement are as varied as the communities they serve, according to Ernst Bertone-Oehninger, the co-founder of Freedge.org, an organization that offers advice on starting and maintaining community fridges and that keeps a database of the fridges around the world.
"Here in the U.S. we're talking about mutual aid helping people out on a person-to-person basis—the attitude that we keep us fed," he says. "That mentality is very in the American community fridge movement."
For example, some community fridges, like the ones run by a Los Angeles chapter of Veggie Mijas, a women-of-color-led collective, aim to promote ecologically responsible plant-based diets by featuring vegan or vegetarian items. In Toronto, Road to Zero Waste stocks a fridge with food rescued from grocery stores, restaurants, and farmers markets to mitigate the problem of food waste.
Since 2014, Bertone-Oehninger, a California-based, Brazilian-born community organizer, has started freedges on three continents. In Germany, where the free-fridge movement is thought to have started in 2012, the focus is on reducing food waste.

'The bigger question is, what's it going to take to fix the system so that we don't rely so heavily on charity as a solution to hunger in this country?'
Andy Fisher
A study by the Institute for Sanitary Engineering, Water Quality and Solid Waste Management at University of Stuttgart found that in 2011 the average German citizen threw away about 180 pounds of food a year. That's a lot of schnitzel, but food waste in the U.S. dwarfs that: A USDA study reported that the average American tossed about 273 pounds worth of food in 2008.
By some measures, the U.S. is a global leader in food waste, with 31 percent of it happening at the retail and consumer levels, including everything from the tossing of produce that doesn't pass the size or appearance standards of grocery stores to food thrown out because it has passed the "best-by" date. All that waste corresponds to approximately 133 billion pounds of food a year in landfills.
But given the enormity of the food insecurity and food waste problems in America and elsewhere, many community fridge organizers concede that their take-what-you-need, leave-what-you-can approach, however helpful, can make only a small dent.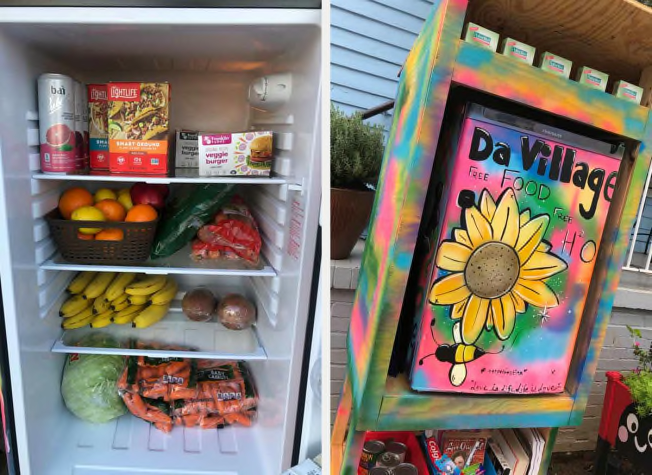 "The fridge is a good conversation starter to help us put the community towards action to solve the problems, but it can only work if it's connected with other community action movements," Bertone-Oehninger says.
Andy Fisher, the co-founder and former executive director of the Community Food Security Coalition, a national alliance of groups dedicated to improving food access in urban communities, agrees.
"Community fridges are wonderful, they're not institutionalized, they're not big business. They're a friendly way for neighbors to take care of one another," he says. "I think of them in the vein of little free libraries that have popped up all over the place. But just as putting a book in the free community library isn't going to solve illiteracy, putting your leftovers in a community fridge isn't going to solve the hunger problem."
To really combat hunger, Fisher believes, as a country we need to rethink the way we conceive of the food safety net. In his book "Big Hunger: The Unholy Alliance Between Corporate America and Anti-Hunger Groups" (The MIT Press, 2017), Fisher argues that "a hunger industrial complex"—a web of connections between big corporations, anti-hunger groups, and government—in fact maintains the hunger problem rather than tries to solve it.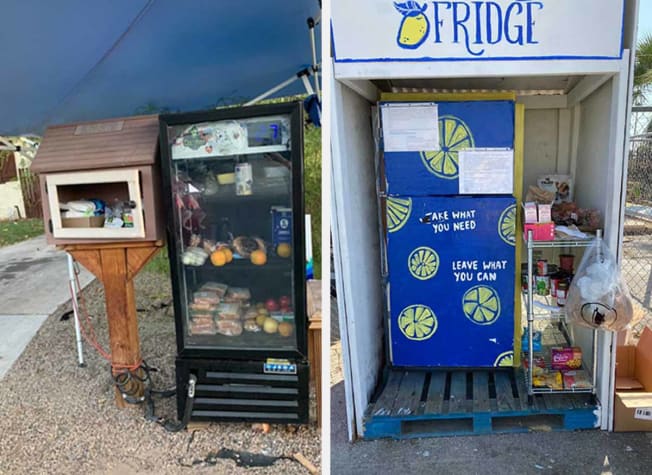 Fisher makes a case that hunger is profitable for big business, using Walmart as an example. It's America's largest private employer and is also among the top four companies whose full-time employees receive government health and nutrition assistance, according to a nine-state survey conducted by the Government Accountability Office.
In 2012, Walmart redeemed about 18 percent of food benefit coupons through the Supplemental Nutrition Assistance Program (SNAP), formerly known as food stamps, and the country's main food and nutrition assistance program, according to the Wall Street Journal. In 2019, Walmart also donated 640 billion pounds of food to anti-hunger groups in the U.S., according to the company's own 2019 Environmental, Social & Governance Report, for which it can receive tax deductions.
In other words, Fisher argues, private companies like Walmart employ workers at wages that qualify them for government assistance, redeem those government benefits for profit, and reduce their tax burden by making cash donations and charitable contributions.

'The fridge is a good conversation starter to help us put the community towards action to solve the problems, but it can only work if it's connected with other community action movements.'
Ernst Bertone-Oehninger
"Keeping the hunger problem going is in everybody's interest because some people make good salaries off it," Fisher says. In his view, the current system lets the government off the hook because it doesn't have to address the hunger problem at scale, for example, by increasing taxes.
After repeated attempts, Walmart did not reply to CR's requests for comment.
Bertone-Oehninger and Fisher agree that the community fridge movement has been a helpful force during the uncertainty of the global pandemic. But they'd also like citizens to demand more corporate responsibility and government action to address the root causes of food insecurity, including stagnant wages, racism, unaffordable housing, and unfair labor practices.
"The amount of food charity, in terms of pounds of food donated, has doubled in the past decade, and this year it's off the charts," Fisher says. "I don't think anyone even knows how large it is. The bigger question is, what's it going to take to fix the system so that we don't rely so heavily on charity as a solution to hunger in this country?"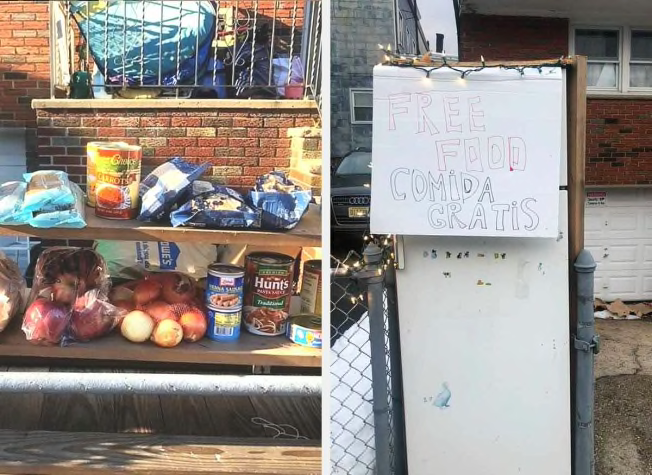 'We Have to Serve the Need'
That question may be worthy of serious interrogation, but it isn't something Forbes, from Red Hook Community Fridge, thinks much about.
"I got a call the other day from Hillshire Farm, and they said, 'We have 10,000 units of deli meat that we could give to you, because they're going to expire by the end of December,'" she says, explaining that she doesn't care whether the company gets a tax break by making the donation. "I don't really get into the bigger picture of the politics of it all, because we have to serve the need."
But the bigger political picture is something millions of Americans are being forced to confront as the economy continues to reel from the COVID-19 pandemic. The USDA, which administers SNAP, reported that, on average, 35.7 million people participated in the program each month in 2019, some 11 percent of the population.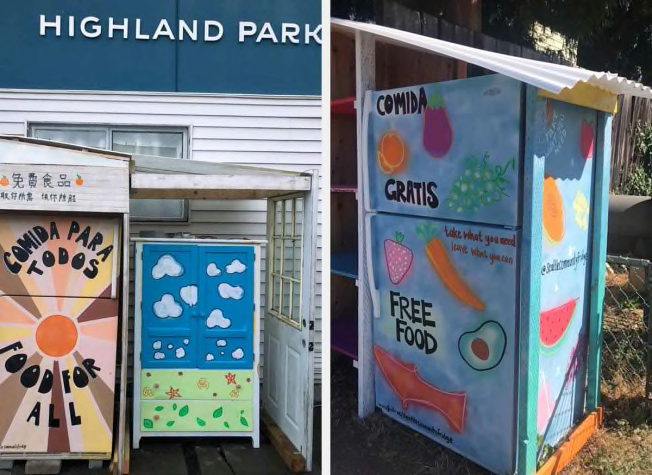 Some observers were disappointed when President-elect Joe Biden nominated former Iowa Governor Tom Vilsack to be the secretary of agriculture, instead of Congresswoman Marcia Fudge of Ohio, whom he named instead to head the Department of Housing and Urban Development. In addition to being a vocal proponent for the expansion of SNAP, Fudge is a longtime member of the House Agriculture Committee, where she chairs the subcommittee on nutrition. Her appointment might have signaled a shift of focus for the agency to do more to fight hunger.
Meanwhile, people in need still need to get by, following whatever limited avenues they have.
In March of 2020, Carissa Crowley, 37, of Oklahoma City, was one of the millions of Americans who lost their jobs. Before the pandemic she never sought food assistance and, she says, "pretty much made it on my own" working at a restaurant in the Will Rogers World Airport. After being denied SNAP benefits in March, she turned to a food bank at a local church. "I'd been down on my luck pretty bad, I didn't have much food."
In October she discovered the OKCFreedge on Facebook, 10 minutes from the home she shares with her 17-year-old son. "It helps people who need it who don't have much at home," she says. Now she's a regular visitor to the freedge, where she says the line is usually about 20 people deep by 9 a.m. Her only criticism of community fridges is that there aren't enough of them. "It would be good if there were other ones out there."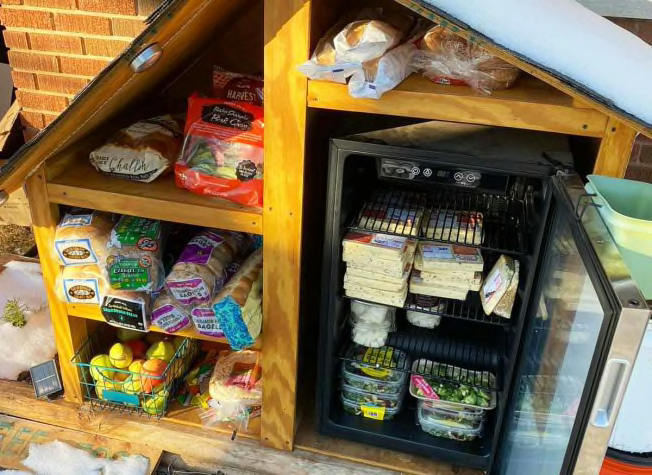 The people who found and sustain community fridges are not content to wait for government intervention to solve the problem of hunger and food insecurity. You can help them in their efforts:
Community refrigerators are inherently local, so begin where you are by talking to neighbors and friends about how you can support a fridge in your area. Or go to freedge.org, which has a registry of community fridges listed by city.

Once you identify an organization, give what you're comfortable with. One strategy is to take advantage of buy one, get one free offers in grocery stores and donate the free items.

If you've used pandemic downtime to perfect your culinary skills and would like to stock the fridge with home-cooked food, contact the fridge operator to learn labeling protocol or any restrictions.

If you're interested in starting a community fridge, get in touch with an existing fridge operator in your area who may help shepherd you through local regulations. Freedge Yourself is a comprehensive guide for advice.

Freedge.org also has a donation page where you can contribute to, or apply for, a micro grant to sponsor new community fridges.

And to find an affordable, reliable refrigerator, use CR's refrigerator ratings and see our article on buying used appliances.