When you shop through retailer links on our site, we may earn affiliate commissions. 100% of the fees we collect are used to support our nonprofit mission.
Learn more.
Pizza deliveries rise by 35 percent on Super Bowl Sunday, with orders spiking when the score is close. But you can skip the tip and the trip to the door by making your own pizza at home in one of two affordable home pizza ovens from Consumer Reports' tests. One, the Black & Decker 5-Minute Pizza Oven & Snack Maker, sits right on your counter. The other, the BakerStone Pizza Oven Box, fits neatly into your gas grill.
This year the Super Bowl is being played in Houston, where game food tends toward barbecued brisket, steak sandwiches, and loaded "fiesta" potatoes. But if you're watching the face-off at home and want to kick your pizza up a notch, throw on a few jalapeños and enjoy the game. Here's the score on the pizza ovens we tested: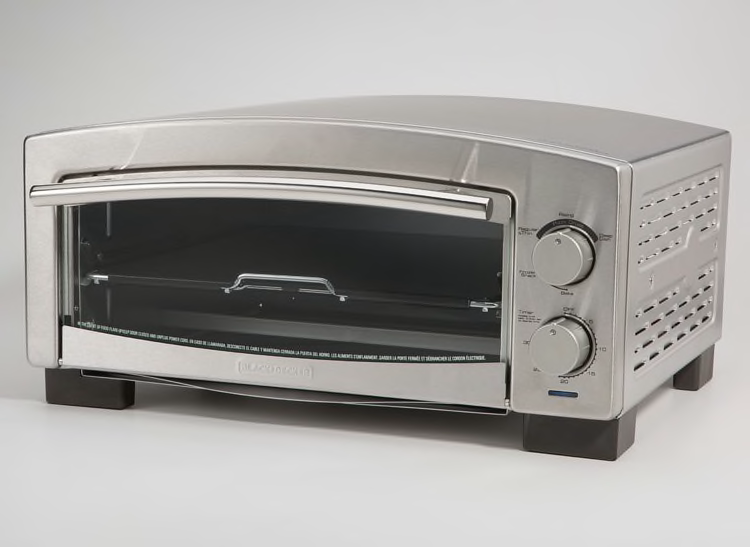 Black & Decker 5-Minute Pizza Oven & Snack Maker
As the name suggests, the Black & Decker 5-Minute Pizza Oven, $150, is claimed to cook fresh or frozen pizza at home in a speedy 5 minutes. The elements are infrared, and the oven heats to a temperature of 600° F or higher. In our tests it took a few attempts to find the perfect temperature setting for the type of pizza we were cooking—frozen, fresh, or take-and-bake—but once we got it right, the pizza oven turned out pie after pie faster than a conventional oven. It fits pizzas only up to 12 inches wide, so you'll appreciate the quick cooking time when you're making more than one.

The Snack Maker part of the oven may also come in handy on game day. In our tests, we tried fish sticks, chicken nuggets, and Hot Pockets. But when we put only a few pieces on the ceramic tray, the result was burned bottoms and undercooked interiors. The food cooked more evenly when we filled the tray with snacks, which is perfect when you're cooking for a crowd.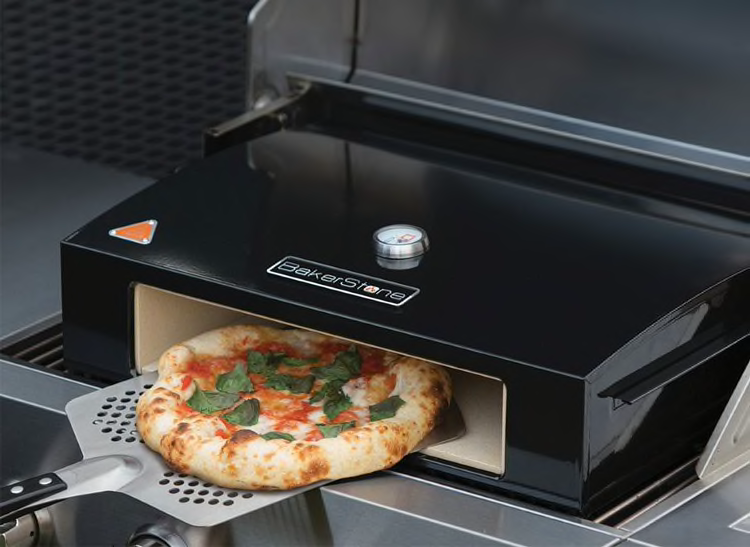 BakerStone Pizza Oven Box
Super Bowl Sunday is one of the top grilling days of the year. If you're grilling with gas, try the BakerStone Pizza Oven, $150, which sits on top of the grates. A refractory stone cooking chamber traps hot air, cooking the pie from the top and bottom.

We placed the box on a four-burner gas grill and, after preheating it for 30 minutes, baked eight homemade 12-inch pizzas in quick succession. In 4 minutes, the box turned out pizza with crispy crusts and nicely cooked toppings. BakerStone claims you can also cook bread, cookies, roasts, vegetables, and fish in the pizza oven. We didn't try it because we were too busy eating the delicious pizza.

Gotta Grill?
Although it's not exactly high season for buying grills, some stores have them on display in out-of-the-way aisles. If you like the pizza-box concept, look for a grill with three or more burners. Consider one of the large or midsized models from our full gas grill ratings and recommendations.