Best Mother's Day Tech Gifts
Surprise her with a top-rated laptop, a smart speaker, or even a TV
When you shop through retailer links on our site, we may earn affiliate commissions. 100% of the fees we collect are used to support our nonprofit mission. Learn more. Sure, it's the thought that counts on Mother's Day. But aren't you a little past the stage of handing Mom a lopsided, handmade candy dish or a bouquet of supermarket flowers?
To our way of thinking, nothing says "I love you" like a large-screen TV, great-sounding headphones, or some other truly innovative tech gift.
And because moms deserve the best, we've compiled an unbeatable list of high-performing Mother's Day gifts in a variety of price ranges.
Most of these products racked up high scores in our ratings, and some earned a coveted Recommended or CR Best Buy designation. Each is guaranteed to put a smile on your mom's face. But feel free to accessorize any of the items with a card and some nice flowers—or even a handmade candy dish.
(If you're thinking of adding a bracelet, necklace, or pair of earrings, use these tips when buying Mother's Day jewelry.)
Do you have the kind of mother who knows exactly where to find your fourth-grade report card, but can't seem to keep track of her keys? If that sounds like your mom, how about a pair of earbuds that are so cheap she won't feel too guilty if she loses them?

The Scosche SportFlex 3 earbuds have engaging sound, are rugged enough for a workout, and you can pick them up for a mere $15. They feature earclips to hold them in place while you exercise, and, according to the manufacturer, they're water-resistant. (CR doesn't test this feature.) Mom doesn't need to be a gym rat to appreciate this headphone bargain, though.

Our testers found that this $15 model has dependable sound quality, whether she's heading out for a run, settling into her commute, or simply stealing a few minutes of peace and quiet listening to her Sara Watkins playlist.

Want to be a truly considerate offspring? Buy a second pair of Scosches and stash them away for when Mom misplaces the first pair.
If you want to dazzle Mom by buying her a laptop and a tablet, consider the Microsoft Surface Go. At 10 inches, this model is modest in size but provides her with the 2-in-1 benefits of Microsoft's popular Surface laptop line for around $500.

The touch screen—which functions on its own as a tablet—costs $400, while the optional keyboard/protective cover starts at $100. We opted for the $130 Surface Go Signature Type cover on the model we tested. If you want to save money, you can forgo the cover altogether and provide Mom with almost any wired or wireless keyboard in its place.

Under the hood, this Surface Go features a lower-end Intel Pentium processor (yes, Pentium is now one of Intel's budget processors), 4GB of memory, and a modest 64GB of storage.

As our testers noted, the device is a little slow to complete certain tasks, including launching apps and editing photos, and the keyboard feels a bit cramped—but if she's primarily interested in checking email, posting items on Facebook, and keeping finances in check with Excel, this flexible-as-a-yoga-instructor model should serve your mom well.
Did Mom ever say "What I really want for Mother's Day is for someone to listen to me and do what I ask?" If so, the Sonos One smart speaker might be the ideal gift.

Whether Mom wants to know the weather or request that great song by Lucinda Williams, she'll find that Sonos' first smart speaker responds readily to voice commands through Amazon's Alexa digital assistant or Apple's Siri. (A free software update should add future compatibility with Google Assistant.) If she's just sick of talking, the Sonos One can also stream music through the company's flexible smartphone app.

While today's smart speakers support a wide variety of clever apps, at the end of the day, researchers have found they're mostly used for listening to music. And our testers found that the Sonos One sounds great, a substantial step up sonically from many other smart speakers. Our testers found that the second-generation model, which features an upgraded processor and more memory, performed almost identically to the original model in our listening and usability tests.

Available in both black and white, a Sonos One can even provide a pathway to future gift-giving. Simply buy Mom another One for a better-sounding stereo pair when the holidays roll around, or purchase another Sonos speaker model to weave into a flexible multiroom system she can enjoy next Mother's Day. Add a playlist with some of her favorite tunes, and Mom will realize that you actually have been listening.
A Smartwatch With Fitness Features
Fitbit Versa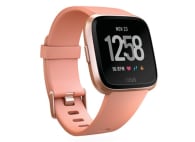 Should you get Mom a fitness tracker? Or splurge for a smartwatch? The Fitbit Versa allows you to do both in a single, affordable package.

The newly introduced Versa incorporates standard fitness tracking features—step counting, heart-rate monitoring, and more. But this Fitbit adds a lot of smartwatch functionality—including a thin, easy-to-read screen and a claimed four days' worth of battery life—for substantially less than the latest generation Apple Watch. Our testers liked the Versa's bright, readable display and find that it meets manufacturer's claims of water resistance up to 164 feet.

If Mom needs GPS to track her workout, note that she'll need to keep the Versa tethered to her phone.

Versa includes a "Female Health Monitoring" feature, which promises accurate tracking of menstrual cycles and fertility, as well as a selection of new health apps for moms of all ages. (Fitbit says the data collected will be a boon to researchers. But note that researchers have raised concerns about how health apps may handle user data.) The Versa is available in black and a very vibrant pink that can be toned down with a replacement band.