Best White Elephant Gifts Under $35
Whether you're swapping gifts for Friendsgiving or having fun with family, check out these CR picks
When you shop through retailer links on our site, we may earn affiliate commissions. 100% of the fees we collect are used to support our nonprofit mission. Learn more. White Elephant. Secret Santa. Yankee Swap. There are several names for holiday gift exchange traditions and games, whether you're celebrating the season with a Friendsgiving gathering or just having fun with the family.
Whatever you call it, make sure the present you throw in the ring is one that everyone in your holiday pod has their eyes on. From a trusty coffee maker to a standout pair of headphones, we're here to help with these great gifts. Need more gifting inspiration? Check out our other holiday-themed offerings: Best Stocking Stuffers Under $25, Top Gifts Under $50, Top Gifts for Under $75, Top Home Gifts for Under $100, Top Tech Gifts for Under $100, and Holiday Gift Ideas for Every Budget.
Go to Consumer Reports' Holiday Gift Guide for updates on deals, expert product reviews, insider tips on shopping, and much more.
Insulated Travel Mug
Thermos Stainless King 16 oz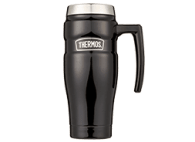 This stellar mug from Thermos keeps drinks hot for an impressive 7½ hours. It also has an easy-to-clean lid, which earned a rating of Very Good in our review. One of the three lid gaskets cannot be removed or replaced, so when it goes, so goes your mug. The tapered design means the mug will fit in the cup holder of most cars. Bonus: It has a handy tea hook on the underside of the lid, so you can suspend a tea bag in water without losing it inside.
For more options: Best Insulated Travel Mugs
An excellent value, this inexpensive drip coffee maker beat out dozens of pricier models in CR's battery of tests. Brew performance rates Excellent, and it can be programmed to have piping fresh coffee waiting in the morning.

For more options: Best Drip Coffee Makers
The Primula Burke Cold Brew Coffee Maker PBPBK-5101 is the most inexpensive cold-brew coffee maker in our ratings—and it's one of the best. It receives an Excellent rating for convenience. This Primula comes with a glass carafe, and most of its parts are dishwasher-safe. Of all the cold-brew machines we've tested, it's the only model that calls for a full 24-hour brew time, but you might find the results worth the wait.

For more options: Best Cold Brew Coffee Makers
This Amazon Basics kettle is made of stainless steel and is one of the least expensive kettles in our tests. It's small, though, holding just 4 cups of water, the least of the kettles we test. It's among the fastest to bring our testing standard of 4 cups of water to a boil, clocking in at just under 4 minutes and earning a Very Good rating in our time-to-boil tests.

For more options: Best Electric Kettles
The Victoria is one of the lowest-priced pans we've tested, but it browns and sears just as well as some higher-priced ones, earning top scores on both tests. But it was only so-so in our cornbread test, and scored a Fair on our heating evenness test, the lowest rating of the pans here. At 6.9 pounds, it's lighter than many other pans in our tests.
For more options: Best Cast Iron Frying Pans
A CR Best Buy for combining performance and an appealing price, this 10-inch nonstick pan is made of aluminum, and the nonstick coating is copper-colored. The pan turns out evenly cooked food that easily slides out. The nonstick coating proved fairly durable in our tests. The handle isn't very sturdy, but it does stay cool to the touch.

For more options: Best Frying Pans for $40 or Less
The Chefman was the only waffle maker we tested to snag a CR Best Buy designation. With a price that's far lower than most of the competition's, this machine churns out evenly browned round waffles. It garners a Very Good rating for its color-range settings, meaning there's a noticeable difference between waffles made on the darkest setting (brown and crispy) and lightest setting (light and fluffy). It has an indicator light to let you know when the waffles are ready and a batter cup for precise portioning, and it can be stored vertically to save space. But the handle and latch get uncomfortably warm during cooking, despite the "cool touch" claims, so you may want to use an oven mitt when opening and closing the lid.
For more options: Best Waffle Makers
This 3-cup single-speed Pioneer Woman food chopper earns a solid score in overall performance, but where it really shines is in its ability to make baby food and grate cheese. Some home chefs may also appreciate its glass bowl—no staining!—which is a rare feature for a chopper.
For more options: Best Food Processors & Choppers
Here's a great option if you're looking for an inexpensive true wireless model. (They don't have a physical connection between the earpieces.) The 1More PistonBuds deliver great sound quality for the price, beating out competitors that cost far more. They have an advertised 3.5-hour battery life—fairly standard for a true wireless model—and come with a charging/carrying case that will recharge the earphones almost five times before it needs to be plugged in again. The PistonBuds feature touch controls and support for digital assistants, and they boast an owner satisfaction rating of Excellent based on our CR member survey.

For more options: Best Headphones for Under $50
Wireless Charger
Samsung 9W Wireless Charger
This wireless charger is relatively compact and has a built-in cooling fan for faster charging. The round status indicator changes color when the device is fully charged but takes up to 30 seconds to alert you if the device is positioned incorrectly on the charging pad—that can be a nuisance if you've already walked away and don't notice. The 4-foot-long standard microUSB power cable can be replaced without much hassle.
For more options: Best Wireless Chargers for Your Smartphone and Other Devices