Best and Worst Grill Brushes
CR's experts put 10 cleaning tools to the test. Some easily remove burned-on gunk—and some don't.
When you shop through retailer links on our site, we may earn affiliate commissions. 100% of the fees we collect are used to support our nonprofit mission. Learn more. Grilling is a messy business. The mix of open flames and sugary barbecue sauce is a recipe for cooking grates covered in gunk. And since grates are often heavy and difficult to clean in a sink, your best bet is an effective grill brush. In the course of rating dozens of new grills this year, Consumer Reports also tested and rated 10 grill-cleaning tools to see which ones stood up to the task.
We got good results cleaning with grill brushes that have wire bristles, but be aware that these brushes can shed bristles that could end up in your food. If you use one, make sure to replace the brush, or its cleaning head, frequently, before the bristles start to come loose.
Whatever brush or cleaning tool you buy, you'll want to use it on a grill worthy of your cleaning efforts. Our grill buying guide can help you get squared away on what type of grill you want, and our gas and charcoal grill ratings can help you find the best picks in each category.
Here are the best and worst grill brushes grouped by performance, starting with the most effective models, for cleaning any gas or charcoal grill.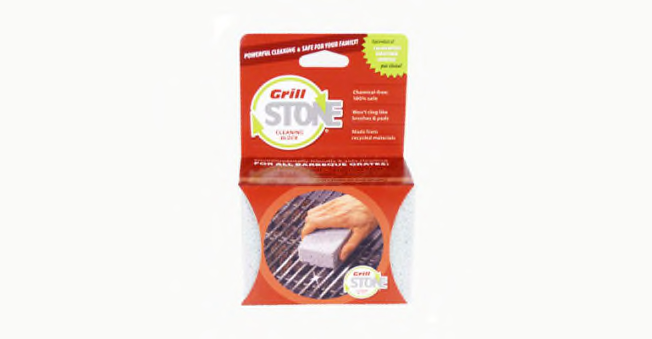 Price: $5.97
Score: Very Good
CR's take: The Earthstone was a clear standout in our tests because of its different design and its impressive cleaning. The stone itself is made from recycled glass and sits in a plastic holder with a short handle (not shown). We found it to be extremely effective at cleaning, in some cases restoring stainless grates to like-new condition. The downside? The stones wear out quickly, making them a better choice for a serious cleaning at the end of grilling season. And as it cleans, the stone leaves behind a lot of residue, which you'll want to clean out of the firebox before cooking again.
Nexgrill Grill Brush 530-0024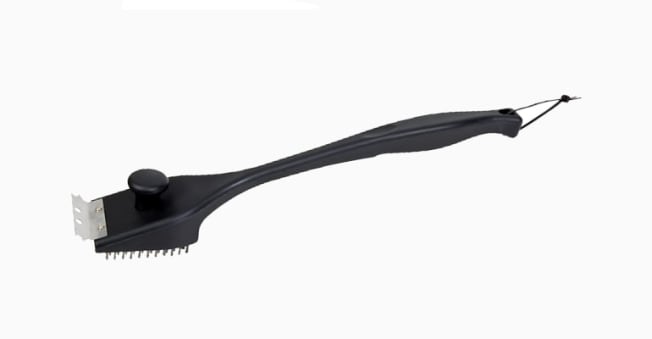 Price: $10.87
Score: Very Good
CR's take: This Nexgrill is one of the best grill brushes of the batch. The long handle and angled head keep your hands safely away from the heat. The wire bristles are effective at removing food, particularly from hot grates, and a small knob on the back of the cleaner head can be grasped to gain extra leverage while cleaning. You can also remove and replace the individual wire brush heads.
Nexgrill Combo Brush 530-0041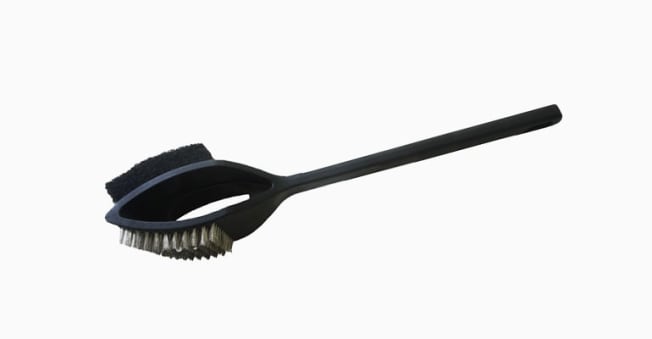 Price: $4.97
Score: Good
CR's take: We like the idea of a brush that combines a nylon scrub pad with wire bristles, but find that in this rendition only the bristle side cleans effectively. The nylon pad melts under heat, and neither side cleans cold grates well.
Nexgrill Steel Wool Brush 530-0018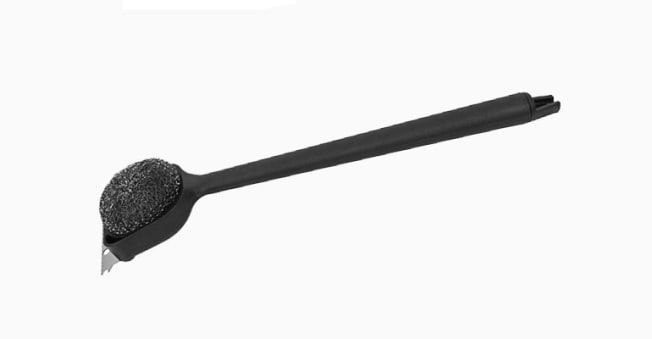 Price: $4.97
Score: Good
CR's take: We love the idea of a brush that uses replaceable steel wool. But the cleaning pad that fit this grill brush didn't clean that well and started to come apart with use—although it didn't leave any debris behind. Still, the brush earned decent marks because of its long handle and angled head, which helps keep your hand away from the heat.
Weber Bamboo Grill Brush 6464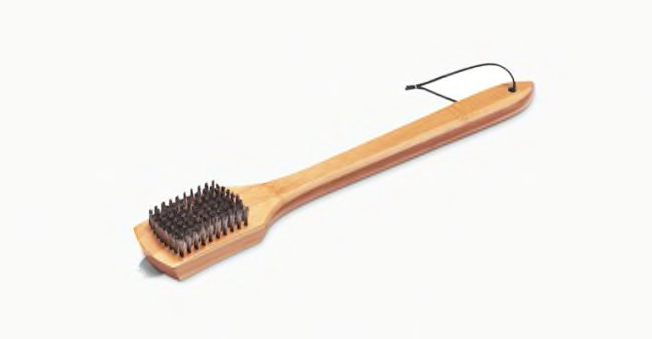 Price: $7.99
Score: Good
CR's take: This attractive brush lost a few points with our testers for its design. The brush head features a metal scraper tip for scraping individual rungs on a grill grate. The problem is that the tip also hits the back of a grill's firebox when you're cleaning the grates, meaning you can't clean all the way to the edges. But our biggest problem with the brush is that it cleans well only when grates are still hot, which would be okay except that the long, flat handle isn't angled—nor is the head of the brush—so your hands are directly over the hot grates the entire time you're cleaning.
Blue Rhino Oversized Triple Action Brush 507325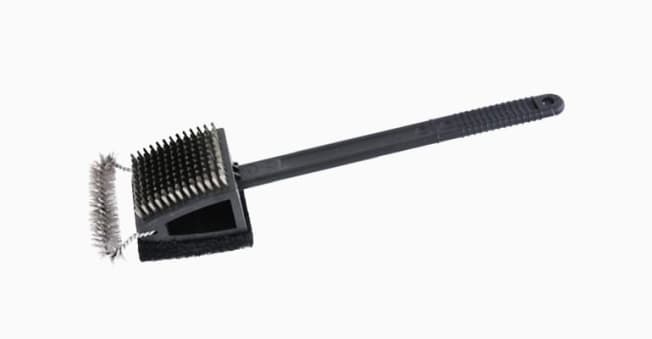 Price: $7.99
Score: Fair
CR's take: Most of the action we saw from this large brush was the movement of the flimsy handle, flexing under pressure. Because cleaning grates is difficult, you want a brush that can withstand some force. But this one leaves you feeling like the brush could snap when you apply significant pressure. It has steel bristles on one side of the cleaning head and nylon on the other. Both are ineffective on cooler grates, and the nylon bristles can melt on hot grates (as they would on any brush).
Char-Broil Cool-Clean Brush 6894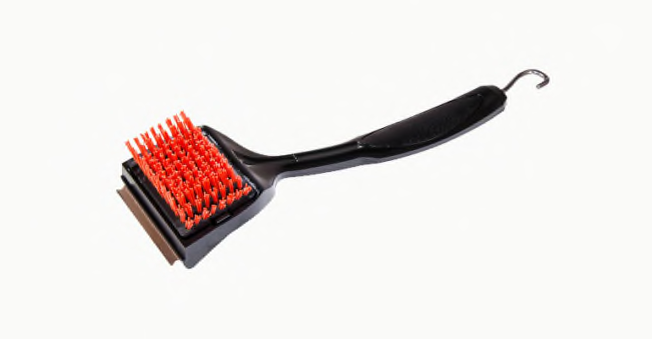 Price: $14.99
Score: Fair
CR's take: Another nylon cleaning brush, this one can be used only on cool grates. None of the brushes we tested performed well on cooler grates, and this model fell flat, too. It can rid a cool grate of really big pieces of debris and crud, but not much else.
Char-Griller Wood Grill Scraper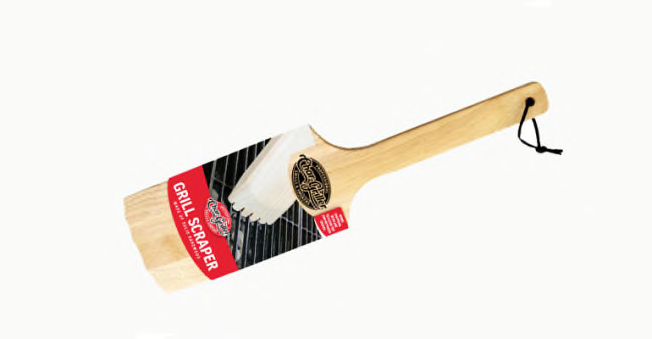 Price: $11.99
Score: Fair
CR's take: This wooden paddle is sold as a brush alternative. After the first time you clean a hot grill, the paddle begins to conform to the profile of the grates as the wood is worn (or burned) down. It's an interesting theory. In reality, our experts found that even once the paddle adapted to the grates on our test grill it wasn't an effective cleaner, catching only big pieces of chicken skin and leaving behind much of the residual char.
Weber Cast-Iron Grill Brush 6495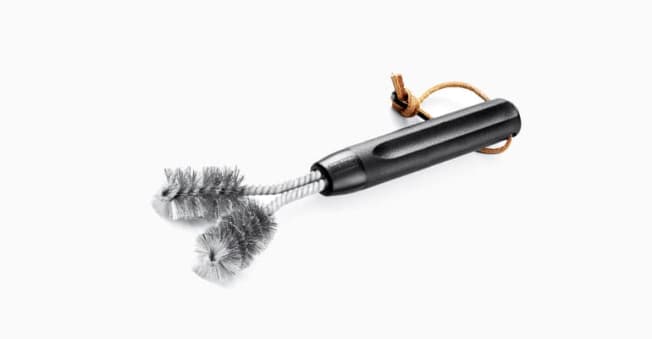 Price: $7.99
Score: Fair
CR's take: This small wire brush has Y-shaped tines at the end. It's designed for getting into crevices between your grill grates, but we found it pretty ineffective when used to clean an entire cooking grate. The narrow cleaning head means you need to go over and over the same spots to get the entire surface clean. Plus, the short, stubby handle keeps your hand too close to the heat.
Weber Grill Detailing Brush 6868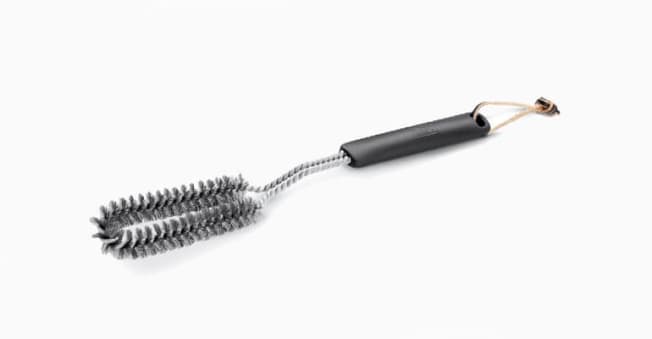 Price: $7.99
Score: Not Scored
CR's take: We didn't score this little cleaning brush because it's not really meant to compete with full-sized grill brushes. But our testers found that it can be an effective tool for cleaning between grates or around the edges of the firebox, provided you use the brush once the grill has cooled down—or use it with an oven mitt, because the handle is short.

Grill Cleaning Techniques
Whether it's tail-gating or summer get-togethers, everyone loves to fire up the grill. Consumer Reports' expert, Paul Hope, shares with 'Consumer 101' TV show host, Jack Rico, some great post-grilling cleaning tips.