Grilling Equipment to Elevate Your BBQ Game
These tools can elevate your cooking skills from average to amazing
When you shop through retailer links on our site, we may earn affiliate commissions. 100% of the fees we collect are used to support our nonprofit mission. Learn more. I'll be the first to admit that I'm as picky about my grill tools as I am about my barbecue. And while the grill itself is clearly the most important tool for pulling off the perfect summer cookout, the gear you use isn't far behind.
A great pair of tongs, a basting brush, and a brush to clean your grates are all crucial, and an instant-read thermometer is also important to help you avoid under- or overcooking food. (Follow our food-safety advice for cookouts.)
We've found that some of the grilling gear you'll see alongside the gas and charcoal grills for sale at your local home center can help you cook like a pitmaster, while other gadgets are gimmicky or simply limited in their use.
As one of CR's grill experts, I tried out more than a dozen tools in a quest to identify the best of the bunch. Here are my favorites.
Cavetools BBQ Kebab Skewers and Rack
I love these flat skewers because unlike round skewers, they keep even really tender foods (like scallops) from spinning, making it easy to turn each kebab. This kit includes a raised rack, to keep kebabs just above the cooking grates to prevent foods from scorching, which is particularly helpful for foods like chicken, which takes a while to cook through to a safe internal temperature.
Food safety is always important, but a thermometer is also your best line of defense against overcooking food and drying it out. I love how small and nimble this thermometer is, and it provides accurate readings, quickly. That makes it great for the grill, and equally adept at temping a roast in your oven.
Cuisinart CGS-W13 Grill Kit
This kit is exactly what you want if you're grilling on the go, like at the park or the beach: It has all the essential tools, and it comes in a nice case, which makes it easy to transport.
Grill Daddy Grand Grill Daddy Grill Cleaning Brush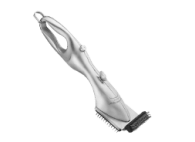 I'll be the first to admit that I'm not always great about cleaning my grill. This brush is perfect for me for exactly that reason—the sheer weight of the tool helps loosen burnt-on gunk and cuts cleaning time way down. Plus, the water reservoir releases water that steams on warm grates, helping to loosen burnt-on residue much easier than force alone.
While the brush is expensive, it can last a long time with proper care—the cleaning heads (and teeth) are replaceable when they get worn down. If you're serious about grilling, that might make this tool a worthwhile investment—I could easily see it outlasting some of the grills I've owned.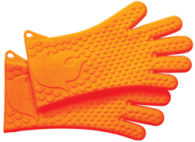 These heat-resistant silicone gloves are far from fashionable, but you won't care: They make it a breeze to lift an entire hot brisket or pork shoulder with your hands, both of which are far too big to tackle with tongs. They provide an excellent grip and are heat-resistant to over 400° F, and you can put them in the dishwasher.
Kettle Pizza Pizza Oven for Gas Grills
Who says you have to drop $350 on a trendy freestanding pizza oven to make a perfect pie? All you need is the Kettlepizza pizza oven, a raised steel dome that you set on top of the included ceramic pizza stone on your gas grill. The idea is it recreates the effect of a tight pizza oven, right in your gas grill, so the crust crisps in the same time it takes the cheese to melt.
It's awesome if you've ever struggled to make grilled pizza. I've made about a dozen pizzas in it so far, and each has been amazing—it knocks out a perfect margherita pie in about 8 minutes on my gas grill.
M Kitchen World Silicone Basting Brush Set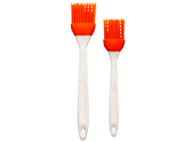 I use silicone basting brushes to lather sauce onto ribs and chicken, and I like that these can be tossed into the dishwasher when I'm done. And for the price, I don't lose any sleep if I somehow lose one outside.
I use these sheet pans almost every time I grill. They're the perfect vessel for carrying lots of food into or out of the house—I have one for raw food and another for cooked, to avoid cross contamination. The lip on these pans keeps liquids in.
Hand-washing is recommended, but only because the pans can discolor in the dishwasher. (The manufacturer says this discoloration won't affect performance.) I clean them in the dishwasher on the sanitize cycle if I've used them to transport raw meat—mine are discolored, but they've worked perfectly for me (including in the oven when I'm not grilling) for more than a decade.
Oxo Good Grips 16-Inch Locking Tongs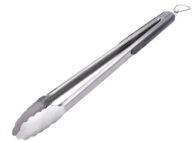 These tongs aren't officially grill tongs, and that's why I love them. Most grill tongs are big, heavy, and too long. These are nimble and lightweight, providing the perfect grip and just enough length to keep your hands safely away from the heat.
Slow 'N Sear Deluxe Charcoal Grill Basket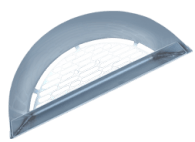 I wish I'd had this for all the years I struggled to make chicken on a charcoal grill. This basket lets you keep all your lit charcoal on one side of the grill, so you can crisp a chicken leg or sear a steak on the side the coals are on, then move it to the side without the coals, to cook through without burning.
Sumpri Color Coded Extending S'more Sticks
These colorful, extending s'more sticks are both fun and practical. Because they're color-coded, it's easy to tell whose is whose. They extend to almost 3 feet, and when you've had all the s'mores you can eat, they retract for easy storage.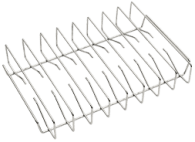 There are few dishes I'm more proud of than my ribs, which I usually smoke for 6 to 8 hours over low temperatures. So of course I want to make as much as possible in one go. This rack holds eight racks of ribs (on edge) in the space that usually fits three racks laid flat. Mission accomplished.
This rack is technically made to fit the top-rated Traeger Ironwood 650 Pellet Grill, but I found that it also fits nicely on my midsized gas grill. You'll want to measure your grill to make sure this fits.