First Look: Apple's New 3rd-Generation AirPods
They're a lot like the old AirPods, but with new features and better sound quality Apple AirPods are probably the most popular line of headphones of all time.
In fact, they might be Apple's most category-dominating product. Since their launch in December 2016, these earphones have become an indispensable part of daily life for tens of millions of people.
With the new third-generation AirPods, which hit shelves in late October, Apple is building on what works. The latest pair is very similar to the second-generation AirPods, but with new audio hardware, a revamped design, and upgrades such as improved compatibility with Siri, better battery life, and Apple's Spatial Audio feature.
Apple now sells four headphone models called AirPods: the second-generation AirPods; the latest, third-generation AirPods; the noise-canceling AirPods Pro; and the huge over-the-ear AirPods Max.
The third-generation AirPods look a lot like the AirPods Pro, but they have a more contoured body, which is intended to fit better and improve audio quality. The new earphones also feature shorter stems extending out of the earbuds—they're more subtle but still long enough to grab.
The old AirPods fit me great, and the new pair does, too. They stayed in place no matter how rigorously I moved my head. They're light and comfortable even after hours of listening, and I could easily see wearing them for a whole cross country flight or a packed day of Zoom calls. But everyone's ears are different, so your experience might not match mine.
The charging/carrying case is a hair smaller than the second-generation AirPods', and it's compatible with Apple's wireless MagSafe charging system—though, frustratingly, it still uses a lightning cable instead of USB-C. Both the case and the AirPods themselves are rated for IPX4 sweat and water resistance, offering some reassurance for anyone who will use them to work out. 
You might also notice the new black vents on top of the earbuds. Unlike the AirPods Pro, the third-generation AirPods aren't noise-canceling. They're the opposite: Those vents let in outside sound on purpose, like the original AirPods.
That can make your music hard to hear in noisy environments, but it helps avoid the plugged-up feeling you can get with traditional earbuds, and keeps you in touch with the outside world. You don't have to take them in and out to talk to the cashier at the grocery store, or to hear traffic if you wear them on a run. 
Apple added updated drivers and amplifiers, a new chip for audio processing, and microphones facing inside your ears for a function called Adaptive EQ.
With the always-on Adaptive EQ, which was introduced on the AirPods Pro, the internal mics measure the frequency response of your music as it bounces around in your ears, and make real-time adjustments to tune the headphones based on the way they fit. It's fascinating technology, but you can't tell it's happening—in fact, you just have to take Apple's word that it improves the audio quality.
Apple's latest headphones are the first non-noise-canceling model to earn a Consumer Reports recommendation. That's thanks to a noticeable bump in audio quality. The third-generation AirPods deliver audio quality that should satisfy most listeners, though our testers noticed some audio flaws. Compared with headphones that have superb sound, the bass response in the new AirPods is a bit too prominent, and while midrange, where guitars and vocals sit, is even, it's also a little hazy and grainy. The performance with higher-pitched sounds was similar.
During my time with the third-generation AirPods, I found the audio quality to be pleasant. I liked them better than the second-generation AirPods. But the sound didn't blow me away, and I want it to if I'm going to pay $179. (If you're looking for top-rated audio quality in a similar model, check out Samsung Galaxy Buds, which go for around $130, or the Anker SoundCore Liberty Air, which gets about the same rating as the AirPods for just $60.)
I enjoyed the sound of the new AirPods well enough, though, and I don't need perfect sound when I'm on the go and my music is mixed with street noise.
Apple's Spatial Audio feature is another story. With songs mixed for Spatial Audio on Apple Music, you're supposed to get a surround-sound-style listening experience where different noises appear to be coming from different parts of the room.
Great audio equipment can create that sense of room ambience, but here the sound gets adjusted as you turn your head. It's essentially a virtual reality experience that, to me, was distracting and gimmicky. I'd never choose to listen to my music that way.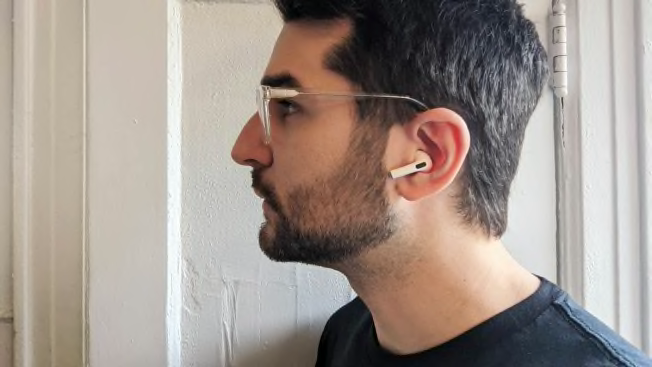 What It's Like Using the New AirPods
In the COVID-19 era, the AirPods are go-to headphones for both work and personal calls. I tried them on my phone, Zoom, and Google Hangouts in a variety of situations.
On the street, on my couch, and on a New York subway platform, people heard me loud and clear. Apple says the new AirPods have updated hardware to improve call quality, such as mesh screens over the microphones to filter out wind noise. In my thoroughly unscientific test, it seems Apple succeeded.
The new AirPods use pressure-sensitive controls, just like the AirPods Pro. Squeeze either of the stems once to answer a call or play music, twice to skip a track, or three times to rewind. I found the controls to be more intuitive and convenient than the tap controls on the older models. 
Apple also improved compatibility with Siri, Apple's digital assistant. Siri will read your notifications to you, gently lowering the volume on your music. You can interact with those notifications using just your voice. It's pretty satisfying, though there were situations where Siri stumbled, failing to read a particular text message, or not letting me reply.
One beloved AirPods feature is the automatic pause when you take them out. Apple snuck in an upgrade there, as well. The AirPods have an optical sensor on the inside that's supposed to detect whether they're up against your skin. When the sensors don't detect skin, the playback is supposed to stop, so they don't use up the battery playing music to the inside of your pocket. 
Speaking of battery life, that's boosted as well. Apple says the new pair is good for 6 hours of music playback, up from 5 with the older model, and the carrying case will fully charge the headphones four times before it needs to be plugged in again. After a half-day of listening off and on without putting them back in the case, I had plenty of battery life left. 
As with the older model, pairing the AirPods with a cell phone is a breeze. It's simple with an Android phone, and even easier with an iPhone. AirPods are a joy to use with Apple devices, and they switched seamlessly back and forth between my phone and my laptop as I used different apps.
Should You Buy the New AirPods?
It might sound surprising, but I think there are a lot of people out there who've never had the chance to listen to headphones with truly outstanding audio quality.
If you're not sure whether you're one of those people, I say try a pair with an Excellent score in our ratings and see for yourself. (A lot of retailers have a generous return policy, after all.) For me, it's just more fun to listen to my music on the best equipment I can get my hands on. 
But even though there were plenty of headphones that sounded better and cost less, a lot of people who've read our reviews over the past few years went out and bought Apple AirPods anyway. I don't blame them. The AirPods are great at what they do.
The third-generation AirPods are easy to use, the charging case is conveniently tiny, and the earphones work seamlessly with other Apple products. And unlike the older models in this line, the new AirPods have above-average audio quality, even if it's not up to the highest standards.
And even the worst in Apple's AirPods line have always sounded okay. If I had a pair lying around, there are times I'd reach for these instead of my audiophile earbuds. The second-generation AirPods are still on the market, and Apple dropped the price to $129, but the performance and new features of the third-generation AirPods may be worth the extra $50, no matter how the audio sounds to you.
The bottom line: If you've used the old AirPods before and you liked them, I bet you'll like these, too. 
When you shop through retailer links on our site, we may earn affiliate commissions. 100% of the fees we collect are used to support our nonprofit mission. Learn more.