When you shop through retailer links on our site, we may earn affiliate commissions. 100% of the fees we collect are used to support our nonprofit mission.
Learn more.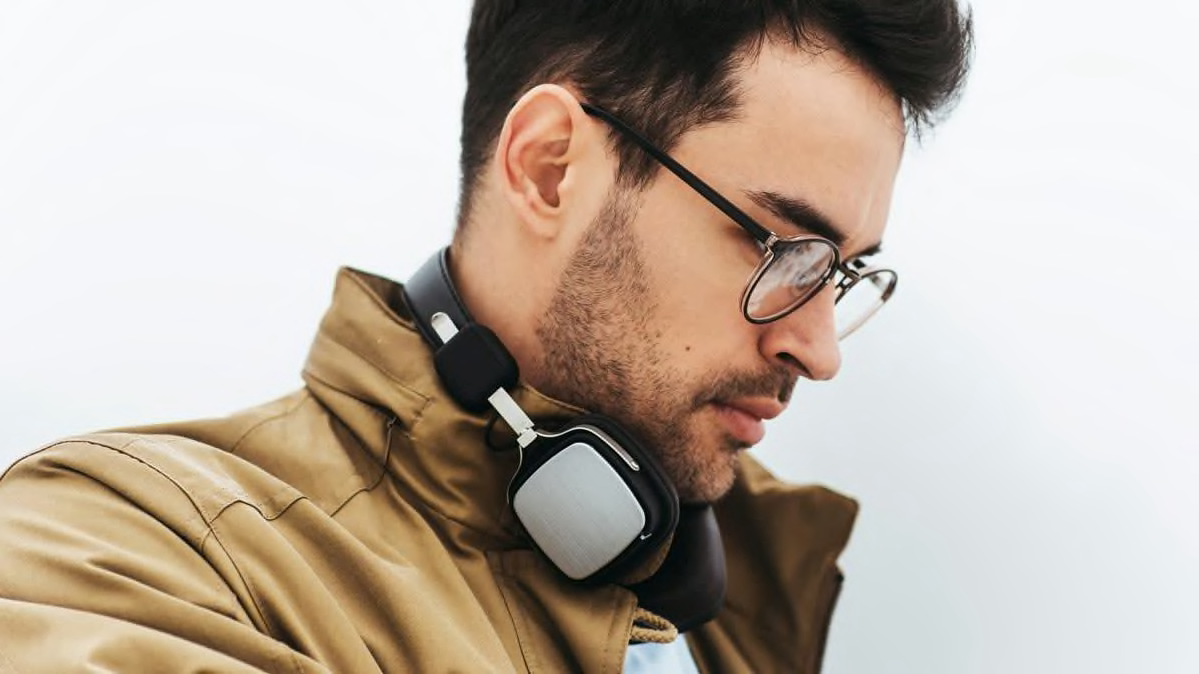 You can't beat the feeling of freedom that comes from a great pair of wireless headphones, and there are models to suit almost any situation, whether your priority is finding inexpensive headphones, you need something to keep you moving at the gym, or you're looking for noise-canceling headphones to get some quiet while you work.
Using Bluetooth doesn't mean you have to give up on sound quality. CR's technicians say audiophiles will still get the very best sound from the top-rated wired headphones, but our tests show that the best wireless headphones have impressive audio quality, too.
The models featured below are the best headphones for a variety of needs. If you're a Consumer Reports member, you can find more than test results and reviews on more than 150 headphones in our ratings.
Studio Style for Half the Price
The Jabra Move Style Edition, an on-ear Bluetooth model with a sleek appearance and more than decent sound, comes with convenient features such as controls for calls, playback, and volume, and the option to forgo Bluetooth and use the detachable audio cable included with your purchase.
The headphones have a closed, isolating design that will keep some noise from leaking in or out during a listening session. The headphones have an advertised 14-hour battery life, more than enough to get you through a day of listening.
Great Sound on the Go
If you don't want to compromise on sound quality—and you're willing to pay for it—the Bang & Olufsen Beoplay E6 may be for you. It doesn't come cheap, but the Beoplay E6 is one of the best portable wireless models we've ever tested. In addition to sound quality, it has design perks including magnets that clip the earpieces together (and automatically turn the headphones off) for easy transport, a braided cable for added durability, and water resistance, according to the manufacturer.

There are some caveats. The proprietary charger could be expensive to replace, and the advertised battery life is only 5 hours. But for high-quality sound, critical listeners may be willing to overlook those shortcomings.
For the Audiophile
The GW100 is Grado's first Bluetooth model. The audio quality doesn't match that of the company's best wired options, but this pair outperforms most of the wireless headphones we've tested in this category. These headphones have a microphone for calls and controls for audio playback, and they come with an audio cable for wired connections. According to Grado, they have a 40-hour battery life. Shop around and you can find them for about $250.
Grado's signature open-back design is intended to improve audio quality, but it's unusual for a wireless model because the design isn't meant to completely muffle sound that can leak in or out during use. That means if you're concerned about listening in louder environments or don't want to bother your neighbors, you may want to look elsewhere. However, Grado says the GW100 limits sound leakage far better than its wired models built for home listening.
True Wireless
The Samsung Galaxy Buds are some of the best-scoring portable Bluetooth headphones Consumer Reports has ever tested. That's all the more impressive, given their true wireless design, meaning the model doesn't have a physical connection between the earbuds. That's the same design scheme popularized by Apple's AirPods, but our testers say the Galaxy Buds sound dramatically better.
The Galaxy Buds produce exemplary audio quality packed into a pair of unobtrusive earpieces, complete with easy-to-use touch controls for playback, volume, and skipping tracks. According to Samsung, they have a 6-hour battery life and come with a powered carrying case that will recharge the earphones for up to 7 additional hours of playback on the go. The case itself can be charged with a wireless charging mat, and it's small compared with the cases that come with many true wireless models.
Those perks, combined with a price tag that often dips under $100, make the Samsung Galaxy Buds one of the best true wireless earphones on the market.
Top-Notch Noise Cancellation
The Sennheiser PXC 550-II is one of the highest-scoring headphones in our ratings, with superb sound quality and noise cancellation that bests many of the most popular models on the market. At $250 or less, the PXC 550-II is as much as $100 cheaper than many competitors. But in our tests it outperforms flagship models from manufacturers such as Sony and Beats, and gets the same score as the Bose Noise Cancelling Headphones 700, one of our other top picks, which is priced around $380.
The PXC 550-II has appealing features, such as adjustable levels of noise cancellation and an ambient sound monitoring mode that lets noise from your environment back in, so you can hear your surroundings when necessary. It has touch-sensitive controls and an automatic pause feature that stops your audio when you take the headphones off.

Sennheiser says this model will run for up to 20 hours with Bluetooth and noise cancellation turned on. It can be used over Bluetooth or with detachable USB or audio cables.
Bluetooth for the Budget-Conscious
Not all the best wireless headphones are expensive. The JVC HA-FX9BT Gumy Wireless delivers dependable sound quality at an impulse-buy price. They retail for around $20 or even less, and they come with a carrying pouch and extra earpieces to help you find the best fit.

The E25BT didn't score quite as high for audio quality as other models on this list, and it lacks some features you'll find on certain other models, such as water resistance and extended battery life. (JVC says this model has a 5-hour operating time.) But if you want a pair of wireless headphones that provide decent sound at a fraction of the cost of its competitors, the E25BT is an appealing option.
Portable Noise Cancellation
Sony continues to innovate in its popular line of noise-canceling headphones, and the WF-1000XM3 is one of the best performing models yet. The XM3 has outstanding sound quality and top-of-the-line active noise reduction to match—and it does it all with a true wireless design.
These feature-rich earphones have variable noise cancellation, which you can adjust to let in more or less sound, including a "monitor" mode that actively pipes in audio from your surroundings. Those settings can be activated using integrated touch controls, which also operate playback and skipping tracks.
According to Sony, the XM3 has a 6-hour battery life, can be recharged up to three times on the go with the earphones' portable charging case, and includes a quick-charge feature. A free app adds functionality. One caveat to keep in mind is some users may feel the XM3 doesn't fit securely, particularly those with larger ears.

How to Choose Headphones
With so many types of headphones, how do you know which pair is right for you? On the "Consumer 101" TV show, Consumer Reports expert Elias Arias explains everything you need to know.