When you shop through retailer links on our site, we may earn affiliate commissions. 100% of the fees we collect are used to support our nonprofit mission.
Learn more.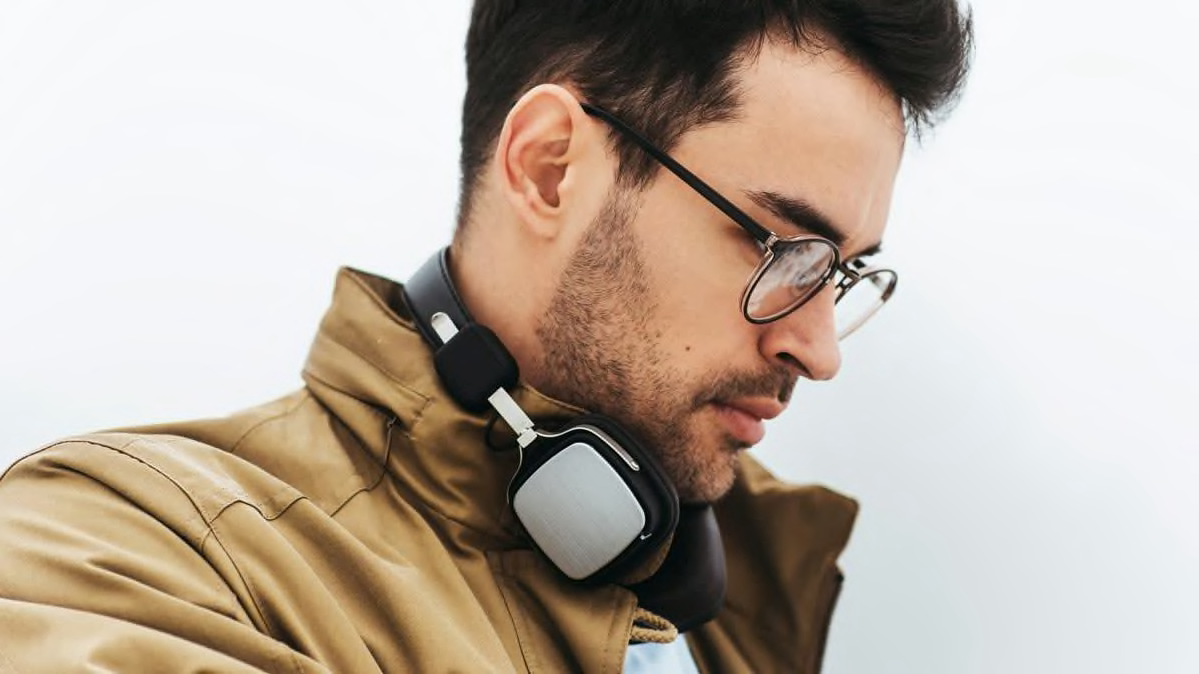 Millions of consumers who picked up a new cell phone in the past few years have found themselves stranded without a headphone jack. If you don't want to deal with USB-C or Lightning port adapters, wireless headphones are an obvious choice.
But that's just one reason to go wireless. You can't beat the feeling of freedom that comes from a great pair of wireless headphones, and they typically come with convenient features such as call and playback controls.
There are wireless headphones to suit almost any situation, whether you're on a budget, you need something to keep you moving at the gym, or you're looking for noise-canceling headphones to get some quiet on your next flight.
And you don't have to give up on sound just because you're going with Bluetooth. CR's technicians say audiophiles will still get better sound from the top-rated wired headphones, but our tests show that the best wireless headphones have impressive audio quality as well.
Here at Consumer Reports, we buy dozens of headphones every year and put them through rigorous testing so that we can give you the information you need to find the perfect pair.
If you're a CR member, you can find more headphone reviews in our ratings.
Studio Style for Half the Price
These days Marshall puts out more than iconic British guitar amps. The company makes some impressive headphones as well, starting with the Marshall Monitor Bluetooth. The headphones sound great, but what really sets them apart is the price.
They're among the best-performing wireless home/studio-style headphones in our ratings, and you can find them for under $150. That's less than half of what you'd pay for some comparable models. If you want over-ear headphones with the convenience of Bluetooth, this pair is a steal. It comes with a detachable audio cable so that you can use your headphones without draining the battery, and the ear cups fold in for easy storage and travel.

Great Sound on the Go
If you won't compromise on sound quality—and you're willing to pay for it—the Bang & Olufsen Beoplay E6 may be for you. It doesn't come cheap, but the Beoplay E6 is one of the best portable wireless models we've ever tested. In addition to sound quality, it has design perks including magnets that clip the earpieces together (and automatically turn the headphones off) for easy transport, a braided cable for added durability, and water resistance, according to the manufacturer.

There are some caveats. The proprietary charger could be expensive to replace, and the advertised battery life is only 5 hours. But for high-quality sound, critical listeners may be willing to overlook those shortcomings.
Top-Notch Noise Cancellation
Bose is often credited with the invention of noise-canceling headphones, and it's still beating the competition. The Bose QuietComfort 35 Series II is one of the best-scoring headphones in our tests for both noise cancellation and sound quality.
The headphones come with integrated call, volume, and playback controls, and a dedicated smart-assistant button, which can also be used to cycle through the model's variable noise-canceling functions and let in more or less outside sound.
According to Bose, you can double the already generous 20-hour operating time by switching Bluetooth off and using the included detachable audio cable. The ear cups swivel flat for easy storage, and the headphones come with a carrying case and a mini-plug-to-airplane-jack adapter.
Bluetooth for the Budget-Conscious
Not all of the best wireless headphones are expensive. The JVC HA-FX9BT Gumy Wireless delivers dependable sound quality at an impulse-buy price. They retail for around $20 or even less, and they come with a carrying pouch and extra earpieces to help you find the best fit.

The E25BT didn't score quite as high for audio quality as other models on this list, and it lacks some features you'll find on certain other models, such as water resistance and extended battery life. But if you want a pair of wireless headphones that provide decent sound at a fraction of the cost of its competitors, the E25BT is an appealing option.
True Wireless
The Anker SoundCore Liberty Air earphones look a lot like Apple's AirPods, but at $80 they cost about half as much, and they have a few notable advantages. Unlike the AirPods, the Ankers have an isolating design that will muffle some outside sound, and our testing shows their audio quality is significantly better, too. CR's technicians also note that they fit and stay in place better than many true wireless models.
According to Anker, the earphones have a 5-hour battery life and come with a charging/carrying case good for three additional charges on the go. They're also advertised as water-resistant. (CR doesn't test that feature.)
The Liberty Air has tap controls for calls and playback, and support for digital assistants, and it comes with the option to use the right earpiece alone for single-ear listening. It's available in black or white.
Tailored for the Gym
1More might not have the name recognition of other brands on this list, but the great audio quality and a price of around $60 make the iBFree Sport worthy of your attention.

The model has in-line controls for phone calls, volume, and music playback, and features a water-resistant design, according to 1More. And with its advertised 8-hour battery life, the iBFree Sport should keep you moving whether you're out for a run or trying to break your personal sit-up record.