When you shop through retailer links on our site, we may earn affiliate commissions. 100% of the fees we collect are used to support our nonprofit mission.
Learn more.
More than a dozen body building and weight loss supplements sold in the U.S. have been found to contain a chemical related to ephedrine, an active ingredient in ephedra. That supplement in 2004 became the first and only supplement ever to be banned in the U.S after it was linked to numerous hospitalizations and fatalities, including the death of 23-year-old Baltimore Orioles baseball pitcher Steve Bechler in 2003.
"What we found was shocking," says Pieter Cohen, M.D., the Harvard researcher who with his colleagues identified the ingredient, called oxilofrine, in 14 products, including HyperDrive 3.0, Shredder, Fastin, and Lean Pills.
Cohen warns that many people may unwittingly be taking a substance that is nearly identical—both molecularly and in its effect—to ephedrine. His study was published in the journal Drug Testing and Analysis.
Consumer Reports' secret shoppers were able to easily find all of the products identified by Cohen available for sale. They purchased a bottle of HyperDrive 3.0 online in less than 2 minutes.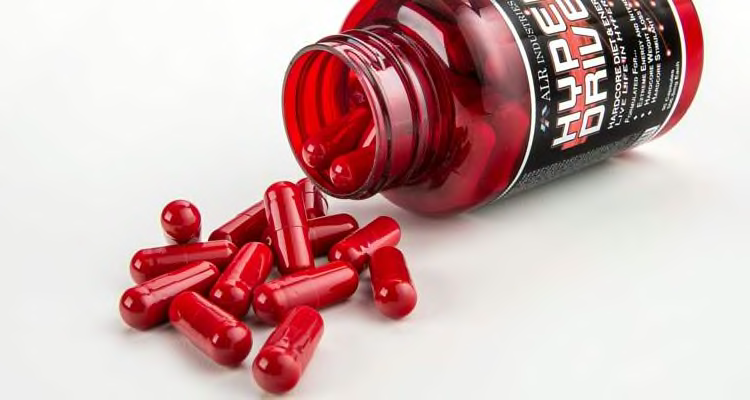 Dangerous Supplements
It was not difficult for Cohen's team to identify products that might contain the drug. They found it listed on the label as methylsynephrine, a common name for oxilofrine. Cohen and his team analyzed 27 brands of weight loss and body building supplements and found the drug in 52 percent of those products.
Oxilofrine, which is not approved for use in the U.S. but is used in countries such as Germany to treat low blood pressure, can cause agitation, nausea, vomiting, angina (chest pain), heart arrhythmias, and has been linked to cardiac arrest.
"This is not a drug you want to play around with and we found supplements that contained extremely high amounts," Cohen says.
For example, taking the recommended two to three capsules per day of ALR Industries' HyperDrive 3.0, one of the supplements Cohen studied, would provide as much as 250 mg of oxilofrine each day.
"This is more than twice the maximum daily dose that might be prescribed to an adult who is suffering from low blood pressure, and it puts extreme stress on the heart," Cohen says. "But doses this high haven't been studied, so we have no idea what kind of damage it can cause, especially in a person who has not been diagnosed with low blood pressure."
The Greatest Risks
Supplements containing oxilofrine are especially dangerous for people who are overweight and may have heart disease or high blood pressure.
But supplement makers appear to be marketing these products to precisely these people, with claims such as "targets visceral fat loss" and "formulated for increased metabolism," says Marvin M. Lipman, M.D., Consumer Reports chief medical adviser. The danger is that oxilofrine raises blood pressure and makes the heart muscles work harder, all of which can potentially lead to a heart attack, Lipman says.
According to a study in the Journal of Primary Prevention, more than 1.2 million adolescents in the U.S. use sports supplements, and Cohen says that high doses of oxilofrine hidden in supplements may pose a particularly grave threat to teens whose bodies are still developing. The usual pediatric dose of oxilofrine ranges from 8 mg to 24 mg, Cohen says, but a teen taking a supplement like HyperDrive 3.0 could ingest more than 10 times that amount in a day, which could overstimulate the heart.
For athletes, taking oxilofrine can cost them more than their health, since it's included on the World Anti-Doping Agency list of prohibited drugs. In 2015, Boston Red Sox pitching prospect Michael Kopech was suspended for 50 games after testing positive for the drug—which he reportedly says he did not take knowingly. But Kopech admits that he was taking dietary supplements, which could have been the source of the banned substance.

What the FDA Should Do
Drugs like oxilofrine, or methylsynephrine, are not allowed in supplements. According to the FDA, dietary supplements should only include ingredients found in nature.
"It is preposterous that for years the FDA has turned a blind eye to these supplements that state right on the label that they contain the drug methylsynephrine," Cohen says. The FDA tests supplements that it suspects might contain drugs. "Yet in this case, the drugs are hiding in plain sight," says Cohen.
In fact, several days before Cohen's study was released, the FDA issued warning letters to seven companies selling a total of eight products containing methylsynephrine. The FDA stated that methylsynephrine is not an acceptable dietary supplement ingredient and asked the manufacturers to stop distributing those products.
In response to the FDA's warning letters, Steve Mister, president and CEO of the Council for Responsible Nutrition, a dietary supplement lobbying group, said: "For any companies that do not take these warnings seriously, we expect FDA to move quickly and aggressively to the next steps available to it under the law to get these products off the market."
But the FDA has limited power to force supplements like these off the market quickly. Equally problematic, it does not have the authority to test supplements before they go on the market. The FDA's only method of tackling the problem of adulterated supplements is to purchase them off the store shelves and test them one product at a time for drugs.
"With an estimated 65,000 supplements on the market, this is a gargantuan task, since dietary supplement makers are not even required to register their products," says Chuck Bell, director of programs for Consumers Union, the policy and advocacy arm of Consumer Reports. "So the FDA has no way to track the thousands of products that are available to consumers. The FDA is playing a game of whack-a-mole with unscrupulous supplement makers, and it's putting consumers at risk," Bell says.
"The only way to prevent tainted supplements like these from ending up in consumers' hands would be to reform the law so that products must be registered or approved by the FDA before they are sold," Cohen says.
In the meantime, consumers should steer clear of supplements that list ingredients such as methylsynephrine (which is often misspelled), or any of its synonyms such as oxilofrine, p-hydroxyephedrine, oxyephedrine, or 4-HMP.
The stakes are high. Supplements, including those containing powerful drugs like oxilofrine, are responsible for sending 23,000 Americans to the emergency room every year, according to a 2015 study in the New England Journal of Medicine.