When you shop through retailer links on our site, we may earn affiliate commissions. 100% of the fees we collect are used to support our nonprofit mission.
Learn more.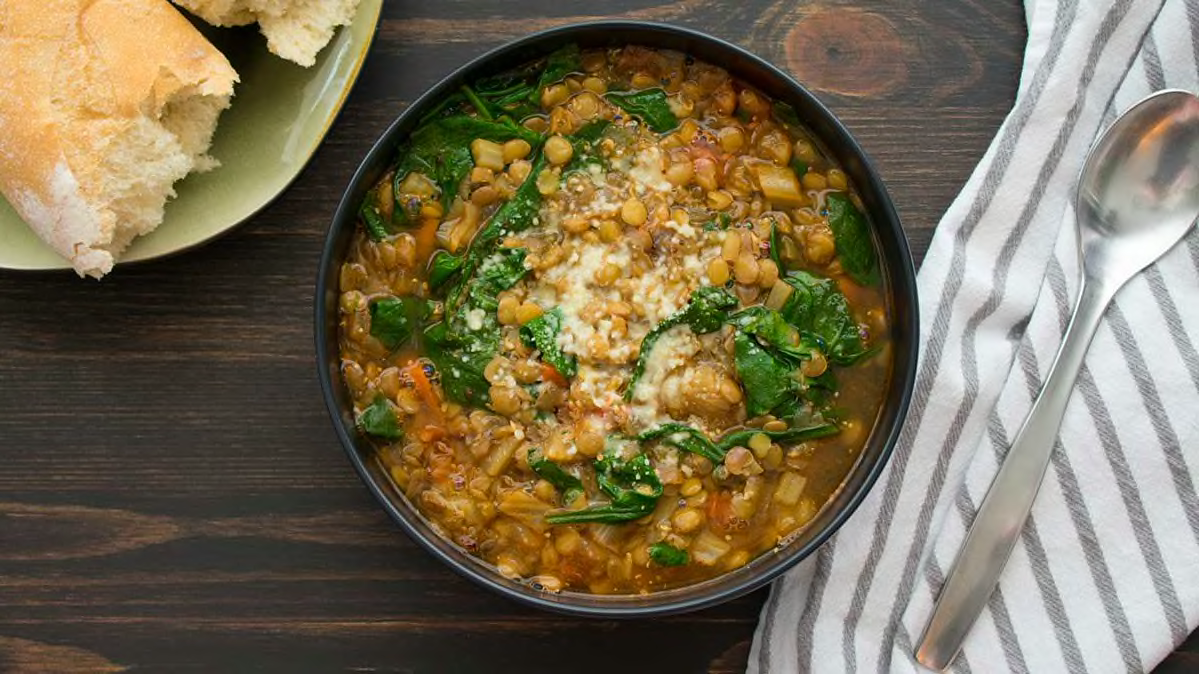 Though you might be tempted to hunker down with a pint of ice cream or a bag of chips to help ease your worry over the COVID-19 outbreak, it's particularly important to stick to a healthy diet right now.
"While it won't eliminate your risk of becoming infected, you want to do what you can to support your immune system, and choosing nutritious foods is one way to do so," says Amy Keating R.D., a nutritionist at Consumer Reports.
"You might be feeling like your schedule is turned upside down, working from home and having kids at home all day," she says. "As much as possible, eat regular meals, rather than grazing, and try not to eat out of boredom or stress. Setting aside regular time for exercise is important too."
Health officials have advised limiting trips out in public, including to the grocery store—which may mean you have little fresh food on hand but plenty of products in your pantry. According to market research firm Nielsen, many Americans have stocked up on legumes like black beans and chickpeas, rice, pasta, and canned tuna, likely because they're shelf-stable. Dried bean sales were up nearly 40 percent during the last week of February compared with the same time last year. Rice and tuna were up 25 percent, and pasta was up 10 percent.
Fortunately, these foods make the perfect base for healthy meals. Other good options you may have—or should consider buying when you do need to replenish your stock—include other whole grains (farro or oats for example); frozen vegetables and fruit; and long-lasting perishables and produce such as cottage cheese, dried fruit, eggs, hard cheeses (cheddar, parmesan), packaged tofu, ricotta cheese, yogurt, cabbage, carrots, garlic, onion, potatoes, winter squash, apples, and citrus fruit. "Canned foods can be high in sodium, so where possible, pair them with fresh unprocessed foods," Keating says.
Now that you have foods like these on hand, though, you may be wondering what to do with them, especially if they aren't part of your regular meal repertoire. So CR's test kitchen has put together these easy, tasty, and healthy ideas. Unless otherwise noted, they all make 4 servings.
'PB&J' Oatmeal
Thaw 2 cups frozen berries. Boil 4 cups water in a large saucepan. Add 2 cups old-fashioned oats. Cook about 5 minutes over medium heat, stirring occasionally. Remove from heat and stir in 3 tablespoons peanut or almond butter. Top with 2 teaspoons cinnamon. Place into bowls and top each serving with and ½ cup thawed berries (or use ½ cup fresh berries per bowl if you have them) and 1 teaspoon maple syrup or honey.
Carrot Cake Oatmeal
Boil 4 cups water in a large saucepan. Add 2 cups old-fashioned oats and 4 medium grated carrots. Cook about 5 minutes over medium heat, stirring occasionally. Add 2 teaspoons cinnamon, 1 teaspoon vanilla extract, and 1 ⅓ cups milk or unsweetened soy milk. Simmer until desired thickness is reached. Top each serving with ¼ cup toasted almonds, pecans, or walnuts.
Farro and Chickpeas With Raisins and Cinnamon
Rinse 1 cup of farro; set aside. Place 1 tablespoon of olive oil in a large saucepan with a cinnamon stick and 1 or 2 bay leaves. Heat on medium heat until fragrant, 1 to 2 minutes. Remove saucepan from heat and carefully add 2 ½ cups of water or low-sodium chicken broth to the saucepan (adding liquid to hot oil may splatter) and bring to a boil. Add farro, and ¾ cup diced carrots or ½ cup frozen spinach, if you have them.
Reduce heat to low, cover, and simmer 15 minutes. Add 1 can of drained and rinsed chickpeas (or 1 ½ cups cooked dried chickpeas) and ¼ cup of raisins and cook another 5 to 10 minutes, or until all or most of the water is absorbed and grains are tender. Let sit 5 minutes. Drain excess water (if any) and remove cinnamon stick and bay leaves. Fluff with a fork and serve.
Note: You can use brown rice in place of farro (no need to rinse rice). Instead of 1 cup farro and 2 ½ cups water or broth, use 1 cup brown rice and 2 cups liquid. Simmer for 25 minutes, then add the chickpeas, raisins, and vegetables (if using) and cook another 15 to 20 minutes.
Peanutty Tofu Bowl
Rinse 1 cup farro and place in a saucepan with 2 ½ cups water or low-sodium chicken broth. Bring to a boil, then lower heat and simmer 15 to 25 minutes. Meanwhile, in a small bowl, whisk together ¼ cup peanut butter, 4 teaspoons apple cider vinegar, 1 tablespoon low-sodium soy sauce, 1 tablespoon maple syrup, and ¼ teaspoon red pepper flakes. Add warm water to thin, if necessary and set aside.
When farro is cooked, let sit 5 minutes. Drain excess water, if any, and place in a serving bowl. Gently toss with 2 cups shredded red cabbage, 4 carrots, grated, and 1 ⅓ cup cubed firm tofu. Drizzle sauce over farro mixture and gently combine.
Note: You can use 1 cup brown rice in place of the farro (no need to rinse rice). Instead of 1 cup farro and 2 ½ cups water, use 1 cup brown rice and 2 cups water. Cooking time for the rice will be 40 to 45 minutes.
Sushi Hand Rolls
Boil 1 ⅓ cups of water in a medium saucepan. Add ⅔ cup brown rice, reduce heat to low and simmer, covered, 40 to 45 minutes or until tender. Divide the rice among 8 sheets of roasted seaweed (about ¼ cup per sheet). Sprinkle each with ¼ tsp. rice wine vinegar or apple cider vinegar.
Drain two 5-ounce cans of light tuna or salmon, flake the fish, and divide it among the rice/seaweed sheets. Top each with a slice of avocado and cucumber if you have them. Roll into a cone shape. Serve with frozen microwaved edamame.
Tomato and Olive Pasta
Cook 8 ounces whole wheat or regular pasta according to package directions. Meanwhile, heat 2 tablespoons olive oil in a medium saucepan on medium heat. Add 3 crushed garlic cloves and sauté 30 seconds. Add 2 cups diced canned tomatoes, and 1 ½ cups white beans or chickpeas (cooked from dried or canned and rinsed, preferably low-sodium). Cook, stirring occasionally, 4 to 6 minutes. Stir in ⅓ cup chopped black olives. Toss cooked pasta with tomato mixture.
Penne And Peas
Cook 2 cups penne, preferably whole wheat, according to package directions. Add 1 cup frozen peas during the last 2 minutes of cooking. Drain, saving ½ cup cooking water. In the saucepan, mix 1 cup small-curd 2% cottage cheese or ricotta cheese, 1 tablespoon olive oil, 4 tablespoons grated Parmesan cheese, and ¼ teaspoon each of nutmeg and black pepper. Return cooked pasta to pan and combine, using reserved pasta water to moisten if needed. Top with 1 teaspoon lemon zest (optional).
Lentil and Spinach Soup
Defrost a 10-ounce package of frozen spinach, then squeeze dry (you should have 1 to 1½ cups.) Saute 1 large chopped onion and 2 minced garlic cloves in 2 tablespoons olive oil. Add 4 cups low-sodium chicken or vegetable broth and 4 cups water. Add 2 cups dried lentils and ½ teaspoon dried rosemary. Bring to a boil and then reduce heat to low and simmer about 20 minutes until lentils are tender. Add spinach and a 14 ½-ounce can of diced tomatoes. Cook until heated through.
Loaded Sweet Potato Snack
Pierce a sweet potato with a fork four times and microwave for 5 minutes, or until fork-tender. (Add 2 to 3 minutes in the microwave for each additional potato.) Split down the middle. Top with ¼ cup microwaved frozen broccoli, ¼ cup drained canned diced tomatoes, and a dollop of plain yogurt. Sprinkle with black pepper.
Quick Chickpea or White-Bean Dip Snack
Drizzle 2 cups cooked beans or drained and rinsed canned beans with olive oil. Mash coarsely with a fork. Mix in a little garlic powder, dried oregano (or parsley, mint, or basil), and salt and pepper. Serve with whole-wheat crackers and sliced or baby carrots (or any cut up vegetable), if you have them, for dipping.