2015 Gift Guide: For the Food Lover
Help the foodie on your holiday list with primo tools big and small, from mixers to fridges At Consumer Reports, we buy and rigorously test thousands of products and services all year long so that you have an independent source by which to evaluate safety, performance, value, energy efficiency, and environmental impact. At holiday time, that will make you a shrewder shopper, resulting in smarter, cooler, more delightful, and useful choices. We've reviewed a year's worth of testing to bring you the standouts from our labs—from TVs to toasters, smartphones to slow cookers, coffeemakers to cars. The results add up to our Best Products of 2015.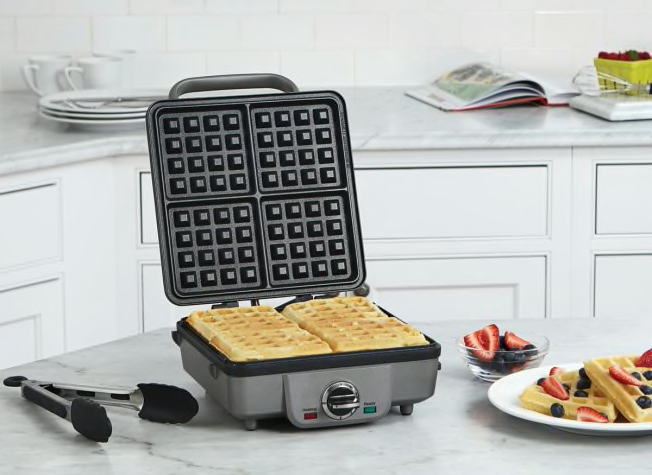 Cuisinart Breakfast Central WAF­300 | $100
Nothing says "Good morning, honey!" better than a plate of crispy Belgian waffles, which this Cuisinart did over and over, with aplomb, in our tests. A "ready" light and an audible beep let you know when the waffle iron has finished preheating, and once you pop in the batter, those signals again alert you when it's time to dig in. Plus, the removable nonstick waffle plates are easy to clean.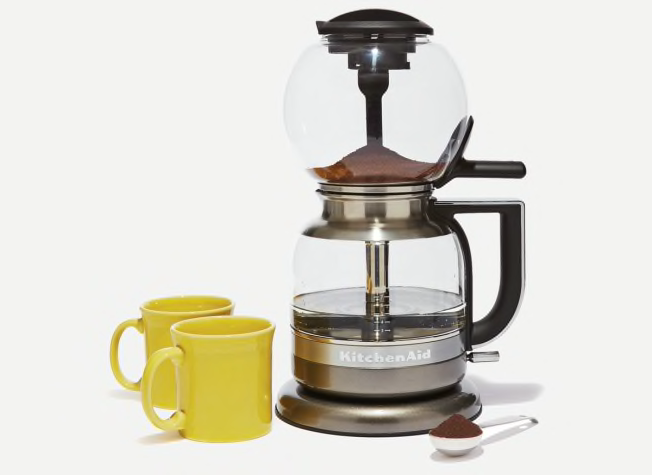 KitchenAid Siphon KCM0812 | $200
Siphon coffeemakers are one of the coolest science experiments available to the coffee cognoscenti. But traditional siphon brewers require open flames and a Ph.D. in molecular gastronomy to operate. KitchenAid has made the process accessible to the rest of us with this electric model—and so it should land on your gift list for your true coffee aficionado. The process is slow, but the results are worth the wait. Ground coffee is added to the top; water is added to the bottom, which sits on a heating element. As it gets warmer, vapor builds, forcing the heated water through the tube and into the upper chamber, where it mixes with the grounds. The circulating vapor swirls the water around in the grounds. Meanwhile, the heat below shuts off, and as the water vapor cools, it creates a vacuum that draws the coffee back down into the carafe. We brewed many more carafes than we actually needed for testing.
Chefman My Barista RJ30 | $80
If you have someone on your gift list whose theme-­song lyrics include "I'm late! I'm late! For a very important date!" you won't go wrong with this super-­speedy single­-serve coffeemaker. In our tests, this speed demon made a good fresh­-brewed mug of joe and is one of the least expensive models you'll find. It takes K­- Cups or loose grounds and is available in white, red, or black.
Check our coffeemaker buying guide and Ratings for more information.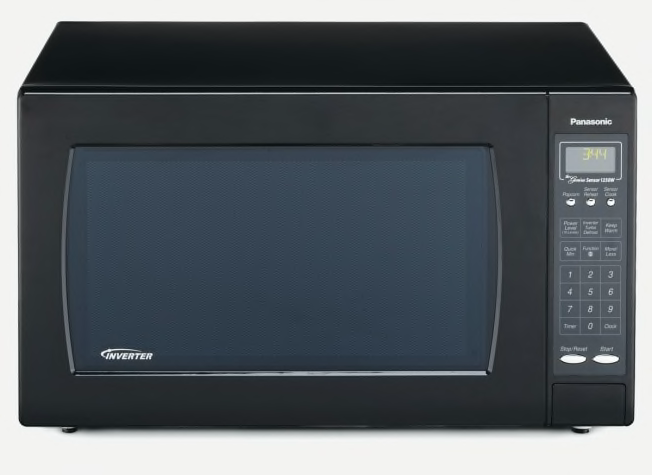 Panasonic Inverter NN-­H965BF | $180
This mighty microwave has one of the largest usable capacities of all of the models in our tests. And it earned our top ratings for two of the most important tasks—heating and defrosting. A sensor lets you know when food is perfectly cooked. It measures 14x24x20 inches and also comes in white.
Check our microwave oven buying guide and Ratings for more information.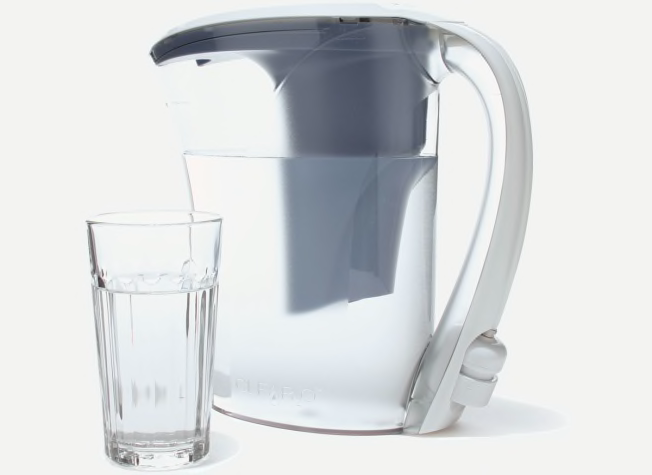 Clear2O CWS100A Water Filter | $30
This budget­-friendly carafe­-style water filter does the job of built-­in models at a tenth of the price. It was excellent in our tests at capturing lead and chloroform—a surrogate for organic compounds such as atrazine and benzene, as well as for particulates in water that give it a bad taste. One caveat: Some user reviews cite trouble connecting the Clear2O to their faucet, so an additional hose extension may be needed.
Check our water filter buying guide and Ratings for more information.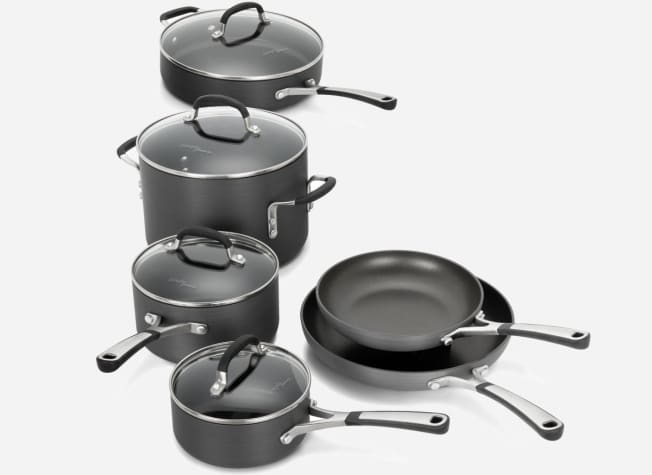 10-­Piece Calphalon Simply Nonstick | $200
Keep the cook in your life happy with this snazzy set of high-­performing cookware. With six pans and four lids, this nonstick set will get any new homeowner with culinary aspirations off to a good start. It's easy to clean, cooks evenly, and stands up to a lot of abuse. The star of the batch is the 10-­inch omelet pan, which can also be gifted separately for $40.
Check our kitchen cookware buying guide and Ratings for more information.
Ronco Ready Grill RG1005BLGEN | $80
This vertical broiler uses two sets of heating rods to quickly cook food in a basket from both sides, kind of like a toaster. It has no temperature control, just heating elements that are on the whole time and a 30-­minute timer that turns off the grill when time is up. Chicken wings, frozen fries, and burgers were nicely browned and tasty but not smoky or grilled, and the Ready Grill cooked them faster than even a convection oven. Plus cleanup is a cinch.

What's the most useful kitchen gift you've ever received?
Tell us in the coments below
Philips HD9230/26 Digital Airfryer | $350
Here's one you might want to gift yourself with. Any fast-­paced modern home should be outfitted with an air fryer like this one—it fries, bakes, and roasts using little or no oil. The Airfryer out-cooked a convection oven in our labs, turning out crispy sweet potatoes and nicely browned fries. The manual suggests halving cooking times and reducing oven temperatures by 70° F for premade packaged foods, so you'll need to experiment, which is easy using the electronic controls. Cleaning can be a bit tricky, and the basket holds enough for just two hungry people.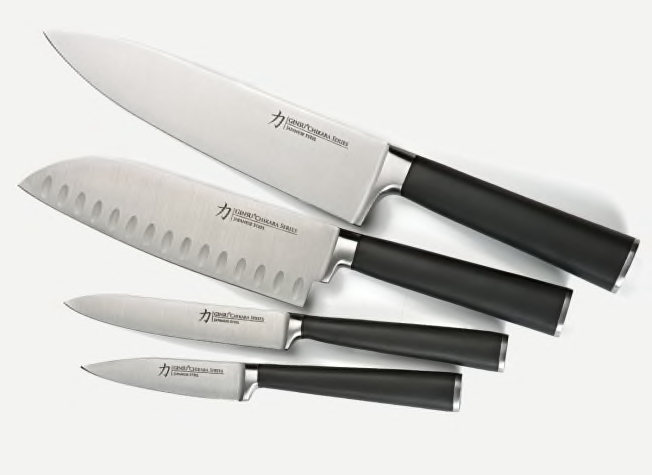 Ginsu Chikara | $75
Ginsu knives have come a long way since the name became synonymous with cheesy 1970s­-era infomercials. For less than $10 per knife, this eight-­piece set offers great value, providing the cutting performance and handle comfort of knife sets costing three to four times as much. The set includes a chef and santoku knife, but you'll have to pay an additional $10 if you want a slicer.
Check our kitchen knives buying guide and Ratings for more information.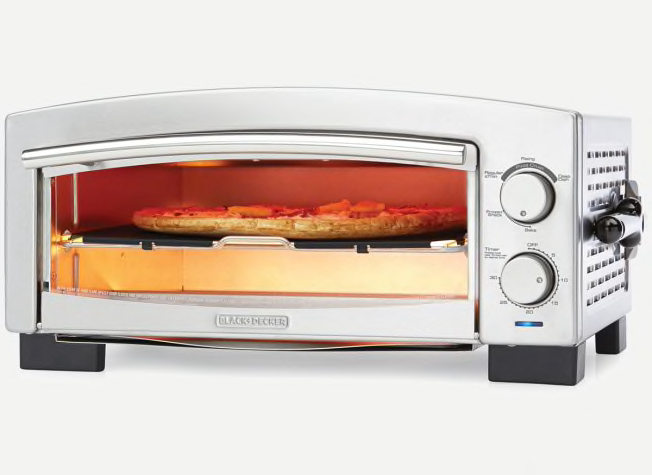 Black & Decker 5­-Minute Pizza Oven & Snack Maker P300S | $150
Who doesn't love pizza anytime of the year? That's why this pizza oven lands on our "best gifts" list. Pizzas—whether homemade or frozen—cooked much faster in this countertop model than in a conventional oven; our fresh, thin­-crust pizza took just 5 minutes. Once your giftee gets the hang of which settings are best for each type of pie, he or she will love to get the party started.
Check our toasters buying guide and Ratings for more information.