Holiday Gifts for the Social Animal
When you shop through retailer links on our site, we may earn affiliate commissions. 100% of the fees we collect are used to support our nonprofit mission. Learn more.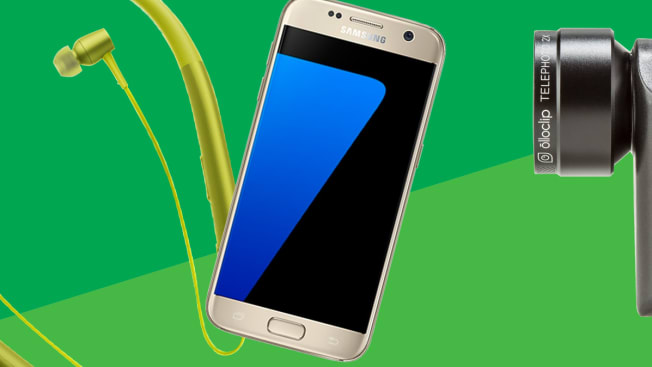 Whether it's for Facebook, Instagram, Twitter, or old-fashioned phone chatting, these gadgets will help your plugged-in pal stay connected year-round
Editor's Note: This article also appeared in the December 2016 issue of Consumer Reports magazine.
Sure, there are cheaper choices, but these Philippe Starck-designed Parrot Zik 3 Bluetooth headphones marry form and function beautifully. They have very good sound quality and excellent active-noise reduction, and can be controlled by touch (on the right ear cup) or via the Parrot Zik 3's mobile app.
Ideal for the social animal who likes to keep in touch while keeping fit, this pair of Jabra Sport Coach wireless headphones has a built-in microphone and an integrated cross-training app that Jabra claims has more than 50 exercises. A motion sensor measures distance traveled, pace, steps, cadence, and calories burned, and the hybrid in-ear/earbud design keeps the buds in place on even exercisers' ears.
These Bluetooth headphones produce very good sound quality and have a built-in microphone—handy for fielding calls on the go. Though the Sony h.ear MDR-EX750BT isn't noise-canceling per se, the in-ear design will at least muffle most sounds that might interfere with a social animal's listening pleasure.
Apple removed the headphone jack on its new iPhone 7, but our testers report that the sound quality loses nothing with Apple's new EarPods headphones. The 12.2-megapixel camera is similar to the one on the iPhone 6s, though the 7.2-megapixel front-facing camera has a higher resolution than previous models. (The 2x optical telephoto lens on the iPhone 7 Plus provides a better image than the digital zooms found on many phones.) Two speakers provide a sense of stereo separation, although the bottom one—set into the phone's side—seems to direct the sound away from the listener.
The OnePlus 3 is unlocked, which means you can switch service providers by changing the SIM card. (The phone also has a dual SIM-card slot, so it can accommodate a second number for, say, work.) Add in premium features like an ample 64GB of storage, rapid recharging, and a 16.1-megapixel camera and you're looking at a premier phone at a pleasing price.
This powerful, versatile laptop has ample processing power to edit photos, play games, or video chat. The 13.5-hour battery life gives the Acer Aspire S5-371-52JR staying power even when the social animal is on the go, and the wide-angle display and matte screen make it easy to share photos and videos in any lighting environment. A potential downside: The machine lacks an optical disc drive.
Complete with a built-in answering machine, the Clarity BT914 cordless phone is thoughtfully designed to assist the social animal who may sometimes need a little help. The volume on the handset, for example, can be increased to accommodate family or friends with moderate to severe hearing loss. The large, backlit buttons are easy to see in any light. And those big buttons and the louder-than-average speaker can even be enlisted to let the user make and take calls from a cell phone via Bluetooth.