Top Cyber Monday Deals on Electronics
We check out the best Cyber Monday deals from Amazon, Best Buy, Target, and Walmart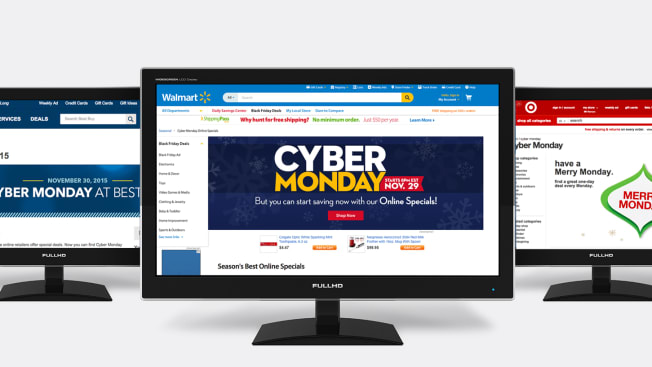 Not everyone enjoys the Black Friday, leaving home to join the mobs in a store. No worries: That's what Cyber Monday is for.
This year, many major retailers are kicking off Cyber Monday early, so check them right now to see which deals are in effect. Also, many are extending Cyber Monday into a week of cyber deals, so there's a chance you can continue getting discounts through December 6.
Here's a quick look at some of the electronics deals we've seen online at Amazon, Best Buy, Target, and Walmart. With many of these sites, you'll need to check back regularly or sign up for alerts to know when new deals hit the Web.
One of those retailers not content with just a single day of deals, Amazon is offering a Cyber Week of deals that run through December 5. Just like with its Black Friday sales, you have to check back regularly to see the latest deals. Here are some of the major ones for electronics.
An unnamed 60-inch LG 60 1080p TV for under $700.

A 28-inch TCL 28S3750 720p Roku smart TV for $170. We don't see this set elsewhere.

A 32-inch Upstar P32ES8 720p TV for $150. It's $168 at Walmart, and $180 at Kmart.

A 48-inch UHD TV home theater bundle, which we assume is a TV and sound bar, for under $600.

A Vizio 54-inch 5.1 sound bar speaker for under $300. If it's the Vizio S5430W-C2, it's selling for that price at a few places.
Amazon Products
Amazon Echo Bluetooth speaker with Alexa for $149, normally $180.

Amazon Fire TV for $75 instead of $100.

An Amazon Fire TV Stick with voice remote for $35 instead of $50.

A Kindle Paperwhite for $100, usually starting at $119.

Fire Kids Edition for $85, normally $100.
Other Items
MEE audio Sport-Fi M6 noise-isolating in-ear headphones, $18 instead of $30.

Philips Fidelio noise-canceling headphones for $200 instead of $300.

$100 discounts on certain flat and curved Samsung monitors.

25 percent off a "top-rated" HD action camera, which we presume is a GoPro Hero.

Sony SmartBand 2 for $95, down from $130.

A Mira wellness and activity bracelet for less than $120, down from $169 normally.
Thanks to bfads.net, we got a preview of Best Buy's Cyber Monday deals, which may have the best selection of TVs. However, a lot of the deals can be found elsewhere. Many of these TVs are in our TV Ratings, which are available to subscribers; the Samsung models we tested don't have the "FXZA" suffix.
A 65-inch Samsung UN65JU7100FXZA UHD smart TV for $1,700. Though it was usually about $2,300, it's also available at Amazon and several other retailers right at this price.
A 65-inch Samsung UN65JS9000FXZA curved Ultra HD smart TV for $3000, $500 less than usual.
A 60-inch Samsung UN60JU6500FXZA UHD smart TV for $1,200.
A 40-inch Samsung UN40JU6500FXZAA UHD smart TV for $600. This is its selling price right now at a few retailers. Walmart has the UN40JU6500 model for $598.
A 65-inch Sony XBR-65X850C UHD smart TV for $1,800. Again, this TV—the only Sony set we've really seen discounted this season, is available right now for this price at Amazon and several other retailers.
A 55-inch Sony XBR-55X850C UHD smart TV for $1,200. Again, available elsewhere at this price.
A 65-inch LG 65UF8600 UHD smart TV for $2,000.

A 55-inch LG 55UF6450 UHD smart TV for $700.
Other Deals
Lenovo ThinkPad 14-inch 2-in-1 with 8GB RAM, a 256GB SSD, 2GB dedicated graphics, and a 1080p touchscreen for $900.

$100 discounts on certain off HP and Lenovo all-in-one computers, and some iMac and MacBook computers.

A GoPro Hero4 Silver for $400, plus an $80 Best Buy gift card and 64GB memory card. If you don't need the extras, you can buy this action-cam for $329 at several places.

A Samsung Galaxy Tab 3 Lite Kids Edition for $100, a $50 savings.

Samsung Galaxy Tab S2 9.7-inch 64GB for $450, down from $600.
Target is making things easy this year: You get 15 percent off everything on Target.com when you use the promo code "CYBER15" at checkout. Even better, the retailer is letting you "stack" it on top of other discounts, including those in its current "10 Days of Deals."
Updated, November 30, 2015: Target's exclusions to the 15 percent discount include a number of electronics categories and items. You won't get 15 percent off Samsung and Vizio TVs, DSLR cameras and lenses, Google Chromecast, Bose products, the PlayStation 4, Xbox One, and Nintendo game consoles, Sonos audio products, and Go-Pro action cams.
In general, Target doesn't have quite as many deals on electronics as other chains. Here are a few of the offers.
A 48-inch Samsung UN48JU6400FXZA Ultra HD TV, plus a $100 Target gift card, for $600. The TV, which is in our TV Ratings, is usually $900, according to Target—although it's selling for $750 on Target now, before the sale starts.

An Xbox One 500GB Gears of War bundle for $350, plus a free EA Sports game. Walmart had this bundle, minus the EA game, for $399.

A GoPro Hero+ action cam for $200, plus a $30 Target gift card.

50 percent off Sennheiser headphones.

A Pebble Time Round smartwatch for $250 with a free $50 Target gift card.

A Nintendo 3DS XL for $200, bundled with a Super Smash Bros game. The game system itself usually sells for $180.
Walmart.com is also kicking things off early with the action getting heavy on Sunday, November 29, at 5:00 p.m. ET, when it rolls out some 2,000 online deals. Here are a few we know about.
A 48-inch Samsung UHD TV 60Hz, $598. We think it's the Samsung UN48JU6400, which is available at this price elsewhere.

50-inch Samsung 1080p 60Hz for $498.

An unidentified LG 65-inch 4K Ultra HDTV for $799. If it's the LG 65UF6450 it's a $100 to $200 more elsewhere. Best Buy has the 55-inch version for $700.

LG's BP155 wired Blu-ray player for $48.

An Xbox One console bundle with Gears of War and an extra wired controller for $300 (normally $350).

The PlayStation 4 Star Wars Console Bundle, which comes with four classic Star Wars games, for $399.

Beats by Dre Drenched Solo on-ear headphones for $99 (normally $119).

Toshiba N2840 Celeron laptop 2GB/32GB SSD for $149.

Microsoft Surface Pro 3 for $599, a claimed $200 savings.