Best Samsung SmartThings-Compatible Devices for Your Smart Home
The app provides a powerful way to control your home's lights, locks, and more
When you shop through retailer links on our site, we may earn affiliate commissions. 100% of the fees we collect are used to support our nonprofit mission. Learn more.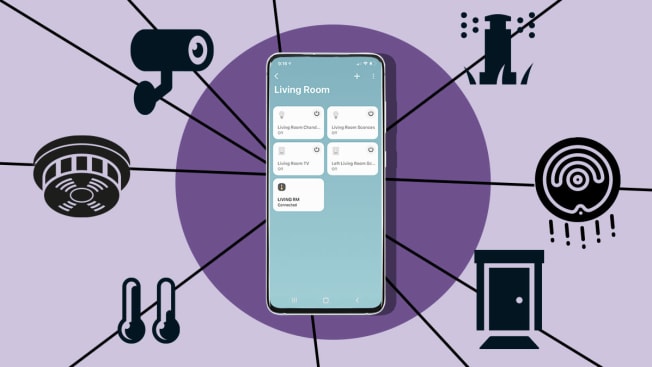 If you own a Samsung smartphone, you probably know all about bloatware, the numerous installed apps that come with the phone that you didn't ask for. You might be tempted to uninstall them all and install just what you use, but at least one of those apps, called Samsung SmartThings, is worth keeping.
SmartThings is Samsung's smart home platform, which allows you to control all of the connected devices in your home. Set your home's thermostats, keep watch from security cameras and video doorbells, automate lighting from connected bulbs and switches, and monitor your backyard's sprinkler system—all from one app. If you want to use voice control to work the devices, you can use Samsung's Bixby digital assistant that's built into its smartphones.
Samsung's smart home ecosystem isn't as big as those from Amazon and Google, but it still works with over 5,000 devices. That tally includes almost all of the most popular smart home brands, such as Arlo, Nest, Philips Hue, Ring, Sonos, and Wemo.
Certain devices require a Samsung SmartThings-compatible hub, a separate $120 device that connects third-party devices to the system. Samsung has been working on getting devices to hook up to SmartThings via WiFi, though, so you should see more and more options that don't require the separate hub.
To help you find the best SmartThings-compatible smart devices for your home, we rounded up the top-performing models from our ratings of smart speakers, security cameras, smart thermostats, smart locks, smart sprinkler controllers, and more.
We run each through a battery of tests, including kick-ins and picking for smart locks and sound quality and ease of use for smart speakers. The list includes devices made by Arlo, First Alert, Google Nest, Rachio, Samsung, and Yale.
Want ideas for how to use all these devices to organize and streamline your home? See our in-depth smart home toolkit for our latest advice.
CR's take: The Arlo Pro 2 offers superb video quality, and Arlo cameras are the only models in our ratings with Excellent Smart IQ ratings. That means they offer a wide array of smart features compared with the competition, including a siren, voice control via Amazon Alexa and Google Assistant, a rechargeable battery, and a rolling seven days of free storage for motion- and audio-triggered video clips (a perk that the other Arlo cameras in our ratings lack).

The Pro 2 also receives a great data security score, which means it will hold up well against hackers, but its data privacy could be better. (See this article on our security camera data privacy and security tests for more information.)

With an Arlo Smart plan, you can get more video storage as well as monitoring zones; person, package, vehicle, and animal detection; and e911, which allows you to contact your home's local 911 dispatcher directly, regardless of whether you're home or halfway around the world. If you don't want to pay a monthly fee for video storage, you can connect a USB drive to the base station and store footage there instead.

Free video storage: 7 days

Optional subscription costs: 30 days of cloud video storage for $3 per month for one camera or $10 per month for five cameras; 24/7 continuous video recording for $10 per month per camera for 14 days and $20 per month per camera for 30 days.
CR's take: The Google Nest Hello Video Doorbell is one of the best you can buy, but it's only offered in a hardwired version and can't run off battery power. If you have an existing doorbell that's hardwired, it will work just fine. If not, you'll need to either have an electrician install the wiring or use a plug-in power adapter, which is sold separately.

This doorbell receives an Excellent rating for response time and offers terrific video quality and data security, but its data privacy and smart features could be better. Among those features are HDR video for vivid picture quality, geofencing, person alerts, unusual sound detection, voice control via Amazon Alexa and Google Assistant, recorded messages for when you can't answer the door, and a rolling 3 hours of motion-triggered snapshots.

If you sign up for a Nest Aware subscription, you can get either 30 or 60 days of cloud storage for motion-triggered video clips (depending on the plan), 10 days of 24/7 continuous video recordings (only on the $12-per-month plan), facial recognition, package detection, monitoring zones, and e911 to call your home's 911 dispatcher regardless of your physical location.

Free video storage: None, but you get 3 hours of snapshots, which are still images of what the camera sees.

Optional subscription: $6 per month (or $60 per year) for 30 days, $12 per month (or $120 per year) for 60 days of video clips and 10 days of 24/7 video.
CR's take: The Google Nest Learning Thermostat earns one of the top spots in our smart thermostat ratings. It rates Excellent for automating your heating/cooling and offers a wealth of smart features to enhance its functionality, including an occupancy sensor (so it can adjust the temperature based on whether people are in a room) and geofencing, which turns the temperature up or down when you leave home and return by tracking your smartphone's location. One caveat: Our testers found that the manual controls aren't the easiest to use.
CR's take: The Yale Assure YRD256-CBA-619 uses its sister company August's smart lock platform. Its smartphone app is almost identical to August's, just with Yale branding instead. That means it offers many of the same features as August smart locks, including remote control, an access log, voice control (via Amazon Alexa and Google Assistant), electronic keys, and a door open/close sensor.

This lock also comes with Yale's version of the August Connect WiFi adapter, $79, which you need in order to use all those features. In our tests, the Yale Assure YRD256-CBA-619 receives a Very Good rating for its resistance to drilling. It's also effectively impossible to pick because it's keyless, and it's very resistant to kick-ins as sold.
CR's take: It's no surprise that the Samsung R7040 robotic vacuum works with SmartThings. In our tests, the little bot earns an Excellent rating for bare floors and carpet cleaning. Our testers also found it easier to use than other models from the manufacturer.

Samsung's SmartThings app allows you to check the status of the bot as well as schedule it and view its cleaning history. Users can delete or request the data the bot collects in this Samsung app as well, which is a positive, though overall it still earns a middle-of-the-road Good rating in our data privacy tests. (No brand of robotic vacuums scores higher than a Good, though.) In our data security tests, which assess how well a robot protects your data, it earns a Very Good rating. (See this article on our robotic vacuum data privacy and security tests for more information.)

Samsung robotic vacs aren't as reliable as Eufy or iRobot (which earned an Excellent and a Very Good reliability rating, respectively, in our CR member surveys); they earned just a Good rating. So compared with these other two brands, there's a greater chance they will break over time. Samsung bots also got a Good rating for owner satisfaction, which is lukewarm.
CR's take: The Rachio 3 8ZULW-C is a solid sprinkler controller with an Excellent rating for WiFi setup and a Very Good rating for weather responsiveness. It receives only a Good rating for convenience, though, because the wiring instructions are unclear, and it lacks a backup battery and weatherproof casing. (The casing is sold separately for $30.)

This particular model works for up to eight sprinkler zones; a 16-zone version is also available for larger systems. In addition to controls in the SmartThings app, this Rachio also features manual controls on the device itself.
CR's take: If you want a smoke and CO detector that can send you smartphone alerts when you're away from home, consider the First Alert Smart ZCOMBO-G. This battery-powered detector performs very well in all our evaluations except our flaming fires test, for which it receives a Poor rating. So if you go with this detector, you may want to also consider purchasing a battery-powered ionization smoke detector (for flaming fires), such as the Kidde RF-SM-DC.

This First Alert features a hush button, runs on two AA batteries, and can connect with other compatible detectors. This model uses a wireless network called Z-Wave, not WiFi, so it requires a SmartThings hub, $120, to connect to the internet and your smartphone.
CR's take: The Sonos Move is the first portable Sonos speaker. It doesn't even need WiFi; it's Bluetooth-compatible, which allows easy streaming from a smartphone. But its large size and 6.7-pound weight make it better suited to a trip from the family room to the patio than a ride in a beach bag.

As with the company's other models, the Move can sit at the heart of a WiFi-powered multiroom system and integrate with other Sonos speakers, most of which have done very well in our testing. It connects to Samsung SmartThings so you can control it, and all your other devices, from the same app. But it also has both Amazon Alexa and Google Assistant built in so you can use the assistants via the speaker itself. You can even use them to control your other SmartThings-compatible devices with your voice.

If you don't need the Move's portability or Bluetooth capabilities, the Sonos One is also compatible with SmartThings and offers the same support for Alexa and Google Assistant—and similar sound quality, albeit with a bit less bass and volume—at around half the price.