Home Security Camera Buying Guide
It has never been easier to keep an eye on your home, thanks to the ever-expanding market for connected home security cameras. These streaming video cameras connect to your home WiFi network to send alerts, video clips, and live video feeds to your smartphone, allowing you to monitor activity while you're away. Many models even feature built-in spotlights and floodlights to literally shine a light on intruders.
Your Security Camera Options
Home security cameras are DIY devices, meaning you set up and monitor them yourself rather than hiring a security company to do the work and the watching. While they can save you from installation and monitoring fees, you forgo a 24/7 response team when you do it yourself. You'll have to decide whether you will feel safer with professional monitoring or self-monitoring through alerts and video feeds that pop up on your phone. (If you're interested in a professionally monitored home security system, check out our DIY home security system ratings, which feature many models with optional professional monitoring.) 
These cameras are mainly available in two form factors—wireless security cameras and video doorbells. Wireless security cameras connect to WiFi and can be plugged in for power or run off a rechargeable battery (the term "wireless" in their name refers to WiFi, not their power supply). Some models also work with small solar panels, which can charge the camera during the day to keep its battery from dying.
Video doorbells offer all the features of a wireless security camera while also alerting you if someone rings the doorbell. As such, they do double duty: If you have a video doorbell, you probably don't also need a wireless security camera covering the front door. And because most traditional doorbells run on low-voltage wiring, there's a steady stream of power available for a video doorbell.
In addition to wireless security cameras and video doorbells, a third form factor has begun to grow in popularity: floodlight security cameras. As the name implies, these devices combine a wireless security camera with the bright lights (and usually constant power source) of a floodlight to more easily monitor outdoor areas at night.
While these new breeds of security camera offer greater convenience than ever before, the products are far from perfect. We found that most of the models we tested don't deliver the high-definition video quality their manufacturers promise under all situations. And many models require you to pay monthly fees for some of the most important features, such as cloud video storage and monitoring zones (the ability to focus on or, alternatively, ignore motion within a designated area of the camera's field of view).
That's not to say home security cameras can't provide peace of mind, for example, by letting you see that your kids arrived home safely from school, the dog walker showed up as scheduled, or a UPS package was delivered. And companies keep making these cameras smarter through software updates that add new features, such as package detection and facial recognition.
With so many types of models and features, it can be hard to know what to look for. Here, we break down everything you need to know to find the right security camera to protect your home.
The world of home security cameras has changed rapidly in the past decade. Speedy home internet, smaller camera sensors, and cheaper WiFi chips have caused these cameras to gain mass-market appeal in a relatively short amount of time. And two new categories of security camera—video doorbells and floodlight cameras—have essentially materialized out of thin air.
Years before it was acquired by Amazon, Ring was one of the first players in both the video doorbell and floodlight camera markets. Now, these devices are widely available from a number of security camera manufacturers, including Amcrest, Arlo, Blink, Eufy, Lorex, Netatmo, Swann, and Wyze. Even Google hopped on the floodlight bandwagon, releasing its Nest Cam with Floodlight in 2021.
In addition to new products, manufacturers are competing heavily on price. It's now possible to get a decent security camera or video doorbell for under $100 and a good quality floodlight camera for under $200. Amazon-owned Blink now makes a $35 wireless security camera, a $50 video doorbell, and a $140 floodlight camera. And budget smart home company Wyze makes a $36 wireless security camera, a $30 video doorbell, and an $85 floodlight camera. Even brands that tend to skew somewhat higher-end, such as Arlo, Google, and Ring, have all released wireless security cameras that cost less than $100.
Many of these new affordable cameras even allow you to store footage locally on a microSD card, negating the need for cloud video storage subscriptions, which have become a healthy source of recurring revenue for manufacturers. But manufacturers have found another way to attract customers to those recurring subscriptions: artificial intelligence.
A number of camera manufacturers are now adding artificial intelligence and object recognition to their subscriptions, allowing their cameras to identify people, animals, vehicles, packages, and faces. Generally, these features work by analyzing footage that the cameras upload to the manufacturers' servers and sending results back to you in real-time in the form of smartphone alerts. (Some cameras are capable of running these algorithms locally on the device, such as new Google Nest cameras, but they are the exception to the rule.) These features also have the added benefit of cutting down on nuisance alerts and recordings from animals, trees, and more.
And a few companies, such as Ring and Wyze, are even working on custom artificial intelligence features so that you can train your cameras to pick up on certain changes, such as whether a car is parked in the driveway. You're likely to see this functionality become more widely available in 2022.
Finally, some camera manufacturers are embracing starlight sensors, which can "see" color in extremely low-light conditions, allowing for color night vision without spotlights or floodlights. These sensors are popping up in affordable cameras from Abode, Eufy, TP-Link Tapo, and Wyze, to name a few.
How We Test Home Security Cameras
Our comprehensive testing methodology builds on CR's expertise in testing cameras, televisions, and other connected devices. We focus our tests on how quickly a camera sends alerts to your smartphone when motion is detected—and for video doorbells, when you can see who pressed the bell—as well as its video quality, smart features, data privacy, and data security. These factors can literally make or break your experience with wireless security cameras and video doorbells.
One note: Given how new floodlight cameras are to the market, we do not yet run them through our lab tests. For our hands-on evaluations of these new devices outside our labs, see our guide to the best floodlight security cameras.
For the response-time test, we measure how long it takes for the camera to detect movement occurring in its field of view and send alerts to its smartphone app. For video doorbells, we also time how long it takes for a button press to result in a smartphone alert and, subsequently, a live video feed, which is critical if someone is waiting at your front door.
For the video-quality test, we set up a room with multiple resolution charts, everyday objects, and mannequins as stand-ins for people, and evaluate how clear the video is from cameras in good light, low light, and zero light (to test night vision). CR's engineers designed this test to expose weak spots in the cameras, whether in their sensor, lens, or software. We also add different levels of backlighting to each lighting scenario. All of these tests assess whether you would be able to clearly see people or objects in the frame, such as a potential intruder. The results of these tests appear in an individual video-quality score for each wireless security camera and video doorbell in our ratings.
When it comes to smart features, we assess a wide variety of capabilities depending on the type of home security camera. They may include monitoring zones, person detection, facial recognition, voice control (with Amazon Alexa, Google Assistant, and Apple HomeKit/Siri), smartphone alerts, two-way audio, scheduling, and geofencing (which turns alerts on and off depending on whether the device reads that your smartphone and you, presumably, are nearby). All of these features factor into our unique Smart IQ score for smart home devices, allowing you to see which cameras are smarter than the competition.
Due to repeated hacks of wireless security cameras and the growing privacy concerns around video doorbells that record public areas (such as streets and sidewalks), we test all these cameras for data privacy and security. In these tests, we evaluate each company or service provider's public documentation, such as privacy policies and terms of service, to see what claims the manufacturer makes about the way it handles your data. The tests include inspection of the user interface and network traffic from each camera and its companion smartphone app to make sure it's using encryption, adhering to manufacturer policies, and not sharing your data with irrelevant third parties.
Finally, our test engineers take the results of these individual tests and use them to calculate our Overall Scores for both camera types.
Types of Home Security Cameras
There are three main types of home security cameras: wireless security cameras, video doorbells, and floodlight cameras. Here are the differences.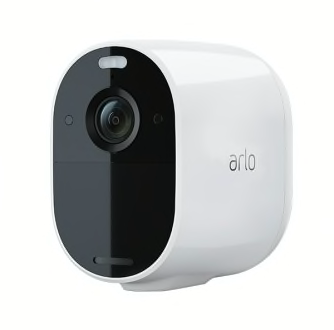 Wireless Security Cameras
These unobtrusive security cameras connect to your home network and send alerts and videos to your smartphone. Some models need to be plugged into an outlet, and others run on rechargeable-battery power, making them truly wireless. Certain cameras can store video clips locally on a memory card, but many don't have that feature, forcing you to store them in the cloud—and allowing manufacturers to charge you a recurring fee.
Pros: They can be placed just about anywhere inside your home. Weatherproof models can be placed outdoors. You can check on your home and receive smartphone alerts from anywhere with cell service or WiFi.
Cons: Cloud storage fees can add up over time. Some smart features require paying a monthly fee.
Wireless Security Cameras Ratings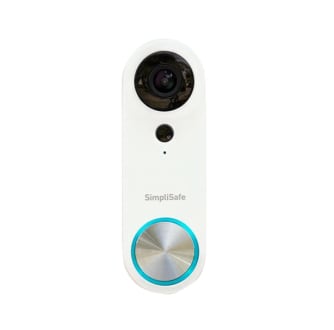 Video Doorbells
Video doorbells are really just security cameras that happen to be built into a doorbell. Most use low-voltage wiring from an existing doorbell for power, though a few models can run on batteries, which is handy if your home lacks a wired doorbell or is a rental. Battery-powered models require periodic recharging or battery replacement. These cameras send alerts and videos to your smartphone when they detect motion or when someone rings the doorbell. All video doorbells also feature two-way audio, so you can talk to whoever is ringing. Some models come with a memory-card slot for storing video clips locally, but most store video clips in the cloud, which usually requires a monthly fee for long-term storage.
Pros: Most use doorbell wiring for power, negating the need to run a separate power line. You can answer your doorbell even when you're not home.
Cons: They won't work with an existing wireless doorbell chime. Their connection to your WiFi may be affected by being outside the thick walls of your home. Cloud storage fees can add up. Some smart features require paying a monthly fee. 
Video Doorbells Ratings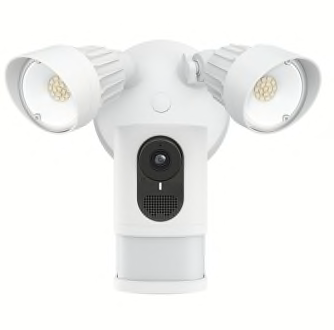 Floodlight Cameras
These devices combine a security camera with bright LED floodlights to quite literally shine a light on potential intruders and scare them off, thanks to their built-in sirens. Most models are designed to replace an existing floodlight, which means you have to wire them into an electrical box. Some battery-powered and plug-in models are available, though. In addition to their sirens, most floodlight security cameras feature two-way audio for speaking with visitors. Some models also feature memory card slots for storing footage locally, but most require a recurring fee for cloud video storage.
Pros: By replacing regular hardwired floodlights, most floodlight cameras have a constant source of power, so you don't need to bother with charging batteries. You can keep tabs on important areas around your home, such as driveways and backyards, from anywhere with your smartphone.
Cons: Their WiFi connection may be affected by being outside the thick walls of your home. Cloud storage fees can add up. Some smart features require paying a monthly fee.
Video Doorbells Ratings
How to Choose a Home Security Camera
1. Choose Your Camera Type
The type of camera you'll need depends on where you want to place it. If you want one inside your home, there are many home security camera options. If you want one outside your home, you'll need to decide whether you want a wireless security camera, video doorbell, or floodlight camera.
For monitoring a front or back door, consider using a video doorbell because it can be powered through your doorbell wiring. If you want to monitor another area of your property, you're better off with a wireless security camera. And if you want to monitor an area that already has a hardwired floodlight, consider swapping it out with a floodlight security camera. Keep in mind that while all video doorbells are designed to survive the elements, not all wireless security cameras are weatherproof. So be sure to check the specs of a camera you're considering if you want to put it outside.
2. Pick Your Power Source
Battery-powered wireless security cameras, video doorbells, and floodlight cameras (yes, there are a few options) offer the most flexibility in terms of placement in and around your home. Depending on the camera and how heavily it's used, you'll need to recharge it anywhere from weekly to once every few months to once or twice a year. Hardwired cameras and doorbells neatly sidestep the recharging problem but may limit your placement options, unless you're willing to run an extension cord or hire an electrician.
Keep in mind that the power source you use could limit the number of models you can choose from. This is especially true of video doorbells because there aren't a ton of battery-powered models on the market.
3. Compare Cloud Storage Plans
Before you pick the camera or doorbell you want, be sure to find out how much free cloud storage it comes with and how much additional storage costs. Most manufacturers opt for cloud storage—where the footage is remotely stored on a server—instead of memory cards because the video files are large and they can make additional money from the subscriptions. Without cloud storage (or local storage), if you miss an alert for a potential intruder, you'll have no idea whether someone tried to break in. Many of these cameras also won't let you download clips to send to authorities unless you pay up.
The amount of free online storage and cost of storage plans can vary drastically by manufacturer and model. For example, the Blue by ADT Indoor Camera comes with 24 hours of free cloud storage, which stores the most recent day's worth of motion-triggered video clips. Blue by ADT charges $6 per month for 30 days of motion-triggered storage for an unlimited number of cameras at one location. By comparison, Ring cameras and doorbells offer no free storage, but Ring charges only $3 per month (or $30 per year) for one camera for 60 days of storage, or $10 per month ($100 per year) for all cameras at one location with 60 days of storage.
Keep in mind, most of these plans store only video clips triggered by motion, not continuous video feeds. However, some brands, such as Arlo and Google Nest, offer continuous video storage plans.
4. Consider Your Privacy
While these cameras provide peace of mind, it's worth remembering that to do that they provide a view into your home and connect to the internet. If you can watch your home from your phone, it may be possible for someone else to take a peek, too. The manufacturer also may have access to the video.
"There have been cases of companies deploying these with weak security that can be circumvented," says Justin Brookman, director of privacy and technology policy at Consumer Reports. "Don't use default credentials. Make sure you set up your own unique username and difficult-to-guess password." Read our article on creating strong passwords to make sure yours are as hackproof as they can be.
More and more cameras are offering two-factor authentication, an additional layer of security that sends you a one-time-use passcode via a text message, a phone call, an email, or an authentication app. You input the passcode in addition to your username and password when you log in. That way, if a hacker cracks your password, they won't be able to access your camera unless they also gain access to your one-time code. If your camera offers this, be sure to activate it. You can also find more advice in our article on preventing security cameras from being hacked.
These security concerns don't mean you shouldn't buy a home security camera, but if privacy is something you're worried about, you may want to keep these devices out of bedrooms.
To help you purchase a camera that respects your privacy, we rate each model for data privacy. You can see how the privacy of each camera measures up in our home security camera ratings.
Video Doorbell Buying Guide
For more information on purchasing a video doorbell, watch our video below. 
Home Security Camera Features
Home security cameras come loaded with many features that take advantage of their internet connection. These are the main features to look for as you shop. 
The Best Time to Buy Home Security Cameras
Once you've picked out the perfect security camera or video doorbell for your home, check its price at online retailers, local electronics stores, and even big-box hardware stores. The best time of year to buy these devices is during the holiday shopping season, because that's when we usually see the steepest discounts. Outside of the holiday season, your next best bet is Amazon Prime Day, followed by other sale holidays, such as Memorial Day and Labor Day. 
Thanks for sharing.
Oops, we messed up. Try again later
Recently Tested Home Security Cameras
BEST TIME TO BUY:
July, November, December
Do you know when is the best time to buy Home Security Cameras? Learn more
More From Consumer Reports