You spend roughly one-third of your life in bed, assuming you get the recommended 7 to 8 hours of sleep. So it's important to find a great mattress—one that adequately supports your spine while also providing the pressure relief that feels most comfortable to you.
But buying a mattress isn't so simple. Nearly every mattress touts that it's the best or that it's the most comfortable. And every mattress, on the outside, looks basically the same—a big rectangle, hiding the materials inside that may (or may not) support those claims. What's more, just because a mattress is perfect (or soft or firm) for one person, doesn't mean it's the same for another. You need to lie on the mattress to really know whether it's right for you. With hundreds of mattresses for sale, how do you know where to begin?
That's where Consumer Reports' comprehensive ratings come in. We've put more than 270 mattresses (and counting) through rigorous lab tests, so you know which models are likeliest to support your weight and sleep position, and which offer the firmness level you prefer, plus much, much more. Not sure what your preferences are? This buying guide offers a good starting point. Read on to learn about various mattress types, the marketing myths to ignore, and the strategies you need for buying a mattress that offers quality and comfort at the right price.
CR members can explore our interactive mattress selector tool, which finds your best mattress based on the preferences you input (including firmness level, sleep position, and more). Members can also sort through our comprehensive ratings, according to the criteria that matter most to them. For suggestions on where to shop, see our ratings of mattress stores.
How Consumer Reports Tests Mattresses
We buy queen-size mattresses (60 inches wide x 80 inches long) to test because they're the most commonly purchased size.
To check for support, we measure the spinal alignment of small- and large-stature sleepers on their side and back (the most common sleep positions). We also perform calculations to provide data for average-sized sleepers.
As for firmness level, we don't take a manufacturer's word for it. Instead, we assess it ourselves, using an objective industry test standard that entails applying a load of up to 1,000 newtons (4.4 newtons equal a pound) to each mattress. We then plot the results on a scale of 1 to 10, with 1 being the softest and 10 being the firmest.
Because a mattress, no matter how wonderful it seems at first, is worth it only if it lasts, we operate a machine that pushes and pulls a 300-plus-pound wood roller across the surface of the mattress 30,000 times. This simulates someone tossing and turning on it for eight to 10 years.
Finally, even though buying a mattress that's right for you is a completely individual endeavor, it's helpful to get a gauge on how others fared. That's why we provide ratings for comfort and owner satisfaction for each brand of mattress and type. These scores are calculated from data from recent surveys on CR members' experiences with almost 67,000 mattresses purchased within the past decade.
Mattress Types
The three most common mattress types are foam, innerspring, and adjustable air. Each type appeals to different sleepers seeking a particular feel, from bouncy to huggy. Some foam and innerspring mattresses are two-sided, which may have slightly different firmness levels, so you can flip it to your preference. The vast majority, however, are one-sided. Here's what differentiates the common mattress types from each other: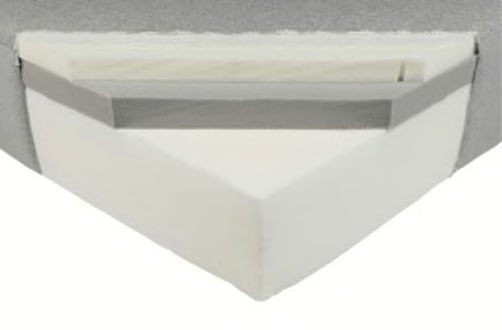 Foam Mattresses
Many manufacturers use polyurethane foam (a general category of synthetic foams that includes memory foam) to create their layers; some use latex. Some might combine these different foams. We note the material in our features-and-specifications tab on each model page.
Memory foam softens with body heat as you lie on it, and, depending on the mattress, you might sink a little or a lot in it. Some people like this curve-conforming, "sleep in the mattress" feel, but others might find it too difficult to shift sleeping positions. Non-memory-foam polyurethane foam provides a similarly cushioned experience, but without that quicksand sensation. Latex, which is a foam made from the milky liquid of the rubber tree plant, cushions, too, but has a springy feel. 
Mattresses Ratings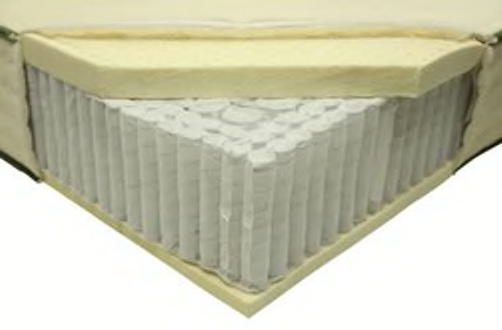 Innerspring and Hybrid Mattresses
Traditional innerspring mattresses are composed of a layer of steel coils topped with fiber padding (such as cotton or wool), foam, or both. Innersprings paired with significant layers of foam are known as hybrid mattresses. Those with an additional fluffy layer of foam or padding right at the surface are known as pillow-tops or Eurotops; those without are called tight tops.
Coils can vary in number, thickness, and placement, which, in turn, affect the feel of the mattress. Innerspring mattresses may include coils that are individually wrapped (pocketed), which help limit motion transfer—or they might not (in which case, you'll feel more vibration when a sleep partner tosses or turns). Innerspring mattresses have more resilience than foam mattresses, so unless it's a hybrid with thick layers of foam, you'll have an easier time shifting positions in them. Generally speaking, innersprings appeal to people who prefer a buoyant "sleep on top of the mattress" feel.
Mattresses Ratings
Adjustable Air Mattresses
Adjustable air mattresses consist of an inflatable layer topped with foam. They allow sleepers to adjust their mattress to the desired firmness level using an electric pump attached to the bed, a remote, or a smartphone app. Most also let you inflate each half of the bed individually, so if you and your sleep partner prefer different firmness levels, these mattresses might be a good option. 
Mattresses Ratings
How to Buy a Mattress
Foam or innerspring? Firm or soft? And at what price? Watch our video to understand the crucial issues you need to consider to find a mattress that's right for you.
Mattresses come in a few sizes. Generally speaking, if you sleep with a partner, the larger the mattress size, the more comfortable you'll feel. However, note that a larger mattress will require larger-sized bedding (including sheets and pillows)—and the additional costs associated with it as you maintain your bed going forward. Standard mattress sizes include:


King, 76x80 inches
California King, 72x84 inches
Queen, 60x80 inches
Full (or double), 53x75 inches
Twin, 38x75 inches
Twin XL, 38x80 inches
Among the many things that make choosing a mattress so difficult is that it's hard to separate what's marketing from what, in fact, matters. Here's the lowdown:
Myth: Gel provides a cooler sleep.
Truth: Overall, our testing suggests that gel-infused foam beds actually did not sleep cooler than those without gel infusions. But the innerspring mattresses containing gel did—slightly. The reality is, a slab of foam inherently retains heat (though some may retain more heat than others, depending on how the mattress itself is made, and the design and type of foam). Innersprings, by definition, have coils, which allow more air to flow through. No mattress will actively cool you while you sleep, unless it's equipped with a mechanical cooling device, as with the options included in our roundup of cooling mattress toppers.
Myth: The best mattress for back pain is a firm one.
Truth: The best mattress could be firm for some people but medium-firm or medium-soft for others. As we mentioned, firmness levels are subjective, so the only way to know whether a mattress will work for you is to lie on the mattress yourself. Does your spine feel aligned, or does it feel over-arched? The right mattress provides a nice balance of support and pressure relief, however you might define that for yourself.
Myth: You need to spend a lot for a good mattress.
Truth: Not necessarily. Some mattresses cost a small fortune. We've tested hundreds of mattresses in our labs, including one model with a price tag just shy of $5,000. But when you're paying sky-high prices, you're generally paying for nice-to-haves (say, an organic cotton cover), as opposed to the elements that directly affect back support or durability. In fact, our lab tests prove that price and quality don't always align, and generally speaking you can get a good-quality mattress for around $1,000. Plus, we found some great performers in our ratings of budget-friendly mattresses.
Myth: You'll need a boxspring with your mattress.
Truth: You might not need it. If your boxspring is still structurally sound, consider keeping it and saving roughly $150 to $300 for a queen. (However, do check the warranty—some brands require you to buy their boxspring to receive full coverage.) What's more, many manufacturers recommend simply a platform base or a strong slatted-wood foundation.
How to Choose the Right Mattress for You
Hovering salespeople. Confusing jargon. Products that all look the same. It's understandable why many shoppers prefer to pick the most affordable mattress and call it a day. But if you know what you want and spend some time searching for it, you're more likely to end up with a mattress you'll look forward to fall into, night after night. Ready to shop? Keep the following strategies in mind:
Lie on the mattress. These days, even online mattresses can be tried in a store or at a showroom, so there's little excuse. Whatever brand you're shopping for, wear shoes you can easily slip on and off, and pants as opposed to a skirt—you'll need to be able to lie comfortably on each mattress you're interested in. Let the salesperson know you'd like some time and space, then spend 5 to 10 minutes on your side, back, and stomach, but particularly the position you usually sleep in. Check that your back doesn't over-arch and that your pressure points feel comfortably cushioned. Roll to the edge (and sit on it) to make sure it offers decent edge support.
Figure out the right firmness level. You might think you want a firm or soft mattress, but different retailers might define those terms differently. For an apples-to-apples comparison, check out our comprehensive ratings, which provide a firmness value according to a standardized scale across brands. Try the model in a store, then compare it with those on the floor that are firmer and softer before you decide what's, in fact, most comfortable to you.
Include your partner. If you sleep with a partner, it helps to try the mattress together. This way, you can make sure there's ample room and sufficient motion isolation. And, of course, it makes sense for the both of you to be equally happy with your purchase, too.
Understand the warranty. Most warranties range from 10 to 25 years and cover only manufacturing defects such sagging or loose or broken coil wires. Body impressions typically need to be a minimum depth (such as an inch) to be covered, and coverage is frequently prorated, meaning that it decreases over time. Sometimes, specific guidelines need to be followed in order for the mattress to qualify, such as use of a particular kind of boxspring or bed frame.
Look for generous trial periods and return policies. This is especially important if you're shopping for mattresses online and can't try the mattress before buying. Look for options with generous policies, both in terms of the length of the trial period and the amount of money refunded if you decided to return it. So-called comfort guarantees typically range from a couple of weeks to a year. Ideally, you'll want a seller that will offer a full refund or credit toward another mattress. But some retailers charge a 15 percent restocking fee. A few might provide free pickup, but otherwise you'll have to pay for that service—or cart the mattress to the store yourself.
Consider a green certification, if you're sensitive to chemicals. If you want to buy a mattress that has low or no VOCs (chemicals from solvents used in mattress manufacturing), the best label to look for is the Global Organic Textile Standard (GOTS), a certification that ensures a mattress is made of 95 percent organic material and that no chemical flame retardants or polyurethane were used in its manufacture. For latex mattresses, the Global Organic Latex Standard (GOLS) ensures that the latex used is 95 percent organic and that no chemical flame retardants or polyurethane were used. You can read more about mattress certifications in our guide to organic mattress labels.
Avoid paying full price. Every mattress is bound to go on sale. Be patient, and you're likely to save as much as a few hundreds of dollars. That's because huge markups allow sellers to lower prices by 50 percent or more during their frequent sales. And whether it's on sale or not, try to negotiate the price down. Warehouse clubs tend to have fixed prices and won't budge, but many retailers—particularly specialty chains and even web-based sellers—might. (Check out our haggling tips, plus additional ways to save online.)
Do your due diligence on delivery day. Never accept delivery without inspecting the mattress (and the boxspring, if you buy one) for stains and other damage. Also make sure the mattress has a label that states "all-new material" before you send the driver on his way. (If it's not there, refuse delivery.) Keep the label on afterward in case you have to file a warranty claim in the future. If you bought a mattress-in-a-box, inspect the mattress as soon as you unroll it, and call customer service immediately if something appears to be wrong. Take photos in case the customer service representative asks for proof of the damage.
Popular Mattress Brands
Below is a quick look at some of the most well-known and widely available mattress brands.
Beautyrest (formerly Simmons) lines include Beautyrest Black, Beautyrest Harmony, Beautyrest Hybrid, and Beautyrest Silver. Beautyrest mattresses are available nationwide through mass-market chains, sleep specialty chains, and furniture stores.
Casper mattresses are sold mostly online, with free shipping, though the company also has showrooms in New York City, Los Angeles, and other locations. Although you can't try out the mattress in most parts of the country, you get a 100-night trial with free, no-hassle returns.
A regional seller with its own manufacturing facilities, Denver Mattress began as a waterbed maker and today offers innerspring, foam, adjustable air, and specialty mattresses, with sales both online and through stores in about 30 states. The company also sells other brands: Purple, Sealy, and Tempur-Pedic. Among its better-known home-grown lines is the Doctor's Choice innerspring. The retailer sells queen mattresses from just a few hundred dollars to several thousand dollars.
Novaform, made by Innocor Comfort (formerly Sleep Innovations), is a line of memory-foam mattresses, mattress toppers, and pillows sold exclusively at Costco and on its website. The mattress line averages medium firmness and has performed fairly well in our tests. The store won't charge for shipping and handling if you contact it about a return within a reasonable period of time, such as a few months after purchase. (You don't even need to save the box.) That goes for mattresses purchased on its the website, too.
The Original Mattress Factory makes its own innerspring and foam mattresses and sells them in more than 100 stores in nine states, offering shipping to most states. No returns are allowed. But up to a year after purchase, you can exchange your mattress for a different model—though you'll also be charged 25 percent of the less expensive mattress's price.
Sealy, one of the largest manufacturers, makes the Sealy and Stearns & Foster brands of mattresses. The company also markets itself as a maker of orthopedic, back-friendly mattresses with its Posturepedic line. The national brand is available in mass-market chains, sleep specialty stores, and furniture retailers.
Serta, the largest brand of mattresses in the U.S., is available at mass-market chains, sleep specialty chains, and furniture stores.
Sleep Number, from Select Comfort, is best known for adjustable air beds that let users set the degree of firmness on each side of the bed. The brand is sold nationally in more than 650 retail stores and through the company's website.
Tempur-Pedic's proprietary memory-foam layers have generated a loyal following and a number of knockoffs from other leading mattress manufacturers. It's available at sleep specialty stores and its own stores and website.
Tuft & Needle offers only three models (a foam mattress, a "cooling" foam mattress, and a hybrid) and sells them mostly online. They're also available in the brand's showrooms and partner stores across the country. If you buy directly from the company, there's a 100-night trial, during which you can return your mattress for a full refund if you don't like it.
Thanks for sharing.
Oops, we messed up. Try again later
Recently Tested Mattresses
BEST TIME TO BUY:
February, May, October, November
Do you know when is the best time to buy Mattresses? Learn more
More From Consumer Reports