Assuming you get a minimum of 7 hours of sleep a night, you spend roughly one-third of your life in bed. So it's important to find a great mattress—one that offers solid support while also providing the pressure relief that feels most comfortable to you.
But shopping for a mattress isn't so simple. Nearly every mattress touts that it's the best, or that it's the most comfortable. And there are hundreds of mattresses to choose from in today's market.
Read on to learn how CR assesses mattresses in our rigorous lab tests, the different types of mattresses, strategies you can use to find the right mattress for you at the right price, and other important mattress intel.  
Types of Mattresses
If you're shopping for a new mattress, you could be overwhelmed by the variety of choices and prices, ranging from too-low-to-believe to astronomical. Our years of testing have shown that, whichever type you choose, you can get a comfortable, supportive mattress for around $1,000. Most mattresses are one-sided. But a handful in both the innerspring and foam categories are two-sided, with slightly different firmness levels on each side, so that you can flip the mattress to what you prefer.
Here are the major types of mattresses you'll see.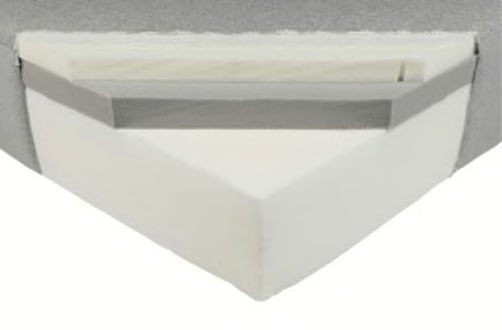 Foam Mattresses
Many manufacturers use polyurethane foam (a general category of foams that includes memory foam) to create their layers; some use latex instead, and we note that in our features-and-specifications tab on each model page. Other mattresses might include both types of foam.
Memory foam softens with body heat as you lie on it, and, depending on the mattress, you might sink a little or a lot in it. Some people like this huggy feel, but others might find it too difficult to shift sleeping positions in. Non-memory-foam polyurethane foam provides a similarly cushioned feel, but without that quicksand sensation. Latex, which is a foam made from the milky liquid of the rubber tree plant, cushions, too, but has a springy feel. 
Mattresses Ratings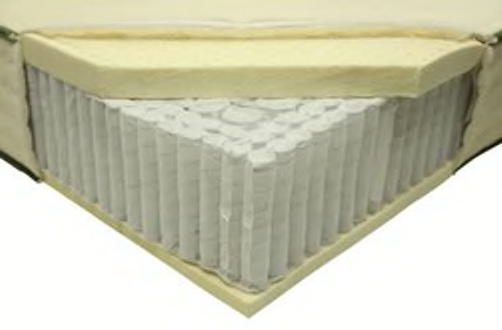 Innerspring and Hybrid Mattresses
Traditional innerspring mattresses are composed of a layer of steel coils topped with fiber padding (such as cotton or wool), foam, or both. Innersprings paired with significant layers of foam are known as hybrid mattresses. Those with an additional fluffy layer of foam or padding right at the surface are known as pillow-tops or Eurotops; those without are called tight tops.
Coils can vary in number, thickness, and placement, which, in turn, affect the feel of the mattress. Innerspring mattresses may include coils that are individually wrapped (pocketed), which help limit motion transfer; or they might not (in which case, you'll feel more vibration when a sleep partner tosses or turns). Innerspring mattresses have more resilience than foam mattresses, so unless it's a hybrid with thick layers of foam, you'll have an easier time shifting positions in it. 
Mattresses Ratings
Adjustable Air Mattresses
Adjustable air mattresses consist of an inflatable layer topped with foam. They allow sleepers to adjust their mattress to the desired firmness level using an electric pump attached to the bed, a remote, or a smartphone app. Most also let you inflate each half of the bed individually, so if you and your sleep partner prefer different firmness levels, these mattresses might be a good option. 
Mattresses Ratings
Mattress Buying Guide Video
For more, watch our video.
Mattress Brands
Below is a quick look at some of the most well-known and widely available mattress brands.
Beautyrest (formerly Simmons) lines include Beautyrest Black, Beautyrest Harmony, Beautyrest Hybrid, and Beautyrest Silver. Beautyrest mattresses are available nationwide through mass-market chains such as Sears, sleep specialty chains, and furniture stores. Prices for a queen range from around $1,000 to a few thousand dollars.
Casper mattresses are sold mostly online, with free shipping, though the company also has showrooms in New York City, Los Angeles, and other locations. Although you can't try out the mattress in most parts of the country, you get a 100-night trial with free, no-hassle returns. Prices for queen range from the low $1,000s to the mid-$3,000s.
A regional seller with its own manufacturing facilities, Denver Mattress began as a waterbed manufacturer and today makes innerspring, foam, adjustable air, and specialty mattresses, with sales both online and through stores in about 30 states. The company also sells other brands: Purple, Sealy, and Tempur-Pedic. Among its better-known home-grown lines is the Doctor's Choice innerspring. The retailer sells queen mattresses from just a few hundred dollars to several thousand dollars.
Novaform, made by Innocor Comfort (formerly Sleep Innovations), is a line of memory-foam mattresses, mattress toppers, and pillows sold exclusively at Costco and on its website. The mattress line averages medium firmness and has performed fairly well in our tests. The store won't charge for shipping and handling if you contact it about a return within a reasonable period of time, such as a few months after purchase. (You don't even need to save the box.) That goes for the website and the stores. Its queen mattresses generally sell for under $1,000.
The Original Mattress Factory makes its own innerspring and foam mattresses and sells them in more than 100 stores in nine states, offering shipping to most states. No returns are allowed. But up to a year after purchase, you can exchange your mattress for a different model—though you'll also be charged 25 percent of the less expensive mattress's price. Original Mattress Factory's queen mattresses range from just a few hundred dollars to a few thousand dollars.
Sealy, one of the largest manufacturers, makes the Sealy and Stearns & Foster brands of mattresses. The company also markets itself as a maker of orthopedic, back-friendly mattresses with its Posturepedic line. The national brand is available in mass-market chains such as Sears, sleep specialty stores, and furniture retailers. Sealy makes models in a wide range of prices, from a few hundred dollars to several thousand dollars for a queen.
Serta, the largest brand of mattresses in the U.S., is available at mass-market chains such as Sears, sleep specialty chains, and furniture stores. Prices for a queen range from a few hundred dollars to a few thousand dollars.
Sleep Number, from Select Comfort, is best known for adjustable air beds with DualAir technology, which lets users set the degree of firmness on each side of the bed. The brand is sold nationally in more than 650 retail stores and through the company's website. Prices range from just over $1,000 to several thousand dollars.
Tempur-Pedic's proprietary memory-foam layers have generated a loyal following and a number of knockoffs from the other leading mattress manufacturers. It's available at sleep specialty stores and its own stores and website. Prices for a queen range from just over a couple of thousand dollars to several thousand dollars.
Tuft & Needle offers only three models (a foam mattress, a "cooling" foam mattress, and a hybrid) and sells them mostly online. They're also available in the brand's showrooms and partner stores across the country. If you buy directly from the company, there's a 100-night trial, during which you can return your mattress for a full refund if you don't like it. Queen-size prices range from just under $1,000 to around $2,000.
How We Test Mattresses Video
Testing Mattresses to Find the Best
Thanks for sharing.
Oops, we messed up. Try again later
More From Consumer Reports