Prevent Home Injuries to Kids During the Coronavirus Pandemic
How to make your house safer while sheltering in place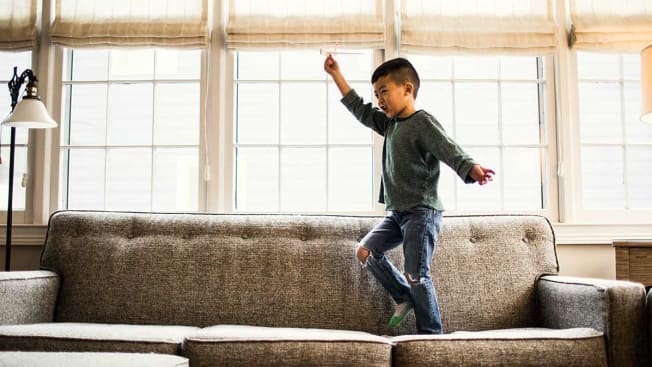 When Lindsay Rosenman's 9-year-old son Ben hit his forehead on the backyard zipline two weeks ago, her first thought was that she hoped they could avoid the emergency room. "Under normal circumstances, we probably would have just gone to the ER, but because of [the coronavirus] pandemic, we wanted to stay as far away from the hospital as possible," says Rosenman, who lives in Acton, Mass.
A neighborhood pediatrician Rosenman knew was able to treat her son's gash in the doctor's driveway, while wearing gloves, a mask, and a face shield. "We feel really lucky that we were able to avoid a trip to the ER," Rosenman says.
But the threat of home injuries looms large now that the nation is under strict orders to stay at home. "My colleagues and I are all concerned that there is going to be an increase in children being harmed in and around the home now because families are all spending so much of their time there, and parents may be otherwise occupied and stressed, so it's a recipe for injury," says Eileen McDonald, a senior scientist at the Johns Hopkins Center for Injury Research and Policy.
Parenting during a pandemic is stressful, to say the least, and most families are figuring it out as they go, so keep these guiding ground rules in mind.
Stick to a schedule. "While you may normally have systems of supervision in place for after school or work, now that everyone is home all day, that breaks the routine, increases kids' exposures to new things, and changes the whole scenario," says Hoffman, and that can up the risk of mishaps and injuries. Parents are more distracted, and "the more kids are drawn out of their routine, the more difficult it becomes for them to get through the day," he says. If you can, try to keep your daily schedule as consistent as possible so that you and your kids know what to expect.
Create a safe home environment. "No one parent or even combination of parents can supervise their child or children 24/7, so as much as you have the resources and capacity to do so, try to create the safest possible environment," says McDonald at Johns Hopkins. For instance, if you know you're going to be working in an upstairs bedroom while your 2-year-old is playing in the room, make sure it's free of dangerous items like small magnets and hanging cords from window coverings, and that the baby gate on the stairs is closed.
Minimize new hazards. "Parents are scouring the internet to find ways to engage their children, and they may be making decisions that they wouldn't have made pre-COVID-19," McDonald says. "Maybe they're more willing to get an outdoor trampoline for their child now where historically they thought, 'no, they're too risky, I'm not going to do it.' But now they're thinking, 'maybe this will give me a solid hour where I can concentrate on work while my kid is exercising.'" But think about the potential risk vs. the reward, McDonald says. Though many parents may feel torn between their work responsibilities and being there for their children at home, compromising on safety now could have serious consequences.
Do a childproof checkup. "Even on your best day as a parent, it's still really hard," Hoffman says. "Luck can't be a strategy." Instead, take the time to look around your house now to see whether there are any holes in your safety strategy. Do you have a pool in the backyard—even a kiddie pool? Is your TV securely attached to its stand? Are there firearms in the house? Do your windows have safety guards, and have you checked the batteries on your fire alarm and carbon monoxide detectors? "It's about minimizing the exposure to potential risk," Hoffman says. Do what you can now.
Give yourself a break. Being hypervigilant can be important in a crisis, but you don't have to be in crisis mode all day long. "When your system is in this hypervigilant override, you can't access simple solutions and you end up having lapses in judgment," says Melissa S. Cohen, a psychotherapist in Westfield, N.J. She suggests scheduling in your own downtime so that you can recharge and avoid making decisions when you're depleted. If you have a partner, trade off childcare shifts. If you're a single parent, allow some rest or relaxation when your child is sleeping as opposed to instinctively diving into your to-do list. At the very least, burn off some steam either with your family or on your own by going for a walk or having a mini dance party. You'll come back refreshed and better equipped to hold down the fort.
Pay special attention to these potential dangers at home, and note that you can find additional resources to keep your whole family safe on the Consumer Product Safety Commission's website.
Store cleaning supplies carefully. Hand sanitizers pose an especially high risk to children right now because people are using them more often. And though some hand sanitizers may smell like candy, most contain at least 60 percent alcohol, potentially causing serious injury or even death if a child drinks it, according to AAPCC. That's why it's critical to keep hand sanitizer out of reach of young children or in a locked cabinet after each time you use it. The same goes for all cleaning supplies, which also contain chemicals, such as bleach and ammonia, and can cause severe illness or death if ingested. If someone in your home does drink cleaning fluid, call poison control immediately, at 800-222-1222.
Move medication out of kids' reach. With kids bored at home and looking for ways to entertain themselves, don't make it easy for them to find danger. Keep medications away from children, ideally in a locked cabinet, or away from high-traffic areas like the kitchen counter. Also, keep all medication in its original container so that it's clear what is inside to avoid mixups.
Make safe infant sleep choices. "The rules haven't changed just because the game has changed, especially when it comes to things like safe infant sleep," says Hoffman of the AAP. Though it may be tempting to let your baby fall asleep in a swing or inclined bouncy seat so that you can fit in some work or help another child with school (or have a moment to yourself), it's as important as ever to place your baby to sleep in a safe space, such as a bassinet, crib, or play yard. The AAP recommends that infants sleep alone, on their backs, unrestrained, on a firm, flat surface that's free of soft bedding and padded bumpers. Any other setup puts infants at risk for suffocation.
Anchor furniture. Someone in the U.S. is injured about every 20 minutes when an appliance, a television, or a piece of furniture tips over. Incidents of dresser tip-overs alone have killed at least 212 people since 2000, mostly children 6 and younger. Many times tip-overs happen when a child climbs on a drawer or simply opens multiple drawers. And small dressers can be just as deadly as larger ones. You can't tell simply by looking at a piece of furniture whether it's stable, so if your furniture isn't already anchored to the wall, now is the time to do so.
Remove recalled products. Products that have been recalled pose particular dangers. Under normal circumstances, if you own a product that has been pulled from the market, the safest thing is to return it to the company for a refund or voucher, says Nancy Cowles, executive director of Kids In Danger, a consumer safety nonprofit. But this may not be possible during the pandemic. A popup on the CPSC's website states that "due to the extraordinary circumstances surrounding COVID-19, some of the remedies identified in recall press releases may not be available at this time."
For example, if you attempt to return a recalled Fisher-Price Rock 'n Play Sleeper through the company's website, the page now states that "due to unforeseen circumstances, our Consumer Support and Inventory teams are currently operating at limited capacity. These limitations may cause longer than usual delays in receiving service or the shipment of product and parts." Similarly, Ikea says that because U.S. stores have closed, the company has temporarily halted in-home pickups and wall anchor installations. But don't let these delays further expose your family to unsafe products. "Keep recalled products in a safe place that's not accessible to children until you're able to participate in the recall," Cowles says.
Avoid liquid laundry pods. Though laundry pods may be convenient for parents, the colorful packets also look appealing and even tasty to young children. Kids may mistake laundry pods for candy and eat them, which could lead to severe injuries or even death. If you have young children at home, use liquid or powder laundry detergent and store it on a high shelf or locked cabinet. As with cleaning supplies, if anyone does swallow or bite into a laundry pod, call poison control immediately, at 800-222-1222.
If your child gets hurt and it isn't a life-threatening injury, call your doctor rather than rushing to the hospital. There may be a lot that a healthcare provider can do over the phone, via video, or at the doctor's office. If, however, your child needs immediate medical help or is having trouble breathing, call 911.