All-New 2020 Audi E-Tron Sportback Amps Up Styling, Extends EV Range
The automaker's latest electric car delivers power, safety gear, and panache The new Audi E-Tron Sportback was unveiled this week at the LA Auto Show, marking the second electric car offering from the German automaker. The Sportback will be built on the same electric drivetrain and battery as the E-Tron SUV that debuted last year. Expect some refinements to improve range and charging time.
We tested the E-Tron SUV earlier year and loved its smooth acceleration, vaultlike quietness, plush ride, and impeccably luxurious cabin. We expect much of the same with the new Sportback, which is essentially a four-door coupe version of the E-Tron SUV. The Sportback features a lower profile and steeply raked D-pillars, making it an enticing choice for those looking for a sporty, premium EV.
The Consumer Reports Cars team will be seeing the E-Tron Sportback and many other models in person at the show to provide hands-on insights for notable upcoming models.
2020 Audi E-Tron Sportback
What it competes with: Ford Mustang Mach-E GT, Jaguar I-Pace, Tesla Model S and X
What it looks like: Similar styling to the E-Tron SUV but with a lower profile and steeply raked D-pillars that give a more coupelike appearance
Powertrains: 355-hp; dual electric motors; single-speed direct-drive transmission; all-wheel drive
Price: $80,000 (estimated)
On-sale date: Mid-2020
In line with Audi's sophisticated styling and advanced technology, the Sportback is an enticing offering in the premium EV market. With standard all-wheel drive, a luxurious cabin, and a healthy list of advanced safety features, we look forward to putting the Sportback through the paces when it becomes available. The E-Tron SUV we tested earlier this year took 13 hours to charge from near-empty through a 240-volt connector. (Of course, DC fast-chargers can do the job much faster, but they aren't convenient for all owners.) We'll be interested to see whether Audi improved those numbers with the Sportback. It is clear that it will concede some cargo space, but we look forward to seeing whether it makes up for that concession in personality.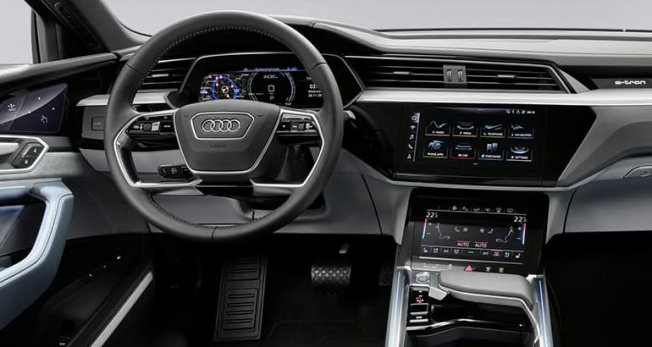 Audi says the styling goal of the Sportback was to "combine the power of a spacious SUV with the elegance of a four-door coupé and the progressive character of an electric car." Our initial thought is the Sportback is a sportier, arguably more sophisticated take on the E-Tron SUV. In fact, the Sportback is the same length and width as the E-Tron SUV but with a 2-inch-lower roofline.

The Sportback offers ample space for five occupants, along with their bags. Rear headroom is only 0.8 inches less than the E-Tron SUV. Luggage capacity is 27.7 cubic feet, increasing to 58.4 cubic feet when the rear seats are folded down. Overall, the interior is the signature combination of premium materials and tech we've come to expect from Audi, including a virtual cockpit, two touch displays, and high-quality trims throughout.
Premium trim levels offer customized contour seats, with optional ventilation and massage functions; a Bang & Olufsen 3D premium sound system; and an integrated WiFi hotspot for the passengers' mobile devices.
Audi claims sophisticated soundproofing renders the interior of the Sportback almost completely silent when driven in an urban setting.

The Sportback features two electric motors, creating a combined 413 lb.-ft. of torque. Audi claims the range is 277 miles from the 95-kWh battery. The E-Tron SUV we tested had a similar-sized battery and an Environmental Protection Agency-estimated range of just 204 miles. This sleeker models looks to be quicker and have a longer range than the E-Tron, adding to its appeal.
Safety & Driver Assist Systems
The Sportback comes standard with Audi's Pre-Sense basic and Audi Pre-Sense front safety systems. These systems include forward collision warning, automatic emergency braking with pedestrian and cyclist detection, blind spot warning, and rear cross traffic warning.
It is worth noting that the E-Tron is an Insurance Institute for Highway Safety Top Safety Pick Plus because of its good crash test performance and a superior rating in front-crash prevention.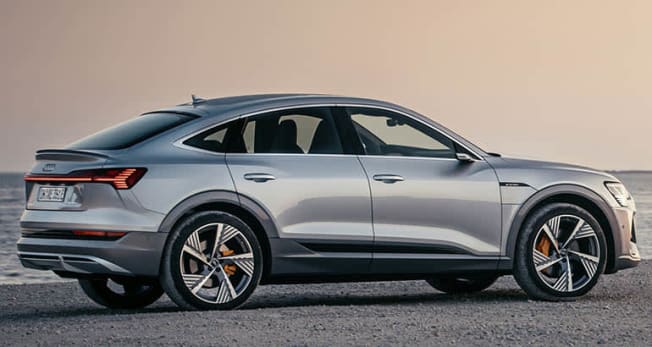 Electric cars are bringing some of the biggest changes the auto industry has seen in years. On the "Consumer 101" TV show, Consumer Reports expert Jake Fisher explains to host Jack Rico why these vehicles might not be as newfangled as you think.