When you shop through retailer links on our site, we may earn affiliate commissions. 100% of the fees we collect are used to support our nonprofit mission.
Learn more.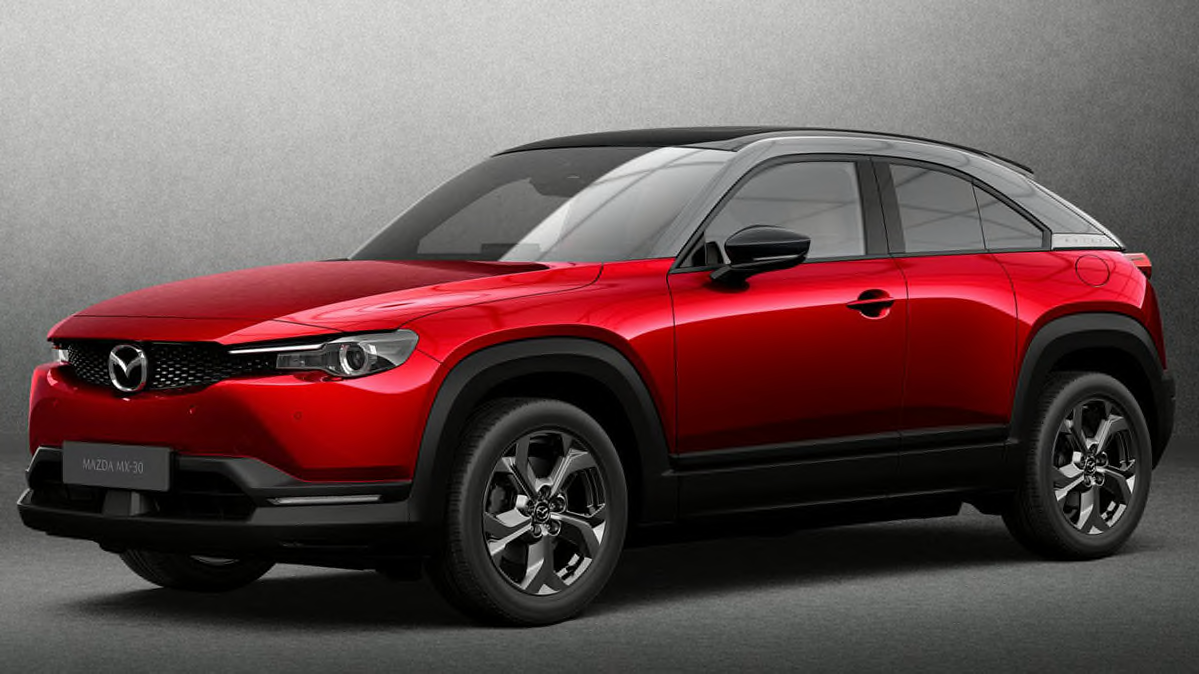 Mazda will finally join the electric revolution this fall when its all-new MX-30 SUV goes on sale in California. Availability will expand to other states in 2022, with a national rollout to follow based on customer demand.
This is an important, and essential, move for Mazda. But as an EV latecomer, the initial version appears to be outdated in terms of battery size and presumably range (which has not been announced).
Based on the company's Skyactiv-Vehicle Architecture, the battery-powered, subcompact MX-30 is the vanguard for a series of variations and electrified models to follow, including a plug-in hybrid with a rotary engine.
The automaker has sought to build on the legacy of its quirky rotary engine design, best known for its use in the RX-7 and RX-8 sports cars. An engineering marvel that uses fewer moving parts than a typical piston-driven engine, the rotary configuration has historically been challenged to meet modern emissions standards. Reimagined for the 21st century, this unique technology brings character to upcoming Mazdas and a bit of nostalgia.
Details are limited for now. Below we share what we know so far.
What it competes with: Chevrolet Bolt EUV, Nissan Leaf
What it looks like: A gas-powered small SUV with a sporty back half.
Powertrain: 144-hp, 35.5-kWh lithium-ion battery; front-wheel drive
Price: $30,000–$38,000 (estimated)
On sale: Fall 2021 in California

CR's Take
The MX-30 sounds like a distinctly Mazda approach to electric vehicles, emphasizing driving character and later reintroducing the automaker's redesigned rotary engine. It isn't clear yet what the advantages will be for the rotary, beyond helping Mazda generate buzz to compensate for being late to the EV and hybrid parties.
Even if that move proves to be marketing genius, the model's name is confusing. The MX-30 joins the CX-3 and CX-30 SUVs. Good luck keeping those monikers straight.
The MX-30 is a close match on paper to the base Nissan Leaf, which effectively represents the current entry point into electric motoring. Mazda is late to the party with this cautious entry, distinguished most by its small rear doors.
Outside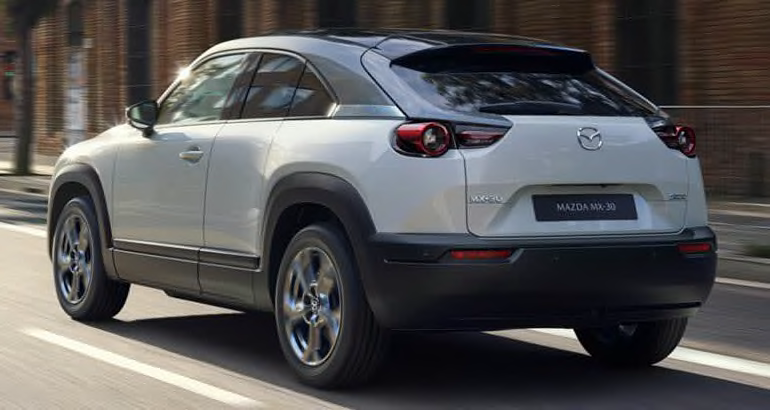 Sized like the CX-3 subcompact, the exterior has some interesting touches, but the overall design looks like it will be readily lost in a parking lot. Even the conventional grille looks like it belongs on a gasoline-powered model, rather than be a smooth face as is common with EVs.
The contrasting roof brings some panache, although this has become a common offering among recent subcompact SUVs.
The most distinct elements are the rear half doors with concealed handles. This is a nod, perhaps, to the RX-8, and it is a feature associated more with extended cab pickup trucks than SUVs. It's also reminiscent of the BMW i3.
The raked rear pillar lends the MX-30 a sporty stance, emphasizing forward motion. However, the short rear door and sloped hatch likely bring compromises for passengers and cargo.
Inside
From what we've seen of the interior, it appears rather minimalist and straightforward. Mazda says it made a concerted effort to use eco-friendly materials, including cork, throughout the cabin.
A touch screen is used for climate controls—a move that tends to favor designers over drivers and seems to contradict Mazda's reluctance to rely on touch screens for its central displays. Like other models, it uses a multi-functional dial to operate the Mazda Connect infotainment system. We hope this improves in current models, which can be challenging to control while driving. At least the MX-30 uses a conventional gear selector, with a raised handle in the center console.
The rear seat looks to be tight, with the initial photo revealing scant legroom.
What Drives It
Initially, the MX-30 is powered by a 144-horsepower electric motor driving the front wheels. Maximum torque is 200 pound-feet. This is teamed with a 35.5-kWh lithium-ion battery. (For contrast, the base Leaf has 147 horsepower, 236 pound-feet of torque, and a 40-kWh battery.)
Later, the MX-30 will be available as a plug-in hybrid with a rotary engine.
The MyMazda app will allow owners to monitor the state of charge, as well as unlock the doors and adjust the climate settings.
Safety and Driver Assistance Systems
Safety details are being withheld until closer to the on-sale date.