Preview: 2023 BMW i7 xDrive60
The German automaker launches a direct challenge to high-end electric sedans from Mercedes-Benz, Porsche, and Tesla BMW is charging into the ultra-luxury electric sedan market with its i7 xDrive60, a new model introduced this week alongside the traditional, gasoline-powered 7 Series. The i7's starting price is north of $120,000. The company said it would start deliveries later this year, and interested shoppers can now order one.
The new i7 looks much like its traditional counterpart, but it's underpinned by a large battery pack, and it's driven by two electric motors—one in front and one in the rear—in place of the inline-six cylinder and V8 engines that have long been staples in BMW's lineup. 
With the new battery-electric version, BMW aims to compete in the ultra-luxury sedan segment dominated by Tesla, and now sees growing competition from Lucid Motors and luxury archrival Mercedes-Benz, which has already introduced an all-electric flagship EQS sedan and EQS SUV.
BMW got into the EV game relatively early with its i3, an electric city car that has had limited success in the U.S. since becoming available at dealerships here for the 2014 model year. It was joined by the rather exotic i8 sports car. Since that first electric wave, the automaker has steadily introduced new production models, including the i4 and iX SUV. Plus it has announced plans to introduce electric versions of the 5 Series and 7 Series sedans, and the X1 SUV. In all, BMW says it will bring roughly a dozen new EVs to market by 2025. Mini and Rolls-Royce also fall under the BMW umbrella; a Mini Cooper electric model is already available and an electric Rolls-Royce Spectre is coming in 2023.
The i7 gives BMW a chance to lure in the well-heeled trendsetters who have driven most of the growth in electric cars over the past couple of years. BMW will keep churning out gasoline-powered versions of the 7 Series—the 740i and the 760i xDrive. But the European and Asian markets—and to a limited extent, the North American one—are turning increasingly toward electrification, particularly in the luxury segment.
As a car, the i7 offers top-end luxury and big power to move its considerable bulk. As a statement, it comes with a promise from BMW that its carbon footprint will be lower—via the electric powertrain and sustainable and recycled materials used throughout—than what its customers have been buying until now. Such an expensive car will likely come to make up only a small sliver of the overall market, even the EV market.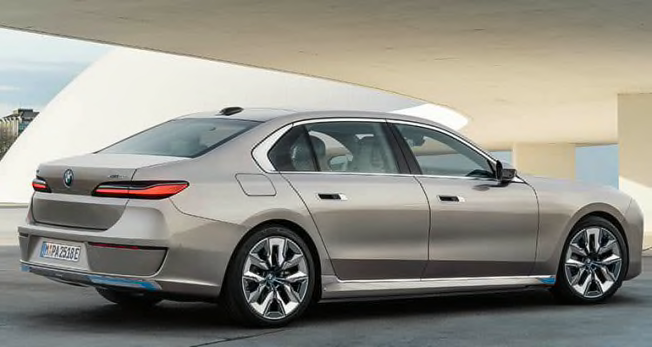 The new 7 Series is a big car and has grown more than 5 inches longer than the previous model, to 212.2 inches. It is also nearly 2 inches wider and 2 inches taller. For the most part, it looks like a generic sedan—conservatively styled and relatively nondescript. It bears passing resemblance to a Rolls-Royce, except for the front-and-center kidney/baboon posterior-shaped grilles, and the Hofmeister kink in the rear door window's trailing edge. Those two cues are very BMW. The slit headlamps on either side of the grille are new but are what BMW says is part of its new design language.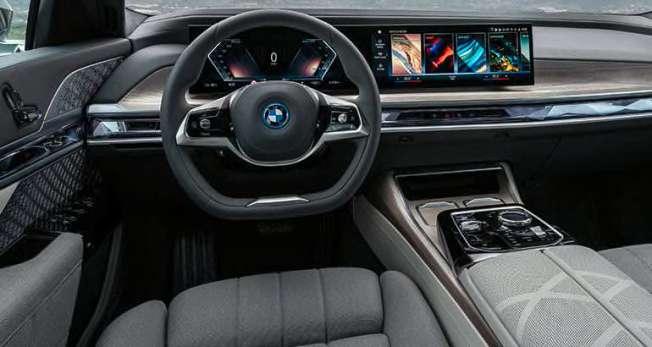 Outside of the steering wheel, don't expect to find many buttons. The interior aesthetic is spare in a refreshing way, and screens tend to dominate. The 12.3-inch instrument cluster and 14.9-inch infotainment screens are combined behind a single, curved glass strip that takes up a good bit of real estate on the upper dash. BMW says it has designed touch-screen operation to resemble smartphone function, including bold, easily recognizable icons that can be moved to a favorites bar depending upon the driver's preference. There is a smartphone-sized control panel—glass-faced with app-like selections—in the armrest of each rear door.
A glass spear runs across the entire dash beneath the curved instrument panel. BMW is calling it the "interaction bar," and most of it is a touch screen that operates the climate system controls, glove box door, and other functions. It can be configured in a variety of colors and themes, and can also display moving graphics. The heating and cooling vents are mere slits and don't command much notice.
The center console contains a large storage cubby, and there is a smaller one in a fold-down armrest in the middle of the rear seatback. The armrest also conceals a pass-through door for longer objects, such as skis.
An optional 31-inch theater screen drops down from the ceiling and includes built-in Amazon Fire TV, 8K resolution, and a Bowers & Wilkins Diamond Surround Sound system. Rear-seat passengers can use the door armrest controls to close all the rear shades simultaneously to darken the rear seat for better viewing. The theater system includes streaming capability for videos, movies, and games, but CR found in a brief in-person assessment that the high, centered location of the screen made for odd head and eye angles during viewing.
There is an interior camera system that serves two functions: BMW says it can be a fun way to capture passenger activity for social media purposes and, on the serious side, the cameras can monitor parking attendants and look inside the car using a smartphone app if the alarm system has been activated. As with the BMW iX, the interior camera is not for driver monitoring.
A feature called Intelligent Personal Assistant functions like Siri or Alexa—everything from the driver assistance system to the automatic doors (on models equipped with them) can be operated using voice commands.
The 7 Series will come with BMW's Digital Key system—although, currently, it is designed to work only with an Apple iPhone. BMW says the digital key will render a traditional key fob unnecessary and will make it possible to open the 7 Series' doors automatically without removing the phone from your pocket. As the driver approaches the car, the grille, dash, and other components light up, and the computer unlocks the doors. Next, a startup animation plays on the center touch screen.
The i7 has two electric motors—one up front and another in the rear. They're powered by an underfloor battery pack with a usable capacity of 101.7 kWh. BMW says it is only 4.3 inches tall. The Environmental Protection Agency hasn't yet released range estimates for the i7, but according to BMW's in-house testing, it will be good for about 300 miles between charges. BMW says that 80 miles of range can be added in 10 minutes using a DC fast charger—the type found at many public charging stations.
While many EV owners opt to charge at home—it's easy enough to plug in a car at night when you're not using it—most consumers also want the ability to charge on the road during a long trip. BMW entered into partnership with Electrify America to offer i7 buyers three years of unlimited 30-minute charging sessions at the company's nationwide network of DC fast chargers. Electrify America currently has 800 charging stations containing roughly 3,500 individual chargers but says it plans to expand its network to 1,800 stations and 10,000 chargers by 2026.
BMW's engineers updated the regenerative braking function from the all-electric iX and i4 models for use in the i7. It now incorporates information from the driver assistance and navigation systems to adjust the intensity of power regeneration (and drag) from braking and deceleration. The driver can also select the regenerative braking level and can use the highest setting for one-pedal driving. 
Drive modes can be selected using voice commands or with a button mounted on the center console. There are three standard modes—Personal Mode, Sport Mode, and Efficient Mode—as well as three customizable My Mode settings. All of them can fine-tune the car's powertrain performance, ride, and handling characteristics. A seventh mode called Expressive Mode combines a custom drive mode with custom ambient lighting.
Safety and Active Features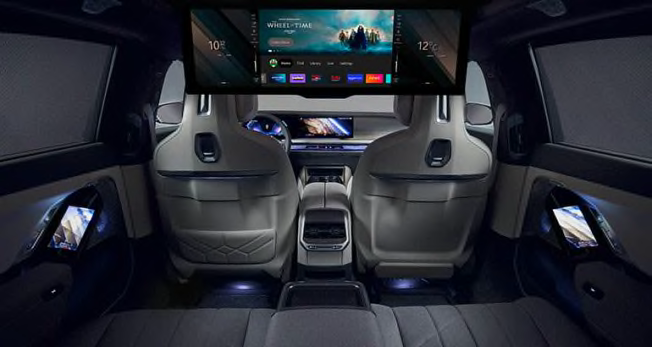 The 7 Series comes standard with forward collision warning (FCW), automatic emergency braking (AEB), and lane departure warning (LDW), all part of a suite of active safety features that will warn the driver of pedestrians and bicyclists approaching the car from behind during a right turn, as well as vehicles or other hazards approaching from the front during a left turn.
Active driver assist features are optional, and they work with an array of cameras and radar sensors, incorporating a hands-free driving mode that will work at speeds up to 80 mph. The BMW Live Cockpit is available with a feature called Augmented View that shows a bird's-eye view of the car and its surroundings using exterior cameras. Live Cockpit also adds to the navigation system by projecting directional arrows and other navigational instructions onto a driver's-view image displayed on the instrument cluster screen. Other automated features include a parking assist, and one called Maneuver Assistant that stores information from up to 10 regularly used scenarios—tricky spots such as a tight driveway or sharp corner—and can maneuver the car through them automatically.