Some Automakers May Be Sacrificing Braking Distance for Fuel Economy on Hybrid Models
But CR's exclusive tests show that it doesn't have to be that way As automakers chase greater fuel-economy gains for their hybrid models, some may be sacrificing braking distance in favor of squeezing out a few extra miles per gallon, Consumer Reports has found. 
Data from the CR Auto Test Center show that several hybrids, including four from Toyota, have a braking distance that is significantly longer than that of the nonhybrid versions of the same model. This can happen, in part, because automakers often use low-rolling-resistance tires on their hybrids that increase fuel economy but also braking distance. 
"Giving up shorter stopping distances for incrementally better fuel economy is a bad choice," says Jake Fisher, senior director of auto testing at Consumer Reports. "You would be better off with a car that stops shorter, even if it means sacrificing a few mpg to achieve those goals."
CR's Toyota Highlander Tire-Swap Test
In addition to tires playing a large role in how well a vehicle stops and hugs the road through turns, low-rolling-resistance models can contribute to better fuel economy. "Rolling resistance" refers to the energy it takes to rotate the tires, affected by the friction caused when the tire surface meets the road. The Department of Energy estimates that 4 to 11 percent of fuel consumption is due to the level of a tire's rolling resistance. Tire manufacturers achieve lower rolling resistance by optimizing elements such as the tire's tread design and compound, and utilizing stiffer sidewalls, but in some cases that can mean the tire doesn't grip the road as well, and it can make for a longer braking distance.
To be sure, there are multiple factors, in addition to the type of tire used, that can lead to a longer braking distance for some hybrids. In general, hybrids carry extra weight because of their battery packs, and they have an added layer of complexity related to their special regenerative braking systems, which are designed to recapture braking energy and direct it back to the battery. 
We wanted to find whether the specification of the tires some automakers fit to their hybrids could be contributing to the longer braking distances. To isolate the impact of tire choice, we swapped the original-equipment tires between the Toyota Highlander hybrid (which needed 9 feet longer to stop from 60 mph than the conventional Highlander in our testing) and the regular gas-only model. It was an easy swap, because both vehicles use the same size tires, but they were fitted with different tire brands and models. We then retested both vehicles to see how much—if any—the braking distance changed, and whether fuel mileage was affected by a different set of tires. 
The result after the tire swap was longer stops than before for the conventional Highlander (especially in our wet braking test), and slightly shorter stops for the hybrid vs. what it achieved with its original tires. In terms of fuel economy, the hybrid lost about 2 mpg with the tires fitted from the nonhybrid Highlander. Again, this shows that tire choice matters and that some hybrid models are fitted with tires optimized for fuel economy over other attributes.
We asked Toyota why its hybrids were equipped with tire models that are different from the ones on their nonhybrid counterparts, and whether the automaker had different braking-distance requirements. In an email statement to CR, the automaker said, "Tires must meet performance targets in many areas—acceleration, wet/dry turning, wet/dry braking, road noise, comfort, wear life, rolling resistance, snow traction, etc. At Toyota, we set these performance targets for each tire based on vehicle targets and customer segments, and for a tire to be approved for usage, it must meet or exceed these performance targets."
Hyundai Improves the Ioniq's Subpar Braking
Our testing of the Hyundai Ioniq punctuates that good braking performance and high fuel economy don't have to be mutually exclusive concepts for hybrids. The original 2017 Ioniq we tested turned in one of the worst braking performances we've seen in years, requiring 144 feet to stop from 60 mph on a dry surface. That's longer than the Chevrolet Silverado 1500, a full-sized pickup that weighs 5,130 pounds—about 2,000 pounds more than the Ioniq. 
Hyundai updated its hybrid hatchback for the 2021 model year, switching to a new tire brand (but keeping the same tire size) with a different compound and tread design, while also upgrading the brake system and retuning the antilock brake system. The result is that fuel economy remained at the same outstanding 52 mpg overall as before, but dry braking distance improved to 130 feet—14 feet shorter than the 2017 test. We applaud Hyundai for making these changes in the interest of the consumer. In the process, the Ioniq has gained a CR recommendation.
It appears that Hyundai is paying better attention to hybrid braking performance in general; the three most recent hybrids we've tested—the 2021 Elantra sedan, 2021 Santa Fe midsized SUV, and 2022 Tucson small SUV—exhibited braking distances that were almost identical to those of their nonhybrid counterparts.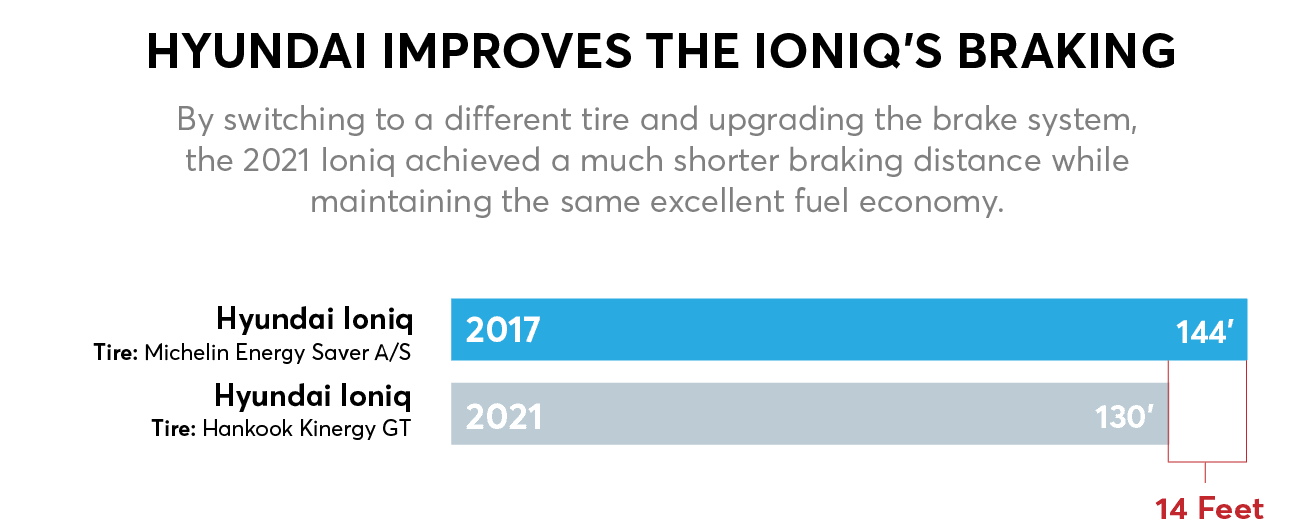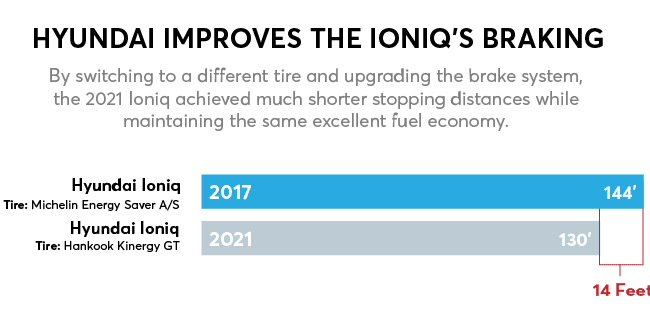 What This Means for Hybrid-Vehicle Buyers
The findings from our standard brake testing and the tire-swap test we performed underscore the importance for buyers to consider the full spectrum of how a vehicle performs in CR's testing, rather than focusing on only one attribute, such as fuel economy. When viewing CR's ratings, be sure to look closely at each vehicle's entire performance, for instance comparing the benefit of higher fuel economy against any potential loss in braking or handling performance between different hybrid models.
It might be a smarter choice to go with a hybrid model that sacrifices a couple of miles per gallon but achieves a markedly shorter braking distance, along with a good exhibition of agility and grip through our avoidance maneuver test, which simulates swerving suddenly to avoid a vehicle or obstacle on the road. Strong performance in these areas could help you prevent certain types of crashes. 
If you already own a hybrid, and there is an aspect of its performance that falls short—such as braking distance or cornering grip—these can potentially be (at least partially) improved when it's time for a set of replacement tires. CR's tire ratings can help you find replacement tires with strong braking and handling performance, yet that still exhibit low rolling resistance.
Are Low-Rolling-Resistance Tires a Bad Choice?
Results from CR's tire test program show that some tires can achieve both increased fuel economy and a shorter braking distance. If a hybrid's shorter braking distance can be achieved only by way of slightly lower (though still admirably efficient) fuel economy, we believe that is the better choice, and it may also result in the vehicle getting a higher CR road-test score.
"Automakers should always focus on delivering vehicles to consumers with balanced performance, whether that vehicle is conventional gas-powered, a hybrid, or an EV," Fisher says. "While CR recognizes the importance of fuel economy, the marginal increase from using less-grippy tires is not worth it if it comes with a significantly longer stopping distance that might affect your safety." 
With electric vehicles, where efficiency is paramount to achieving a long driving range without recharging the battery, we're finding that most of the EVs we've tested have a decent braking distance. The extremely efficient Tesla Model Y, for example, stopped in just 121 feet from 60 mph, which is better than many sports cars. In other words, the segment that is defined by efficiency is proving that it isn't necessary to compromise braking distance.
No matter what vehicle you drive, use CR's tire selector and ratings to find replacement tires with the best balance of all-weather grip and handling, and then use rolling resistance as a tie-breaker in making your tire selection.