Tesla Model S Goes 'Plaid,' Boosting Range and Power, and Makes Radical Interior Changes
Revised interior transforms the steering wheel and infotainment system Tesla revealed the ultra-high-performance Model S Plaid during a streamed delivery event last night, marking the release of the most significant update to the breakthrough luxury sedan since it launched. The original Model S was first delivered into customer hands nine years ago. At the event, Tesla officials announced that Model S Plaid delivery would begin immediately, starting with 25 cars on hand at the event, with production ramping up to 1,000 cars a week.
This most extreme performance version of the Model S draws its name from the comedy film "Spaceballs." (In the movie, "Plaid" referred to the maximum speed for a spaceship. Think faster than warp speed.)

The automaker claims it is the quickest production car ever offered, let alone one that can transport an entire family in comfort. The 0-to-60-mph time is 1.99 seconds, with a 9.23-second quarter-mile time and a top speed of 200-plus mph. These feats are achieved with the equivalent of 1,020 hp. An all-new battery pack gives this version a 390-mile range. Of course, driving this like a race car will drain the battery pack at a more rapid rate than sedate cruising. But numerous technical updates allow it to recover 187 miles on a Tesla Supercharger in just 15 minutes. Tesla claims the refined exterior makes it the most aerodynamic car ever made, contributing to its top speed and overall efficiency.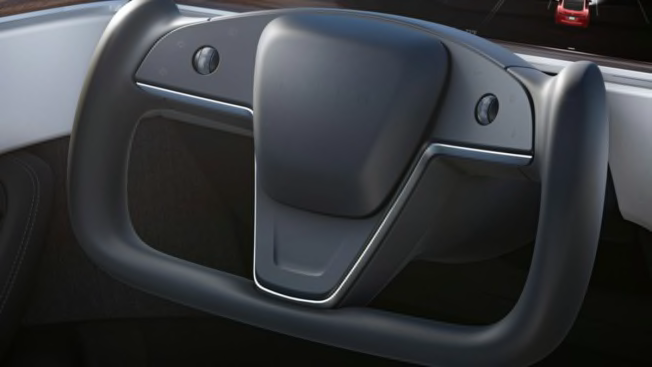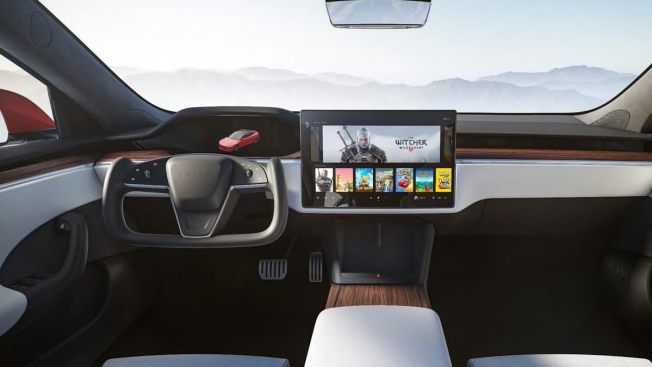 The main 17-inch screen is now in a landscape format, which Tesla says will make it easier to watch movies or play video games. During the presentation, Tesla claimed that it has performance on a par with a PlayStation 5, promising quick response and sharp graphics. It now supports multidevice Bluetooth. There is a new 920-watt, 22-speaker sound system that Tesla says will continue to evolve over time as it learns and as software is upgraded. Customers will notice that the central screen has an all-new user interface with revised touch controls.
Adjustments were made to increase passenger space, including moving the front seats forward, angling the back seat, and removing some interior trim. There are wireless chargers for two phones in the front and two in the rear. When we conduct our rear-seat evaluation, we will look for potential interference with car-seat installations from the added screen. The company says occupants can play video games from any seat using wireless controllers.
The dual-motor Long Range Model S sells for $79,990. The trimotor Plaid trim is priced at $129,990—$10,000 more than originally announced. There was going to be a Plaid+ trim with a 520-mile range, but Tesla announced that the Plaid will be the top version.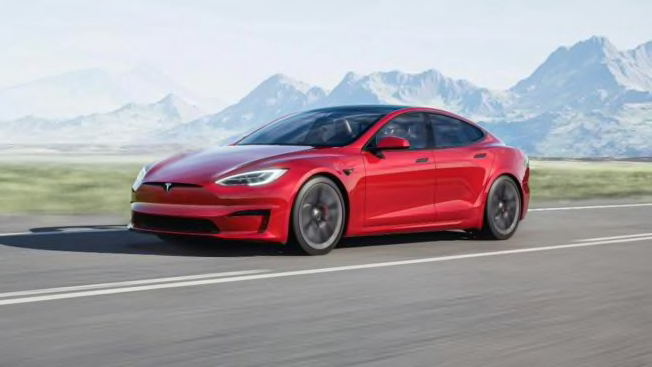 Is the Steering Wheel Even Legal?
Federal rules about vehicle interiors offer some leeway for automakers, and much of the interior layout common on modern vehicles comes down to tradition. The Ford Model T, for instance, had the brake pedal on the right and the throttle behind the steering wheel. And decades ago, plenty of cars had "three on the tree" manual gear selectors extending from the steering column.
But Tesla's changes may meet the very edges of regulations that exist, says William Wallace, CR's manager of safety policy.
Federal Motor Vehicle Safety Standards require that the steering control system "shall be so constructed that no components or attachments, including horn actuating mechanisms and trim hardware, can catch the driver's clothing or jewelry during normal driving maneuvers."
Whether a butterfly design can meet this standard remains to be seen. And a recent attempt to update FMVSS regulations for different kinds of steering controls that would anticipate the designs of future self-driving cars appears to be on hold, Wallace says.
The Model S may run into trouble at the state level because some states with vehicle inspection programs—including New Hampshire, Pennsylvania, Wisconsin, and Utah—require inspectors to ensure that a car's steering wheel is circular and/or at least 13 inches in outside diameter before passing the vehicle.
Putting the gear selector on a touch screen can cause serious issues if the screen fails. "Many Tesla owners have shared their experiences with malfunctioning screens with us, and it has impacted their reliability ratings," Fisher says. "With these changes, it appears that the car may not even be drivable without access to the display screen."
It also opens up Tesla to the potential for future recalls, as FMVSS require an indicator of gear selector positions to be visible when a vehicle is operational. Earlier this month, the National Highway Traffic Safety Administration pressed Tesla to recall current vehicles whose touch screens are at increased risk of failure, because the screens are already used for critical operations in addition to infotainment features such as navigation and audio.
"Tesla's continued push to include critical functions in the center touch screen underscores how important it is for the company to recall cars right away when those screens don't work," Wallace says.