When you shop through retailer links on our site, we may earn affiliate commissions. 100% of the fees we collect are used to support our nonprofit mission.
Learn more.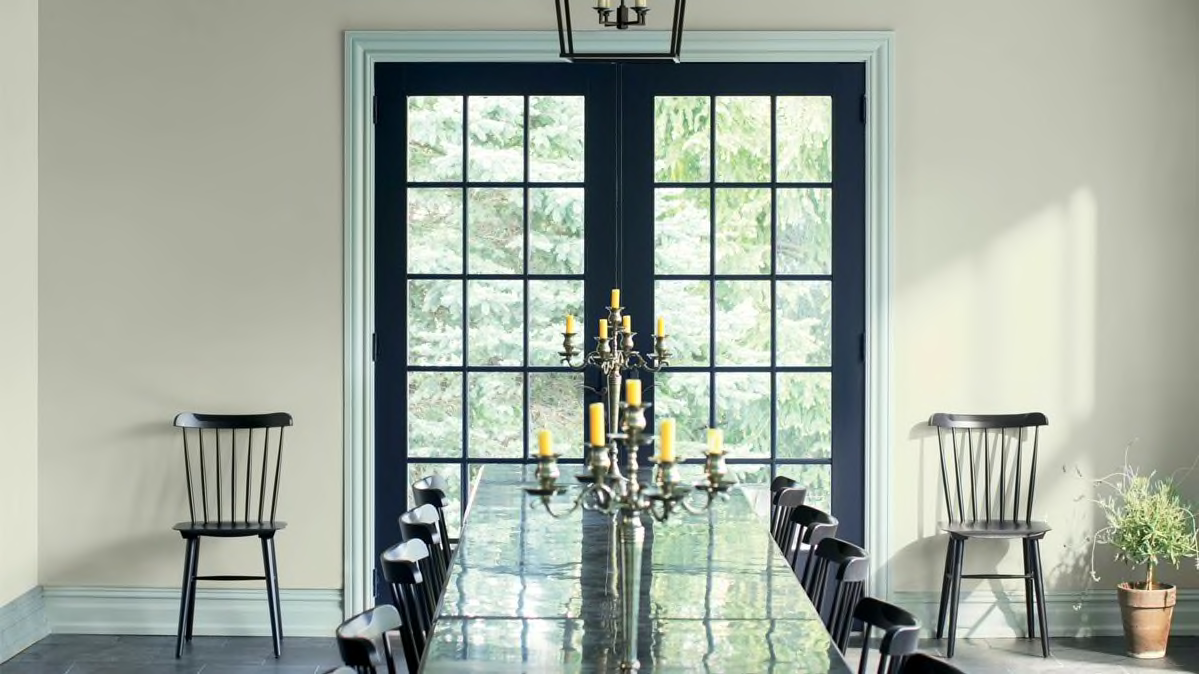 Color experts at major paint manufacturers create palettes that help make it easier for you to choose. They're also involved in naming each color, which is serious business because the name can influence shoppers' picks. Most of this work happens quietly, behind the scenes. But there's one task that puts color experts in the limelight: predicting the paint color that will be the hit of the year.
Paint experts look at different industries, including automotive, consumer electronics, and fashion, and note trends around the world. "Our team of 20 color stylists analyzes the runway, lifestyles, demographics, and societal trends to determine which color best represents all these variables," says Dee Schlotter, senior color marketing manager for PPG, an international paints and coatings company.
A recurring theme, says Schlotter, has been "our society's longing for the restorative power of nature," which is why PPG's color of the year for 2019 is a deep green.
Other color experts also predict increased popularity of earthy tones, from the soft gray of a morning mist to various shades of blue to a terra-cotta reminiscent of Georgia red clay.
Below are predictions from seven paint brands on the interior color that will be hot in 2019, along with tips on how and where to consider using them in your home. We've tested these brands, and you'll see them all in our interior paint ratings.
Benjamin Moore: Metropolitan AF-690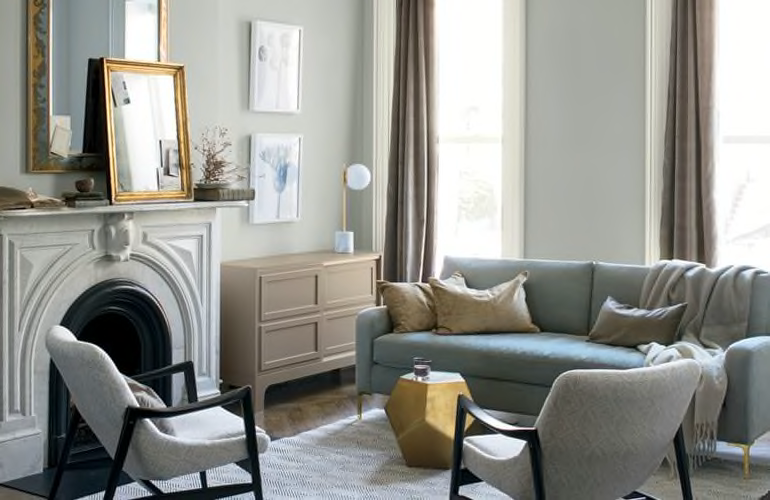 Described as: "A stylish gray with cool undertones," says Andrea Magno, a color and design expert at Benjamin Moore.
Why it's hot: This neutral creates a soothing and contemplative state of mind, Magno explains.
Where to use it: On living room walls, as shown here, with warm colors balancing its coolness. Use this color to add a soothing touch to a sleek kitchen; for a look that's dreamy and sophisticated, try this soft gray in a bedroom.
Recommended sheen: Traditionally, a flat finish is used on the ceiling, eggshell on walls, and semi-gloss on trim, says Magno, but high-gloss and matte finishes can be used almost anywhere for a more stylized look.
CR's take: Benjamin Moore Aura, $70 per gallon, rates Excellent in CR's hiding tests, meaning it covers most colors in one coat. Benjamin Moore Regal Select, $54, earns a Very Good rating in this test.
Where to buy: Select paint and hardware stores
Clark+Kensington: Stainless Steel 37B-4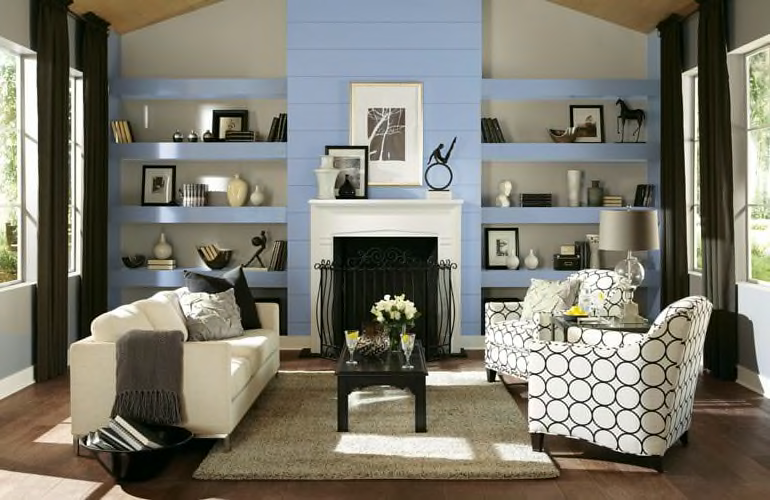 Described as: A fresh color, similar to periwinkle, that can brighten a space.
Why it's hot: "It can be paired with neutral oranges or charcoals that bring a sense of creativity to a room," says Shannon Olear, paint marketing manager at Ace Hardware.
Where to use it: In a living room or bedroom, as an accent.
Recommended sheen: Satin or eggshell, Olear says. What's the difference? "Satin is slightly shinier," says Rico de Paz, a chemist who tests paints for Consumer Reports. "Both are easier to clean than flat and matte paints." Take time prepping your walls to get them as smooth as possible—these sheens tend to accentuate surface imperfections.
CR's take: Clark+Kensington, $32 per gallon, rates Very Good in our stain-resistance tests.
Where to buy: Ace Hardware
HGTV Home by Sherwin-Williams: Reflecting Pool HGSW2324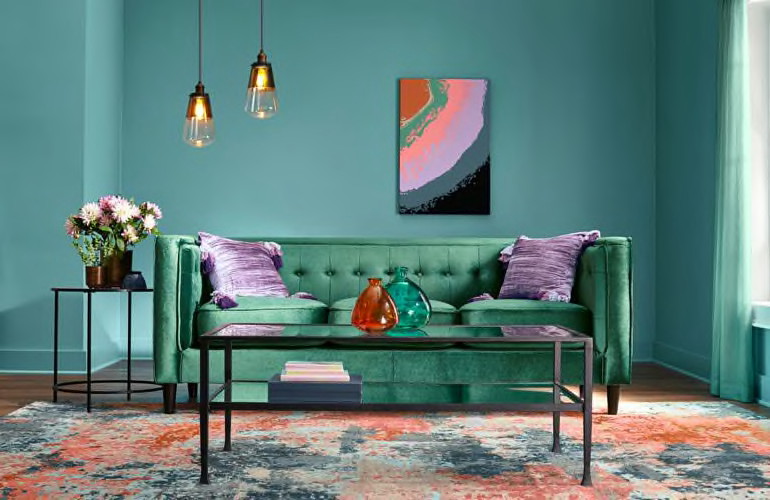 Described as: Soft and calming when combined with natural hues, but energizing and fun when used with vivid and bold colors, says Ashley Banbury, senior designer for HGTV Home by Sherwin-Williams.
Why it's hot: It speaks to balance, but with a bit of flair that embraces optimism and a sense of humor, Banbury says.
Where to use it: Try it in any room; it's versatile.
Recommended sheen: For a soft look, use a flat sheen.
CR's take: HGTV Home Infinity by Sherwin-Williams, $41 per gallon, rates Very Good in our gloss-change tests. That means you can aggressively clean the surface, and much of the sheen remains. HGTV Home Showcase, $34, rates Excellent in this test.
Where to buy: Lowe's
Behr: Blueprint S470-5

Described as: "Warmer than denim, but softer than navy," according to Erika Woelfel, vice president of color and creative services at Behr.
Why it's hot: People naturally gravitate toward blue, and this shade is midrange and commands attention but isn't overwhelming, she explains.
Where to use it: In the bedroom for an accent wall—blue has a calming effect—in the kitchen, in bathrooms. Another option? Paint a coffee table or bench this color to reimagine a space in a less dramatic way.
Recommended sheen: A matte or eggshell sheen in a bedroom or living space makes this color feel softer and more subdued. In semi-gloss, it adds a lustrous pop of color to cabinets or even a front door.
CR's take: You'll see three Behr paint lines in our interior paint ratings. Behr Marquee, $43 per gallon, rates Excellent in our hiding tests. Behr Premium Plus Enamel, $28, rates Very Good in our surface smoothness tests, and Behr Premium Plus Ultra, $36, garners an Excellent rating in our scrubbing tests, indicating how well a paint withstands vigorous cleaning.
Where to buy: Home Depot
PPG Diamond: Night Watch PPG1145-7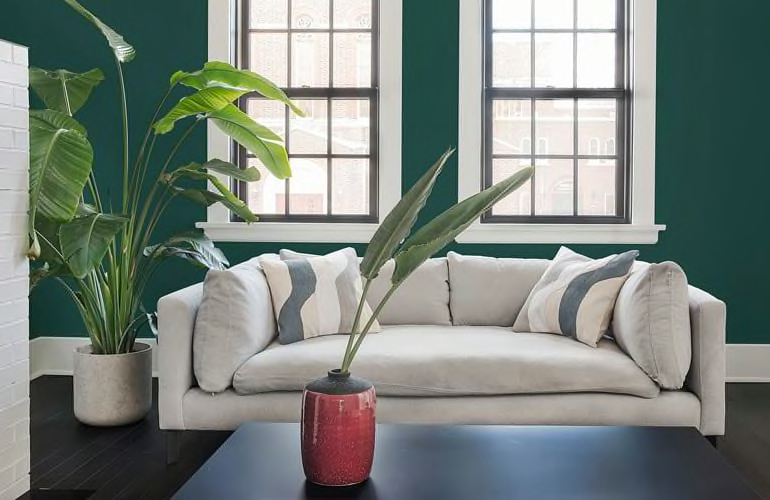 Described as: "A classic shade of green. It resembles the deep green hue found in forests," says Dee Schlotter, PPG's senior color marketing manager.
Why it's hot: It reflects our craving for a connection with nature, Schlotter says.
Where to use it: In a dining area or on an accent wall in a bedroom. Because it conjures nature, this green is helpful in areas that don't have views of the outdoors.
Recommended sheen: Satin or semi-gloss adds an element of luxury, especially in a powder room. Flat and eggshell, however, allow the color to act more as a neutral, while furniture and other elements in the room stand out.
CR's take: PPG Diamond, $26 per gallon, rates Very Good in our surface-smoothness test, telling you that brush and roller marks aren't visible. (None of the tested paints rate Excellent, indicating that a paint leaves a glass-smooth surface.)
Where to buy: Home Depot
Valspar: Orange Slice 2002-1B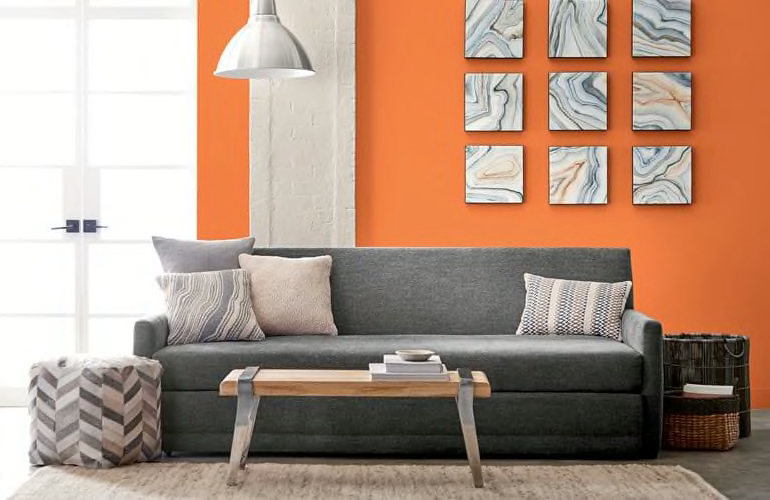 Described as: A zesty orange, according to the manufacturer.
Why it's hot: Experimenting with this color is easy, explains Sue Kim, senior color designer for Valspar. (It's one of 12 hot colors the paint manufacturer calls out for 2019.)
Where to use it: Your home office or an extra bedroom. Play with contrasting hues, such as a minty green, pale yellow, and neutral gray for an interesting whole-room palette.
Recommended sheen: When using intense colors, choose a low sheen to balance the visual stimulation, Kim says.
CR's take: Valspar Signature, $34, rates Good in hiding, and so does Valspar Optimus, $47. (They need two coats to hide dark colors that paints rating Very Good or Excellent covered in one.)
Where to buy: Lowe's (Valspar Signature) and Ace Hardware (Valspar Optimus)
Sherwin-Williams: Cavern Clay SW7701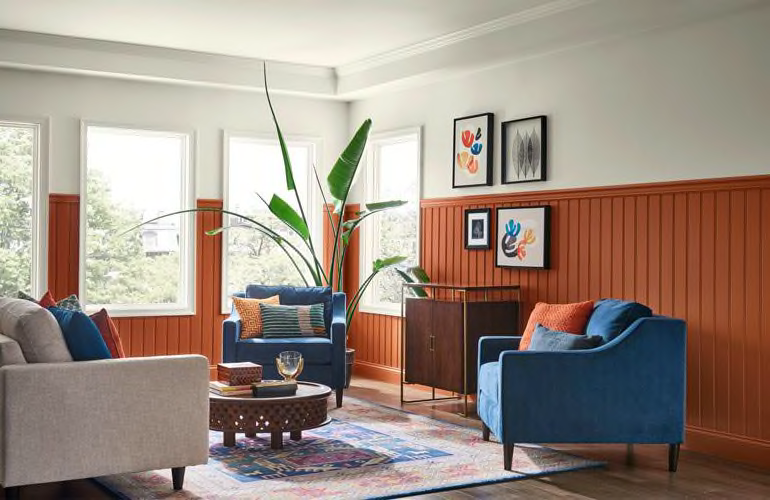 Described as: A warm terra-cotta that brings the outdoors in—think canyons and deserts.
Why it's hot: "It represents the growing popularity of the desert-modern style, which is where mid-century modern meets the American Southwest," says Sue Wadden, director of color marketing at Sherwin-Williams.
Where to use it: A kitchen, a dining area, or a room to relax in, as shown above. This hue pairs well with bright tiles, warm stone, and greenery.
Recommended sheen: Flat, typically, to hide surface imperfections on walls.
CR's take: Sherwin-Williams Emerald, $65 per gallon, and Sherwin-Williams Duration Home, $61, both rate Good in hiding. Check the interior paint ratings for more details on what our tests reveal.
Where to buy: Sherwin-Williams stores