Is the Big Green Egg Grill Worth It?
CR put the $1,000 kamado grill to the test to see how it stacks up against less expensive competitors
When you shop through retailer links on our site, we may earn affiliate commissions. 100% of the fees we collect are used to support our nonprofit mission. Learn more.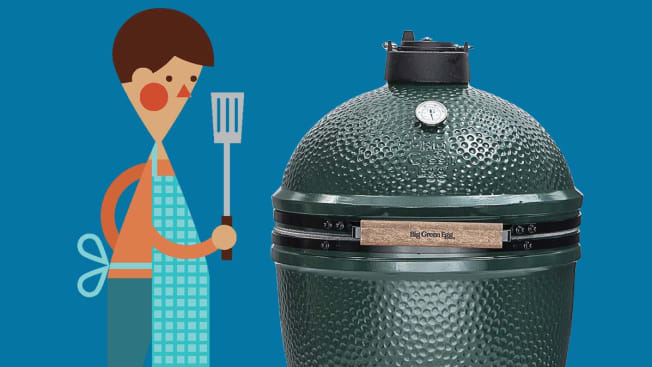 Since its 1970s debut, the Big Green Egg has maintained its status as a backyard cultural phenomenon. For the uninitiated, let's just say that this ceramic beast of a charcoal grill and smoker has hatched numerous copycat cookers and die-hard devotees who call themselves Eggheads. We're not judging.
We can, however, evaluate its performance and help you answer the question: Does anyone really need to drop $1,000 or more on the Big Green Egg? Especially when competitive kamado grills can be had for as little as a few hundred dollars, not to mention that some great gas grills—as well as the top-rated charcoal grills from our tests—start just north of $100. (Pellet grills are an alternative to the Big Green Egg, and they start around $400.) But the Big Green Egg was never trying to supplant gas and charcoal grills and, frankly, its design has little in common with traditional grills.
We were wowed by the Big Green Egg a few years back when we compared it with a conventional charcoal grill. But with so many newcomers to the kamado market, we wondered whether it was still a smart buy.
To answer that question, our team of engineers tested a batch of metal and ceramic kamado grills at prices from just over $300 to north of $1,100. The other brands were Weber, Kamado Joe, Vision, Pit Boss, Broil-King, Char-Broil, and Char-Griller.
How CR Tests Kamado Grills
We started by assessing the cooking performance of each kamado. Could it get thin-crust pizza hot enough to crisp the crust without burning the toppings? Next, we used pork shoulder to see whether the grill could cook low and slow for long stretches, all while maintaining a consistent temperature.
Every kamado grill we tested excels in our cooking tests, but they differ significantly in two key areas: convenience and cleaning. The best kamados not only cook well but also make it easy to build a hot fire or dial down the temperature for ribs or brisket. They're also easy to clean. Many have ash catchers, or trays, while others need to be disassembled for a thorough cleaning.
If you're curious about kamados, our grill buying guide is a great place to learn a little more about the landscape. CR members can also access our ratings of gas, charcoal, and kamado grills.
CR members can read on for our in-depth test results for the Big Green Egg.
And regardless of which kamado grill you use, there are certain tips that will help ensure great results. Below, we've highlighted five of the foods that we think are best on a kamado and provided expert tips for preparing each.
Detailed Test Results for the Big Green Egg
Kamado grills, including the Big Green Egg, are designed to maintain low temperatures for long, slow cooking and produce a roaring fire for searing steaks or grilling pizzas. When we tested the Big Green Egg for both capabilities, it did extremely well, like the other grills in its class.
Become a member to read the full article and get access to digital ratings.
We investigate, research, and test so you can choose with confidence.