Best Small Appliances for Making Brunch
Wow your guests with crispy waffles and coffee to sip and savor Mention brunch, and it's sure to get some people whipped up. Paying $15 for a mediocre omelette after waiting in a long line is nuts, they'll argue. Brunch at home is the way to go, especially if your guests are staying over this holiday season. Here's a look at the best waffle maker, skillet, juicer, and more from Consumer Reports' tests.
Cuisinart Breakfast Central Belgian Waffle Maker WAF 300, $100
All six waffle makers Consumer Reports tested turned out perfectly good waffles, but the Cuisinart (shown below) served up plate after plate of Belgian waffles that were nicely and evenly cooked on both sides, whether on low or high heat. A beep alerts you that the waffle maker is ready to cook and again when the waffles are done—handy when you're doing several things at once. See our full report for a look at all six waffle makers and our favorite recipe, Aretha Frankenstein's Waffles of Insane Greatness. We found it on the Food52 website.
Cuisinart Crystal SCC-1000 Limited Edition coffeemaker, $200
Accented with sparkling crystals, this drip coffeemaker was the only one in our tests that can brew a full 14 cups. It served up top brewing and the carafe was easy to hold and pour from. The coffeemaker is programmable, with both a small-batch setting and brew-strength control. Prefer a coffeemaker without the bling? See our coffeemaker Ratings for more choices.
Heart Stereo Blend coffee, $18 a pound
Of the 10 coffee blends we tested from boutique roasters and mail order suppliers, Heart Stereo was the winner. It's a bright clean cup of java with big flavor and a fairly strong aroma. A complex blend of citrus and chocolate notes, consider sipping and savoring without milk or sugar. At $18 a pound, a 6-ounce-cup of coffee costs 44 cents (based on manufacturer's preparation instructions). Most other coffees we tested have a similar price per cup.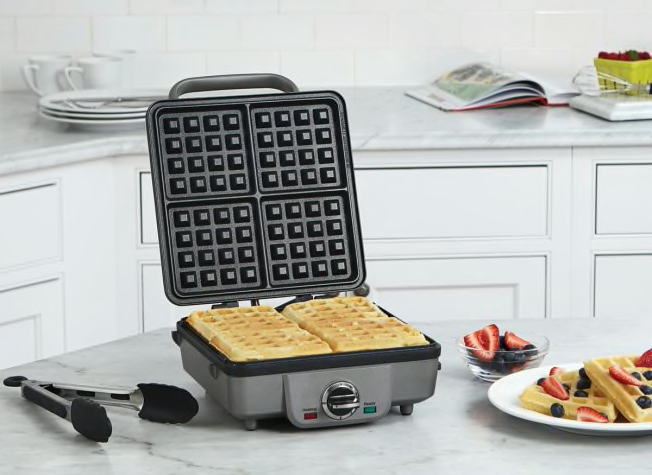 Juiceman JM8000S juicer, $100
A cinch to use, and you won't have to waste time cutting up fruits and vegetables since even an apple the size of a tennis ball can fit through the feed tube. The rapidly whirling disk cuts the fruits and vegetables into tiny pieces that are then spun to separate juice from pulp. The juice comes out fairly frothy, like all extractors, due to the high speed of the cutting blades. But the blades can handle carrots, beets, and other harder produce. Check out all our juicer Ratings to compare models.
Cuisinart CPT-440 four-slice toaster, $100
This four-slice toaster has a sleek stainless finish and delivers evenly browned toast almost every time. A push-button operated motorized lift raises and lowers the toast. There's an LCD countdown timer and a beep signals when the toast is ready. Settings for bagels, defrost, and warm/reheat are part of the deal. For a look at all the two- and four-slice toasters in our tests, see our full toaster Ratings.
Swiss Diamond Classic 10-inch nonstick frying pan, $90
Made of aluminum and with a lifetime warranty, this skillet cooked food evenly. And food released easily when it was new, so cleanup was a snap. This pan was very good at withstanding our nonstick durability test in which steel wool is rubbed over a pan for up to 2,000 strokes. The handle is sturdy and stays cool to the touch. If you think $90 is too much for a frying pan, then look at the $40 Calphalon Simply Nonstick 10-inch Omelette Pan. It's a CR Best Buy. Cooking evenness was even better, but the frying pan's handle wasn't as sturdy or comfortable.
Any brunch ideas to share?
What makes your brunch easy and fun?