First Look: Apple's New MacBook Pro
The M1 processors, silky smooth display, and useful ports are enticing—very enticing—but do they offset the steep price tag?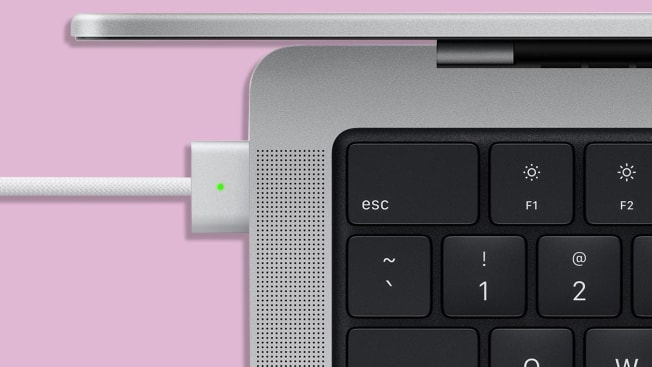 For the first time in years, Apple's MacBook Pro has received a truly compelling upgrade.
The new M1 processors pack serious muscle, the display is silky smooth, and—at long last—the keyboard is comfortable to type on. Add handy slots for SD Cards and HDMI cables and you've got a very versatile notebook indeed.
The model is clearly aimed at professional filmmakers and other high-level users, but it could be a smart pick for certain consumers, too. It's got lots of intangibles that will appeal to vloggers, photographers, movie buffs, coders, and anyone who wants the luxury of not having to think about buying another laptop for years to come.
At $1,999, though, the new Pro starts at roughly twice the price of the most recent MacBook Air.
The New M1 Pro and M1 Max
You now get to choose one of two new, Apple-designed processors—the M1 Pro or M1 Max—when shopping for a MacBook Pro.
Each is more powerful than the M1 processor that debuted on the 2020 MacBook Air, making it more efficient at handling complex tasks like rendering 3D models, compiling thousands of lines of code, or stitching together audio projects with myriad instruments in apps like Logic Pro.
What sets the M1 Pro and M1 Max apart is the number of CPU and GPU "cores" they have. Generally, the more cores at your disposal, the faster your model will perform challenging chores. The base M1 Pro has eight computing (CPU) cores and 14 graphics (GPU) cores, while the top-of-the-line M1 Max has 10 CPU cores and 32 GPU cores.
Obviously, that's an awful lot of power under your fingertips. 
According to Apple, the higher-end M1 Max is designed for those who work with 8K video, multicam video (scenes shot from multiple angles), or complex 3D models. 
I don't do any of those things, but I am a weekend photographer. 
So I took the new Google Pixel 6 Pro smartphone—look for my review online shortly—for a hike in New York's Hudson Valley, shot roughly 150 photos, and loaded them into the popular photo management app Luminar AI on the MacBook Pro. I then poked around as usual, touching them up and running them through Luminar-suggested presets (think souped-up Instagram filters) to achieve a certain "look."
It was striking how quickly the MacBook Pro handled the photos. It actually took longer to download the Android file transfer app than it did to import all 150 images.
And when it came to applying edits, the results were almost instantaneous. I'd load up a photo, select a preset category ("Scenery Collection," in this case), then sail through the presets to find the one that "clicked": Clear & Sharp, Fast Fix, Pleasing Touch, More Volume, Simple, or Clear Skies.
Leaping from one to the next—brightening images, enhancing contrast, boosting saturation—was seamless and immediate. Imagine doing that a few dozen times and you begin to appreciate the benefits of that speed.
I then repeated all of the above on my M1-powered MacBook Air, which has eight CPU cores and seven GPU cores. I'm not complaining, but presets that would apply instantly with the MacBook Pro would take as much as 2 seconds to render with the Air. 
Is shaving a second or two per edit worth the extra thousand dollars? If you're a professional photographer, you bet. If you're more of a hobbyist like me, maybe not, but it will still be hard to go back to the Air knowing what I know now.
Display: Smooth Movement With Colors That Pop
Apple calls the display in the MacBook Pro "Liquid Retina XDR." Decoding that a bit, it means you've got a display that uses Mini LED technology, runs at up to 120Hz, and gets bright enough to work with HDR video content on services like Apple TV Plus.
Mini LED, which we've seen in some televisions and the 12.9-inch iPad Pro, sits somewhere between traditional LCD and OLED tech: It can get very bright, just like an LCD, but with better, more OLED-like contrast and dynamic range, which is the difference between the deepest blacks and brightest whites on your screen. OLED is the platonic ideal of current display tech, but it's still expensive to produce. Mini LED splits the difference.
On the MacBook Pro, those delightful photos I took of the fall foliage truly pop. When I view the same photos, edited in exactly the same manner, on the LCD display of my MacBook Air, the difference is readily apparent. It's like the MacBook Air has seen a ghost, somehow draining color from each shot. I wouldn't call the display of the MacBook Air "bad" per se, but the benefits of Mini LED could not be more clear.
Movies and TV shows shot in HDR also appear more vibrant on the Pro than the Air. Apple's "Foundations" looks nearly as good on the Pro's display as it does on my LG OLED TV. Given the choice, I'd still prefer to watch the show on my TV, but the Pro's display makes a very strong case for kicking back on the couch with a laptop instead. 
The ProMotion feature—recently introduced on the iPhone 13 Pro and Pro Max—makes a big impact, too. When you're scrolling through documents—from Word files to web pages—the text smoothly glides across the screen.
Animations, like, for example, when you minimize a window to the Dock using the "Genie" effect, practically put a smile on your face. As with the iPhone 13 Pro, you can live a healthy and happy life without ProMotion, but now that I know it exists on a laptop, my Air is looking somewhat dated.
Keyboards, Ports, and Odds and Ends
Heading into last week's Apple event, you couldn't browse forums like Reddit without reading comment after comment from folks looking forward to the return of SD Card slots, HDMI ports, and MagSafe, the clever power connector that snaps free with a gentle tug, keeping your $2,000+ notebook from flying off the desk when you trip over the cord.
But I think the keyboard upgrade is just as significant.
For years, the MacBook Pro has featured a shallow, barely responsive keyboard that made typing a chore. Worse, the keys were prone to stick, producing a stream of repeated characters (heeeeeeeeelp!), as prominently pointed out in a 2019 Wall Street Journal article. And did anyone actually like the Touch Bar?
While we won't know for some time how reliable the keyboard is, I can say that the typing experience has dramatically improved. The keys are comfortably spaced and depress with a satisfying measure of "travel," making it easier to get into a flow and fly through words and sentences. The Touch Bar, that touch-sensitive strip along the top of the keyboard, has been replaced with honest-to-goodness keys. 
And, for someone who types all day for a living, those adjustments are a huge win.
As for the triumphant return of fan-favorite ports, that's also welcome news. Honestly, it feels a bit like Apple is making amends for years of customer neglect.
The SD Card slot should benefit photographers, even if higher-end cameras like the just-announced Sony a7 IV are beginning to embrace newer storage media like CFexpress. (You can read our review of the earlier Sony a7 III here.)
Meanwhile, the HDMI port allows you to quickly link to an external monitor or a projector to give an office presentation without having to fish a dongle from your bag.
The new laptop also has four Thunderbolt ports compatible with the USB-C cords for many devices. You can even charge the MacBook Pro via these ports, though it's not clear why you'd want to do that, when the MagSafe option is there. (The only scenario I can think of is if by chance you need to have the power cord coming out of the right side of the notebook instead of the MagSafe port on the left.)
When you run through the checklist, it's hard to argue against this MacBook Pro.
Processing power? I'd have to take up new hobbies or a whole new career path to really push this thing. 
Display? Whether you work with text, photos, or videos, you're going to like what you see.
Versatility? With all the ports, you might actually be able to stash those dongles for good. 
Combine all of that with a keyboard that, at least for now, appears to work much better than those much-maligned options on the last few models, and there's a lot to like here.
Professional users steeped in the Apple ecosystem will likely have a hard time finding a better laptop than the new MacBook Pro. Given the $2,000 starting price, however, it's not a great option for most consumers.
It's not that the MacBook Pro doesn't deliver the goods. It's just that those rich, rich colors featured on the display and the countless seconds shaved from those photo rendering times don't quite offset the hard-earned dollars inscribed in that price tag.
My hunch is that, at least for now, the Air will still suffice for most folks.
But boy will I miss the Pro when I send it back.
When you shop through retailer links on our site, we may earn affiliate commissions. 100% of the fees we collect are used to support our nonprofit mission. Learn more.