Match Your Leaf Blower to Your Pile of Leaves
Different yards require different leaf blower sizes and styles, so here are Consumer Reports' picks in five sizes
When you shop through retailer links on our site, we may earn affiliate commissions. 100% of the fees we collect are used to support our nonprofit mission. Learn more.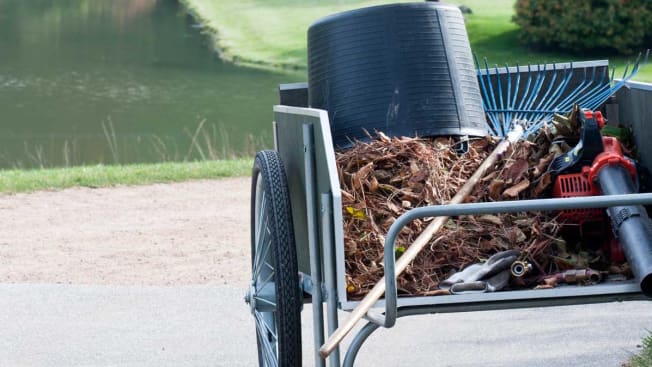 The price range of the 60-plus leaf blowers in Consumer Reports' ratings stretches from $35 to $900. Even more dizzying than that spread are the wildly varying styles: A push model looks nothing like a handheld.
Where to begin?
"The size of your yard and the number of trees you've got should really drive your choice," says Dave Trezza, who oversees CR's leaf blower testing.
Each has its advantages and drawbacks:
• Corded electric models can be great, so long as your yard doesn't stretch more than 100 feet from the outdoor electrical outlet you'll be using—not a problem if you have a small swath of grass or a patio.
• Battery-powered blowers free you from the electrical outlet, but tend to run only 20 to 30 minutes between charges. That should be enough for up to about a quarter of an acre.
• Gas handheld models get around both of those limitations, and allow you to range free and far. But most rely on two-cycle engines, which require that you mix oil and gas at a certain ratio or buy premixed fuel from the home center, which can be expensive. They're also noisy.
• A backpack-mounted gas blower is comfortably portable and also won't restrict your range, making them the best choice for big and hilly lots.
• Wheeled gas blowers move leaves from large lots like nothing else, but their weight—some weigh over 100 pounds—makes them hard to maneuver on hills.
How We Test Leaf Blowers
CR's test engineers rope off a standardized swath of grass and dump bag upon bag of leaves inside the boundary. Backpack blowers and wheeled blowers get a larger area with more leaves since both are designed for larger yards and professional landscaping crews.
Some years we go through 2,500 pounds of leaves in the process. Since we can't rely on that quantity to fall on our Yonkers, N.Y., campus each autumn, we often start collecting and storing fallen foliage a year in advance of a test.
We select a broad mix of the models you'll see at home centers and hardware stores, with tools from brands including Black+Decker, Echo, Ego, Hitatchi, Husqvarna, Jonsered, Ryobi, Stihl, Toro, and Worx.
Here you'll find reviews of five CR-rated leaf blowers, each one hand-picked by our experts for a different type of yard based on the size of the leaf pile it will produce.
For more information on shopping by blower type, check out CR's leaf blower buying guide.

Best for Small Yards With Accessible Electrical Outlets
Toro 51621
Price: $90
Overall score: 82
Ranking: 1 of 15 electric handheld leaf blowers
CR's take: The Toro delivers top-notch sweeping, excels at loosening embedded leaves in grass, and has a powerful vacuum—perfect for sucking up small quantities of leaves and churning them into fine mulch. It's also exceptionally quiet at a distance of 50 feet, which may help you keep the peace with your neighbors, but still noisy enough at close range that you'll need hearing protection.
Best for Small Yards Without Electrical Outlets
EGO LB5302
Price: $200
Overall score: 80
Rank: 1 of 14 battery handheld leaf blowers
CR's take: As lithium-ion batteries have improved, so has the performance of the cordless outdoor power tools that they power. The EGO pairs plush-start convenience with power on par with the best handheld gas blowers, all without requiring an outdoor outlet or the mixing of oil and gas for a two-cycle engine. Battery run time ranges from 20 to 30 minutes, so it's best for small yards—about a quarter-acre or smaller. But it's quiet, especially at a distance.
Best for Midsized to Large Yards
Echo PB-255LN
Price: $220
Overall score: 80
Rank: 1 (tied) of 20 gasoline handheld leaf blowers
CR's take: In our tests, the Echo embodies everything a handheld gas blower should be—it's relatively light at 10.2 pounds, is easy to use, and excels at sweeping and blowing. It also offers variable speed settings and can be locked at a specific flow rate—ideal for working around flower beds or carefully amassing a pile of leaves for bagging. Plus, as gas blowers go, it's quiet at 50 feet, perfect if you have neighbors who like to sleep in on weekends, though you'll still need hearing protection.
Best for Large, Sloped, or Hilly Yards
Stihl BR 350
Price: $350
Overall score: 89
Rank: 1 of 11 gasoline backpack leaf blowers
CR's take: Our leaf blower pros advise upgrading from a handheld blower to a backpack model if you routinely need 40 minutes or more to clear your yard of fallen leaves. The Stihl is a winning pick that offers superior sweeping and thoughtful features, including the ability to control power from the handle—helpful if you're working around flower beds or carefully trying to amass a single pile of leaves for bagging. Because the blower is extremely portable, it's easy to work in hilly yards where a wheeled model is out of the question.
Best for Large, Flat Yards
Little Wonder LB160H
Price: $900
Overall score: 86
Ranking: 1 (tied) of 7 gasoline wheeled leaf blowers
CR's take: Wheeled blowers offer unparalleled power, making them the best choice for large yards filled with deciduous trees. The Little Wonder delivers everything you'd expect from this style—superior sweeping and the ability to quickly loosen leaves and propel them with ease. At 117 pounds, it can be a little tricky to handle, making it best if your yard is flat and abuts forest, so you can easily sweep leaves back into the woods. It requires hearing protection for the operator and is especially noisy, even at a distance of 50 feet, so it's probably a good choice only if you have understanding neighbors or, better, no nearby neighbors at all.