When you shop through retailer links on our site, we may earn affiliate commissions. 100% of the fees we collect are used to support our nonprofit mission.
Learn more.
More companies are breaking into the home security business one lightbulb at a time. Manufacturers have figured out that LED lightbulbs, with their semi-conductor chips and electronic circuitry, are ideal for housing sensors, cameras, or microphones designed to protect the home from intruders. So the experts at Consumer Reports tested the BeON Home Protection System.
Noisy alarms and door locks that slow down burglars are common deterrents to break-ins. So is lighting, when used to create a lived-in look when you're not home. The $200 BeON Home Protection System contains three LED bulbs, each housing a microphone, rechargeable battery, and BlueTooth.
"Your home is very personal. Your home protection should be too," says a statement on BeON's website. "Use BeON bulbs with your current routine, your own doorbell and your existing alarms—saving yourself both time and money." The company offers a 100-day trial, promising free returns and a full refund if you are not satisfied.
How BeON Works
After each LED bulb is placed in a light fixture in your home, you can program them using the BeON Home app—it works with smartphones and tablets that use BlueTooth 4.0. The bulbs' software learns your patterns and can mimic your typical usage by turning the lights on and off when you're away from home. The system also has settings that turn the lights on and off in a timed sequence when the doorbell rings, or turns them on when a smoke or carbon monoxide alarm sounds.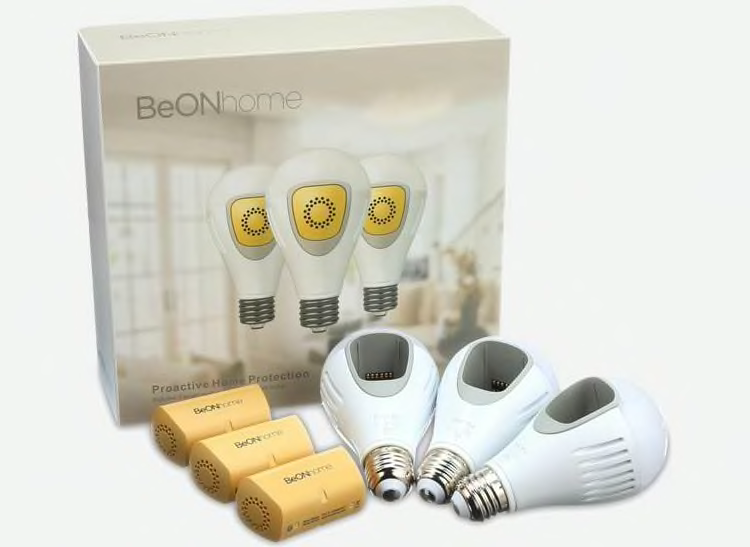 Our Test Results
BeON works as promised, though we question if it prevents break-ins. You have to hope the burglar isn't too bright. Each time the doorbell is rung, the lights turn on and off in the same sequence. A clever burglar might catch on when nobody ever answers the door. And lights automatically turning on and off during the day might tip off thieves, since most burglaries occur during daylight hours, according to the FBI.
Our tests also found that these LEDs provide the same amount of light as 60-watt incandescents, and we liked that the LEDs could also operate on battery power during a power outage. They'll last 10 hours on the dimmest setting, or 20 minutes on the brightest.
BeON is a work in progress, and we'll watch for software app updates to see how it evolves.

Protect Your Home When You're Away
You want to keep what you have safe from burglars, right? On the 'Consumer 101' TV show, Consumer Reports shows you how to protect your property when you're not home.