When you shop through retailer links on our site, we may earn affiliate commissions. 100% of the fees we collect are used to support our nonprofit mission.
Learn more.
Daylight Saving Time has its critics. But for the sleep-deprived, it's hard to argue with the appeal of gaining an hour of sleep come Sunday, November 1, as Daylight Saving Time ends. Until you remember that for the next few months it will be dark when you wake up, dark before you sit down for dinner, and dark when you walk the dog after you eat. Time to turn on the lights.
Lights are on longer in the fall and winter, whether people need more light for reading and cooking or to lift their mood. And while some turn off lights when they leave a room, a walk through my neighborhood tells me otherwise—some homes are lit up, floor to floor. That's a lot of electricity being used, especially considering that the average home has more than 40 light sockets, according to Energy Star.
Now's a fine time to switch to energy-saving CFLs and LEDs. CFLs use about 75 percent less energy and last seven to 10 times longer than the incandescent bulbs they replace. LEDs use slightly less energy than CFLs, and most are claimed to last 18 to 46 years, based on three hours of use each day. LEDs are more expensive, but their prices continue to fall as manufacturers try to speed up adoption; utility rebates can help offset some of their higher cost.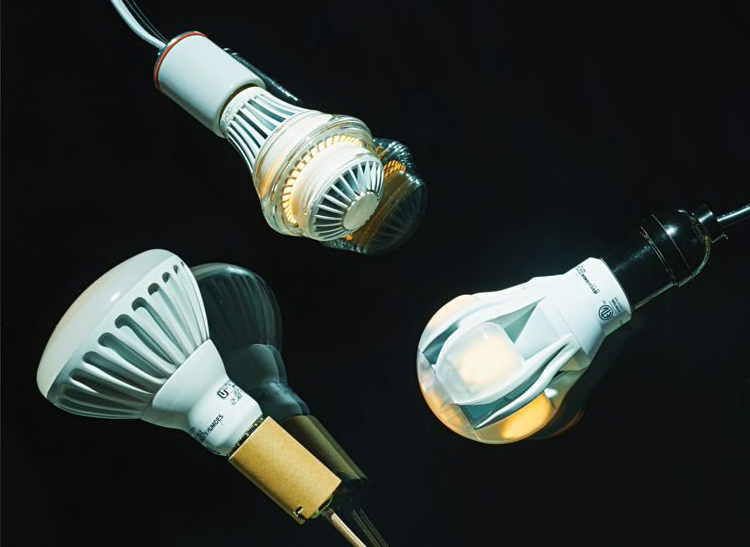 5 CR Best Buy Lightbulbs to Consider
These lightbulbs are as bright as the 60-watt incandescents they replace, and the LEDs are dimmable. Use these energy-saving lightbulbs in frequently used lamps and open ceiling fixtures. All except the Philips can be used in fully enclosed fixtures. (Prices are per bulb.)
Check our lightbulb Ratings for all the details. You'll also find general-purpose bulbs that replace 40-, 75- and 100-watt bulbs, and BR30 and PAR38 bulbs for indoor and outdoor use.
If you have any questions, send them to me at kjaneway@consumer.org.