Best Places to Buy a Mattress
About 4,000 CR members shared their recent shopping experiences. Here are the mattress retailers that came out on top.
When you shop through retailer links on our site, we may earn affiliate commissions. 100% of the fees we collect are used to support our nonprofit mission. Learn more.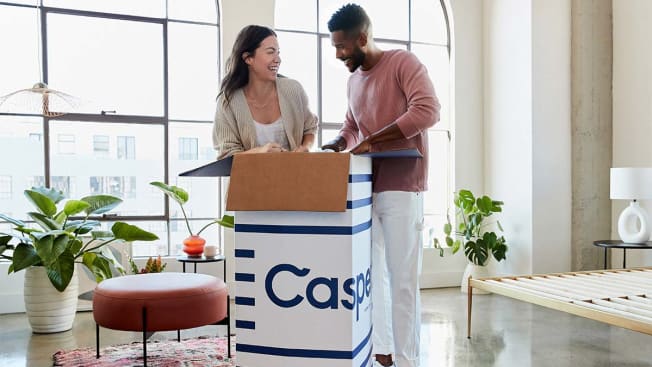 Chances are, if you're shopping for a mattress, you're researching the pros and cons of a range of brands and models. But the truth is, where you buy your mattress can also have an impact on your search for good sleep. After all, where you shop will determine whether you have a range of options to choose from, how knowledgeable the salesperson is, and how easy it is to return or exchange the mattress if you don't like it.
That's why the insights attained by Consumer Reports' Mattress Retailers Survey can be so helpful. Our latest survey of almost 4,000 CR members who bought a new mattress between January 2021 and March 2022 includes feedback about their recent mattress-buying experiences, both online and in-store.
Members dished about retailers' mattress selection, sales service, and customer support, as well as whether floor models were clean and delivery was on time. We also explored pricing: how much they paid, how happy they were with that price, and whether they haggled—a common practice for in-store shopping but much harder to do with mail-order mattresses.
As with any other category of goods it sells, Amazon's mattress selection is vast and covers models from a range of manufacturers at a very low median price. Of the CR members who bought a mattress at Amazon, the median cost was $493 in our 2022 survey—$80 more than what they reported paying in our 2021 survey. Amazon receives a Very Good rating in price satisfaction.
In addition to mattresses sold under its own brand name (Amazon Basics), Amazon also sells mattresses from other companies, including some of the top scorers in CR's tests, such as Casper and Tuft & Needle. Not surprisingly, CR members give Amazon a favorable mark of Very Good for selection. Amazon also earns a Very Good rating for customer support, making it one of the best mail-order mattress retailers, according to our survey respondents. What's more, its delivery service is consistently on time, according to our survey. If you end up not liking the mattress, you can ask for a refund within Amazon's 100-day trial period.
Founded in 2016, Avocado is a relative newcomer to the retail mattress market. And yet the green-minded brand has the highest-rated mattress in CR's tests. As a retailer, Avocado receives an overall satisfaction score of 85 in our latest member survey. The retailer lands average marks for selection, sales service, on-time delivery, and delivery quality, but CR members found it to have very nice customer support (an area of improvement compared with last year).
Designed in New Jersey and made in California, Avocado sells mostly direct-to-consumer but has 10 showrooms across New Jersey, New York, California, and Washington, D.C. You can try the mattress out for up to 100 nights at home to see whether it suits you, or return it for a full refund.
CR members think highly of Casper's sales service, and customer support. And delivery seems to be pretty on-time. You can sleep on the mattress during its 100-night trial period and return it for a full refund if you don't like it. Casper mattresses are also sold in partner stores, like Amazon and Target (but return policies may vary).
Casper receives a Very Good rating for selection; however, it sells only its own limited line of foam and hybrid mattresses. From our 2022 survey, members paid a median price of $1,261, up $43 compared with what they reported paying in 2021. Many brands have increased pricing due to supply chain issues brought on by the pandemic.
You might not expect to find a decent bed in the same place you buy giant bottles of ketchup and five-box bundles of toothpaste, but respondents report having a good experience purchasing a mattress at Costco. In addition to its own Novaform line, which performs fairly well in our tests, Costco also sells more than two dozen additional mattress brands online.
CR members paid a median price of $716 for a mattress at Costco in 2022, which is $24 more than what members reported in our previous survey. Costco is the only retailer that receives an Excellent rating for price satisfaction.
Our members were less enthusiastic about their in-store experience, however. They awarded only middling ratings for Costco's sales service, but a Very Good rating in terms of the quality of its delivery service (an improvement compared with last year's survey) and its ability to arrive on time. Costco garners better-than-average marks for customer support and floor-model cleanliness, too. What's more, Costco's "100% Satisfaction Guarantee" return policy means you can return your mattress at any time (within reason) and receive a full refund.
The Denver Mattress Co. has showrooms across the U.S. and sells mattresses directly to consumers via its online store. While this manufacturer makes several of its own mattresses in its Denver factory, including the Doctor's Choice Plush, Doctor's Choice Euro Top, and Doctor's Choice Hybrid Euro Top, it also sells mattresses from brands like Casper, Sealy, and Purple out of its warehouse.
The company offers a 120-day trial period, with a full refund if you don't like your mattress, as well as partial credit toward another mattress for mattresses exchanged between four and 12 months of purchase. (A delivery fee may apply to exchanges.) A mattress protector or waterproof mattress pad must be purchased along with the mattress in order for it to be eligible for the company's 365 Day Better Sleep Guarantee. The mattress retailer lands Very Good ratings, for the most part, in CR's mattress store survey. It earns only middling scores for price and on-time delivery, however.
With just a little over a decade in the mattress market, Saatva is one of just three retailers that receives top marks for delivery quality. While it's an online company, its mattresses are delivered by movers in a truck, as opposed to rolled up and shipped in a box. Saatva earns Very Good marks for selection, sales service, customer support, and on-time delivery. Members who participated in our survey paid a median purchase price of $1,618—that's $122 more than what they reported paying in our last survey.
Saatva offers nine beds including the Saatva Classic innerspring, the Solaire adjustable mattress, the Loom & Leaf memory foam, and the Zenhaven latex. Though it sells mattresses mainly on its website, you can also try them out in one of its six showrooms across the country.
Sleep Number, one of the largest mattress retailers in the U.S., with more than 650 retail stores through all 50 states, boasts high marks for sales service and customer support, and top marks for floor-model cleanliness. Sleep Number also receives favorable ratings for selection and delivery quality, though our survey suggests that on-time delivery is slightly less reliable now compared with last year.
This high-end mattress maker, a pioneer in air-adjustable beds, offers nine models; we've tested the p6, i10, and i8 in our labs. Members paid, on average, $3,574 for a mattress from this retailer, which may explain the store's below-average rating for price in our survey. That figure is up $386 compared with that of our 2021 survey.
The Original Mattress Factory
The Original Mattress Factory is the only retailer in CR's survey to earn our top mark for sales service, customer support, and on-time delivery. And as for the cleanliness of the floor models and the quality of the delivery service itself, CR members were extremely pleased.
The Original Mattress Factory has 118 stores spanning from the East Coast to the Midwest, but it also sells its own and other mattresses online. (See our ratings for the Original Mattress Factory Orthopedic Luxury Firm and its Serenity Latex.)