Best Mattresses of 2022
Our rigorous lab tests cut through the hype and zero in on the adjustable-air, innerspring, and foam mattresses that are truly worth your consideration
When you shop through retailer links on our site, we may earn affiliate commissions. 100% of the fees we collect are used to support our nonprofit mission. Learn more.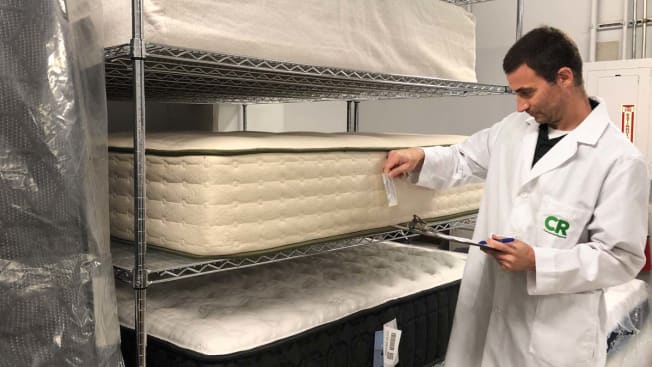 We spend roughly one-third of our lives in bed—assuming, of course, that we're getting a minimum of seven hours of sleep a night. So it's important to find the best mattress for your sleep position and body type—one that offers good support while also providing the pressure relief that feels most comfortable to you.
Once you start shopping for a new bed, however, you'll notice that every other mattress seems to tout that they're the best mattress on the market, or that they're the most comfortable. But "best" for others may not be the best for you; and "comfort" depends on a variety of factors and differs from individual to individual. And yet it's easy to get bogged down in market-speak as you go about your search.
That's where Consumer Reports' testing and surveys can clear the way. We evaluate the three most common types: adjustable air, innerspring (including the foam-on-coil hybrid mattresses), and foam mattresses (including latex and memory foam). Whether they're established brands (such as Beautyrest, Sleep Number, Tempur-Pedic) or popular online players (like Casper, Leesa, Tuft & Needle), we purchase each mattress at retail and put it through a series of rigorous lab tests.
How Consumer Reports Tests Mattresses
Support and firmness level are key measures of comfort—so we've devised a protocol to consistently evaluate both. With the help of human testers, we calculate precisely how much support each mattress provides to people of different sizes and different sleep positions. As for firmness, we use an objective industry test standard which entails applying a load of up to 1,000 newtons (4.4 newtons equal about a pound) to each mattress and measuring the surface displacement. We then plot the results on a scale of 1 to 10, so that we can accurately compare the firmness of one mattress with that of another.
Best Mattresses: Adjustable Air
You can inflate these mattresses to your desired firmness level using a remote control or smartphone app. If you're sleeping with a partner, each of you can select a preferred firmness for your side of the bed.
Best Mattresses: Innerspring
The most widely sold mattresses, these options are composed of steel coils topped with layers of cushioning—either made with fiber-filled padding or (in the case of so-called hybrid mattresses) foam. They're typically a better choice than foam mattresses if you prefer a bit of bounce.
These mattresses consist entirely of foam layers, with many popular brands shipping them in a box directly to consumers. Latex foam mattresses have a somewhat springy feel to them; synthetic foam mattresses (memory foam in particular) tend to lack any resilience—you'll feel as if you're sleeping "in" the mattress as opposed to on top of it.
Tips for Buying a Mattress
Tossing and turning all night? Maybe it's time for a new mattress. On the "Consumer 101" TV show, CR expert Chris Regan shares tips on what to look for when shopping.