When you shop through retailer links on our site, we may earn affiliate commissions. 100% of the fees we collect are used to support our nonprofit mission.
Learn more.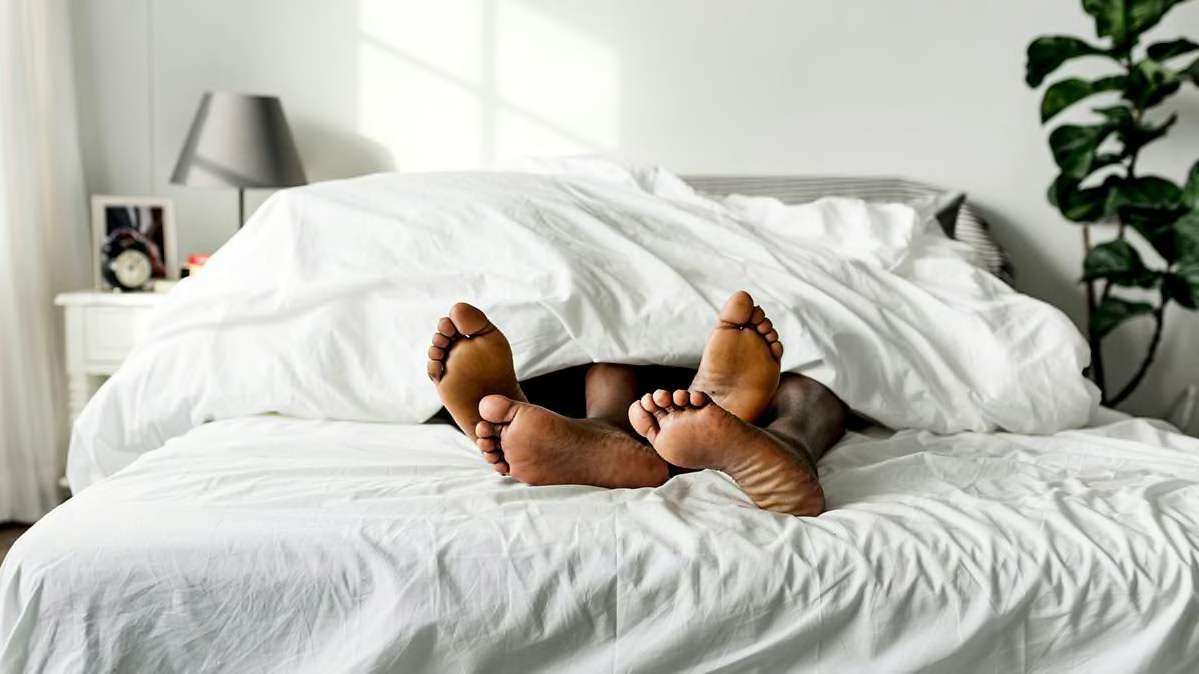 A healthy person shifts position 40 to 60 times per night. If that person happens to be sleeping beside you, those shifts could be disruptive.
That's why Consumer Reports tests stabilization for all of the mattresses it rates. With innerspring mattresses, this test—essentially a gauge of bounciness—is a good indicator of whether your movements will disturb your partner or vice versa. And with foam mattresses, which aren't generally bouncy but can be difficult to roll around on, our stabilization tests determine how easy it is to change position.
Of course, a mattress works for a couple only when it offers support for the body type of each person. In our labs we look at how well each mattress maintains support for sleepers of different statures and sleeping styles.
We use test subjects that represent the lower and upper 5 percent of the population by size. Our petite subjects are about 5 feet tall and weigh 110 to 127.5 pounds; our large subjects are 6 feet, 3 inches tall, give or take an inch, and weigh 220 to 242 pounds. We measure support while subjects from both size categories are on their sides and on their back. (We average the two sets of scores to get results for a midsized person.)
For side sleepers, we look to see how well a mattress can keep the alignment of the spine parallel to the floor. For back sleepers, we measure how well a mattress maintains the natural curvature of the spine in a prone position. All of this data informs our extensive ratings, available to Consumer Reports members.
"When shopping for a mattress with your partner, make sure you've tried out the bed while lying on it together," says Chris Regan, the project leader for CR's mattress testing. Move around and shift positions. Take turns so that one person can feel the effect of the other person's shifts. You want to determine whether movements are transmitted across the mattress to the point where they'd bother you.
CR members can read on for ratings and reviews of nine mattresses whose attributes make them particularly good for couples. All rated high in our tests for support and stabilization. They're organized by category (innerspring, foam, and air) and listed according to rank in our mattress ratings.
Best Innerspring Mattresses for Couples
These traditional mattresses use steel coils for support. The most widely sold, they tend to be more expensive than foam mattresses.

Best Foam Mattresses for Couples
Foam mattresses can include various spongy materials—such as latex, memory foam, and proprietary materials like Purple's silicon grid—that soften when you lie on them and soon mold to your body.
Best Adjustable Air Mattress for Couples
Foam and innerspring not your thing? Try an adjustable air bed that allows you to change the mattress's firmness with the click of a button.
Tips for Buying a Mattress