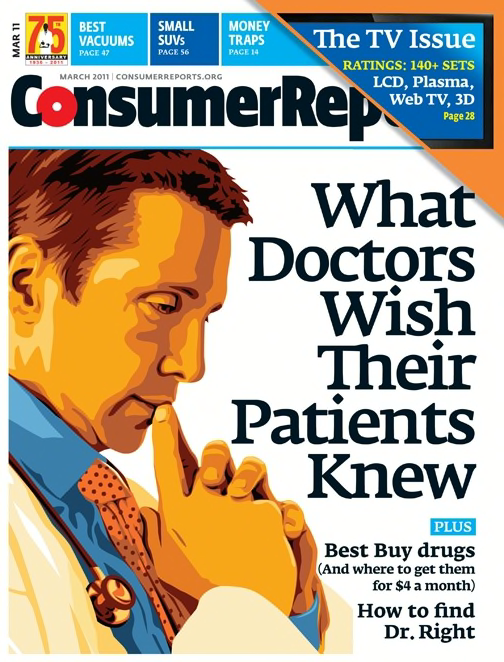 YONKERS, NY — Doctors reveal what patients can do to get better care in a new report about navigating the complex doctor-patient relationship in the March issue of Consumer Reports and online at www.ConsumerReportsHealth.org. Physicians told Consumer Reports' their top gripe was patient noncompliance with advice or treatment recommendations. Most said it affected their ability to provide optimal care and more than one-third (37%) said it did so "a lot." Those are just some of the findings in a new poll of 660 primary-care physicians conducted by the Consumer Reports National Research Center. The report also found that 37 percent of physicians said they now keep patient records entirely electronically — up from 24 percent in a 2007 survey.
Results from the doctors' poll, a companion survey of 49,007 Consumer Reports subscribers about their experiences with physicians, plus tips for navigating the complex doctor-patient relationship face-to-face and online, are available online at www.ConsumerReportsHealth.org.
WHAT DOCTORS SAY ABOUT PATIENT CARE
In the doctors' poll, physicians named these top challenges:
More than three-quarters (76%) of doctors said when it came to getting better medical care, forming a long-term relationship with a primary-care physician would help "very much."
Next on the list: being respectful and courteous toward doctors – 61 percent said it would help "very much." More than two-thirds (70%) said since they had started practicing medicine, respect and appreciation from patients had gotten "a little" or "much" worse.
Forty-two percent of physicians said health plan rules and regulations interfered "a lot" with the care they provided.
When it comes to minimizing pain and discomfort for their patients, only 37 percent thought they were "very" effective, though almost all (97%) thought they were "somewhat" effective.
PATIENT PERSPECTIVES
Despite these challenges, the Consumer Reports subscribers surveyed said that as patients they were highly satisfied with their doctors. But they still had complaints ranging from the irritating, such as having to sit too long in the waiting room, to the substantive, such as ineffective treatments.
Thirty-one percent of patients said they wished they had more information before choosing a doctor.
More than one-quarter of patients indicated some level of discomfort with their doctors' inclination to prescribe drugs.
Only nine percent of patients said they e-mailed their doctor directly in the previous year.
TIPS FOR GETTING THE MOST FROM AN OFFICE VISIT
To get the most out of the twenty or so minutes allotted for the typical office visit, Consumer Reports Health provides the following tips:
Plan ahead — Jot down a list of questions or concerns to address during the appointment, and prioritize them to get the most important ones answered first.
Take notes during the appointments — Eighty-nine percent of doctors said that keeping an informal log of treatments, drugs, changes in condition, notes from previous doctor visits, and tests and procedures could be helpful. But only one-third (33%) of patients routinely did so.
Research online, but carefully — Sixty-one percent of patients said they researched health information on the Internet to help with their medical care. Almost half of physicians surveyed said online research helps very little or not at all. For information on a condition, consumers should go directly to a few reliable sites like government sites and high-quality academic treatment-center sites like the following:
THE WIRED DOCTOR
There's a lot more that health information technology can do than just keep records. The Consumer Reports Health online report discusses new tools that are helping transform primary care:
e-Prescribing — Electronic prescribing allows doctors to electronically send prescriptions directly to a pharmacy. This process can allow physicians to choose the most affordable and medically appropriate drugs for treatment. By screening for drug interactions and allergies, an e-prescribing system can also help reduce medical errors.
Patient web portals — These websites allow patients to make appointments at their doctor's office, or get information about preventing and managing a condition. Some practices give patients a password so they can look up test results and their medical history, pay bills, or set up self-care management reminders.
Email and e-visits — While they aren't right for every health concern, such as for new patients or for a serious new symptom, email consultations or e-visits with your doctor can be an efficient way to get prescription refills, specialist referrals, and to conduct quick consultations about ongoing chronic disease management.
Health assessment software — Taking an online health assessment or questionnaire about your personal and family history can help doctors tailor an office visit to a patient's needs.
Mobile devices — Doctors can use smart phones such as the Blackberry and iPhone, and tablet computers like the iPad, to access electronic health records, lab tests and images, or look up reference materials for themselves or their patients. They can also take advantage of some of the thousands of apps designed for health-care providers.
Personal health records — Both Google and Microsoft, among others, have introduced personal health record tools that allow consumers to store and manage their health records online. They may be especially worth considering for consumers who are technologically savvy and are not overly concerned about online privacy.


Poll Methodology
The Consumer Reports National Research Center conducted the subscriber survey in 2009 (our readers may not be representative of the U.S. population as a whole). The online poll of a national sample of primary-care physicians was conducted in September 2010.