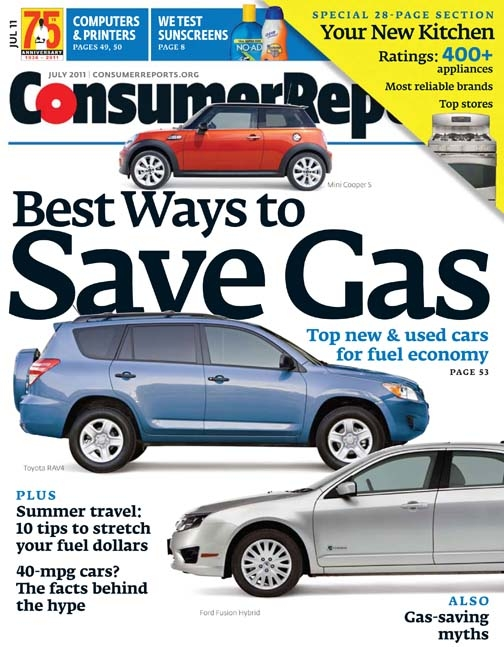 YONKERS, NY — Ready to ditch tired appliances, dated cabinets, and stain-splotched countertops in the kitchen? In the latest issue of Consumer Reports, testers have uncovered how to make every penny count to upgrade products and designs.
"Our testers slaved over hot stoves, loaded and unloaded dishes, and toiled away for months in our labs evaluating the important ingredients of a kitchen renovation," said Celia Kuperszmid Lehrman, deputy home and yard editor at Consumer Reports. "Our Ratings and advice will help you find appliances that combine efficiency and performance, and cabinets, countertops and flooring that will look good for years to come. Check our cost-saving tips to ensure that you are getting the best value and features."
The full kitchen package, including ratings of countertops, flooring, cooking appliances, refrigerators, dishwashers, and appliance stores, as well as the worst-performing products, in the July issue of Consumer Reports and online at www.consumerreports.org.
Upgrading the Kitchen: What's Hot, What Sells, and the Bottom Line
Consumer Reports consulted with kitchen designers to learn the latest trends and spoke with real estate agents for a reality check on whether stainless steel appliances, granite counters, and kitchen islands are still the hot ticket for selling homes.
Appliances – Designers are touting the configuration of French-door fridges, which combines the streamlined form of a side-by-side with accessibility of a bottom-freezer, for offering improved storage in a smaller footprint. New technologies such as refrigerators with through-the-door ice and water dispensers and ultra-quiet dishwashers are features that consumers love to see in a kitchen. But not every innovation is a winner. A $1,200 microwave with slow-cook options performed worse in Consumer Reports tests than a $60 slow cooker.
Countertops and Flooring – Designers unanimously favor stone countertops. They are a focal point and can set the tone for a potential homebuyer's impressions. Granite and quartz are top performers in Consumer Reports tests. But don't rule out laminate, this budget-friendly material is much better than stone at resisting impact. Tile floors are easy to clean and wear resistant, though the grout can stain. While wood is warmer and helps integrate the kitchen with adjacent spaces, it's not as resistant to wear and tear.
Sinks, Faucets, and Lighting – When it comes to sinks, the undermount style looks good and allows for spills on the countertop to be wiped directly into the sink. Pull-out faucets with integrated sprayers help with the dishes and hands-free faucets are becoming more widely used by busy cooks and those with arthritis or limited mobility. Faucets are a great place to save money because price has little to do with performance in Consumer Reports tests. For lighting, high-efficiency LEDs were chosen by 54 percent of National Kitchen & Bath Association kitchen designers in 2010, according to that trade group. Undercabinet lighting is a must for preparing food. Install one fixture for every 4 feet of counter space.
Layout – With at least one wall lost to windows and a door, there's less available space for cabinets. That has put a premium on pantry space. Designers also tout islands or a peninsula countertop. Most people prefer the "public" side of the island to be raised to conceal meal prep. But make sure the kitchen's layout is functional. The most beautiful kitchen in the world can't make up for a lousy layout. While the island might be one of the most desired items, if it's not appropriate to the scale of the room, it won't work. There needs to be at least 42 inches between the island and surrounding cabinets and appliances to maintain traffic flow.
How to Save
Consumer Reports found that to spend appropriately on the items used most regularly, then savings must come from elsewhere. Here are five ways to keep costs in line:
Plan carefully. Nothing blows a budget faster than making changes after the work is under way. Consumer Reports readers cited last minute changes were the most expensive issue, costing an average of $1,500. Spend several weeks to a few months perusing magazines, meeting with pros, and visiting showrooms.
Skip lowball bids. Bids that sound too good to be true probably are. Get at least three estimates and throw out the lowest. Also make sure the written contract includes details of every phase of the project, including product names with model numbers and a target completion date.
Cut costs by doing some of the work. Focus on the front and back ends of the project, such as ripping out the cabinets during demolition and handling the finish painting.
Time your purchases. December is usually a good time to save on appliances large and small. But retailers often put cooking appliances and other big-ticket items on sale during the holiday weekends. Be sure to sign up for sales alerts on store websites.
Mix and match brands. Choosing from different brands can help lower costs and get better performance. Consumer Reports Ratings includes CR Best Buys for most appliances.
Hell's Kitchen: Appliances and Materials to Avoid
To help ensure shoppers' good intentions don't go hellishly awry, Consumer Reports pulled together a kitchen filled with the worst performers from their latest tests. The Viking Professional VCSB542, $8,000 refrigerator which cost more than most, had dismal energy efficiency during tests, and temperature performance is merely average. Daltile's new Cliks do-it-yourself ceramic tile flooring was a snap to install, but a dropped pot caused serious cracking. Consumer Reports likes bamboo flooring, but the bamboo countertop, $40 to $100 per square foot, installed, was one of the lowest-scoring kitchen products, given its tendency to stain, scorch, and scratch. The full list of poor performers appears in the July issue of Consumer Reports and online at www.consumerreports.org.