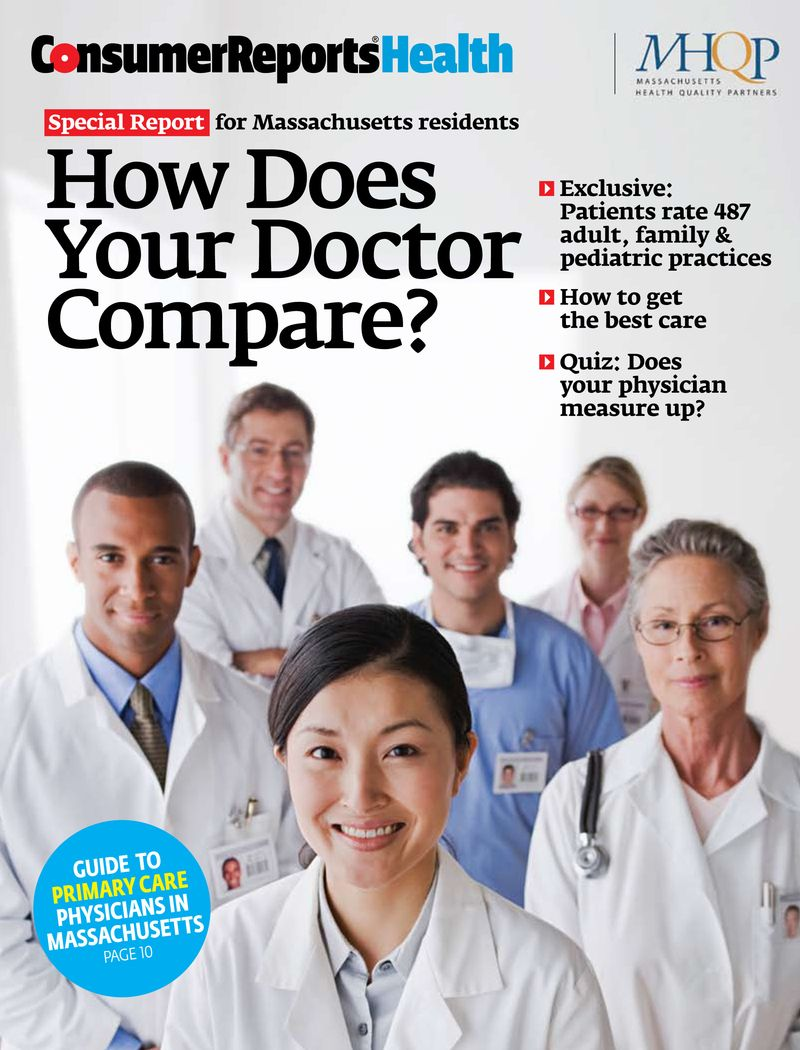 YONKERS, NY — In a special edition of its magazine, Consumer Reports is publishing Ratings of 19 Wisconsin medical groups which, combined, serve nearly half the state's patients. The Ratings are the result of a unique collaboration with the Robert Wood Johnson Foundation (RWJF) and the Wisconsin Collaborative for Healthcare Quality (WCHQ) with whom the medical groups have voluntarily shared their performance data.
The Ratings include one overall score and seven measures based on data that the groups themselves collect on how well they provide essential care, such as screening for certain cancers and vaccinating against pneumonia, as well as how well they treat people who have heart disease. Overall, Wisconsin groups stack up well. All 19 groups ranked at or above the national average in CR's overall score.
"The good news in Wisconsin is that numerous physician groups have voluntarily shared their performance results and many are outperforming the national average. Those groups should be commended," said John Santa, M.D., M.P.H., director of the Consumer Reports Health Ratings Center. "We have long urged all physicians to report their data to the public. Only then will patients be able to make fully informed choices when choosing healthcare providers."
Consumer Reports is producing a special version of its magazine for distribution to subscribers and newsstands in Wisconsin. It will have a different cover, highlighting the story "How Does Your Doctor Compare?" and feature a special, 20-page insert with the Ratings of medical groups. The Ratings of these groups (for the measures discussed below and several others) will also be available online at www.wchq.org.
"We can take great pride in the high quality of care these clinics are providing; at the same time, the leaders of these groups would be the first to say that there is always room to improve," said Chris Queram, president and chief executive officer of WCHQ. "Their success demonstrates the value of measuring their quality and reporting it publicly. We know from independent research that clinics engaged in public reporting perform better than those that do not."
The Ratings are being published on the heels of CR's recent Ratings of doctors' practices in Massachusetts and Minnesota, released in May and August, respectively. The three efforts are the result of a grant from RWJF related to a unique program called Aligning Forces for Quality. That initiative is RWJF's signature effort to lift the overall quality of health care in 16 targeted communities (including Massachusetts, Minnesota, and Wisconsin), reduce racial and ethnic disparities, and provide models for national reform.
"This partnership is an important advance in our ongoing effort to prepare and disseminate easy-to-understand information on the quality of care," said Anne F. Weiss, M.P.P., Quality/Equality team director and senior program officer, Robert Wood Johnson Foundation. "Patients can use this information to make informed choices about their own care and become better partners with their doctors. Doctors and their care teams can use the reports to compare their performance to others and identify areas for improvement."
The measures in CR's Ratings don't look at everything doctors should do to care for their patients, but they do represent some of the best practices in primary care, and they give a snapshot of the care a medical group provides. Some highlights from the report:
Overall Results. The Ratings are published in conjunction with the WCHQ, a voluntary consortium of Wisconsin health systems, medical groups, hospitals, and health plans, which has publicly reported on healthcare quality in Wisconsin since 2003. Most groups are doing well. Two groups—Marshfield Clinic and ThedaCare Physicians—earned the highest Rating on all but one individual measure. While no group scored below the national average for breast cancer or colon cancer screening, cholesterol control, and pneumonia vaccination, there were three groups that earned below average marks in two or more categories, and no group earned CR's highest score across all seven measures.

Cancer screening. Among the most effective cancer screening tests are those for breast and cervical cancer in women, and colorectal cancer in all adults. All 19 medical groups had rates for breast and colon cancer screening that were above the national average, and all but two did the same for cervical cancer. Four medical groups earned CR's highest Rating in each of those measures: Aurora Medical Group, Gundersen Clinic, Prevea Health, and ThedaCare Physicians. By "hitting excuses head on," ThedaCare increased screening rates for colonoscopy and mammography with its "Wally Polyp" campaign featuring a cartoon polyp.

Prevention for people 60 and over. Health issues of particular concern later in life include osteoporosis and pneumonia. All 19 Wisconsin medical groups beat the average national vaccination rate for pneumonia for adults over 60. Gundersen Clinic led Wisconsin with 91 percent of its older patients getting the shot. All but five of the medical groups beat the national average for percent of eligible patients screened for osteoporosis, with Marshfield Clinic leading the way with 87 percent.

Managing heart disease. Wisconsin medical groups are doing a good job when it comes to treating people with a history of heart attack or other forms of coronary artery disease. All 19 were above the national average for the percentage of patients getting their LDL (bad) cholesterol level under control. Four groups—Bellin Medical Group, Dean Clinic, Marshfield Clinic, and ThedaCare Physicians—earned CR's highest score in LDL screening and control. While there is no national data against which to compare blood pressure control and aspirin therapy, two national initiatives suggest that Wisconsin medical groups are doing well in those areas.