When Symptoms Hang On Too Long
If you're not bouncing back from COVID-19 or another illness, here's what can help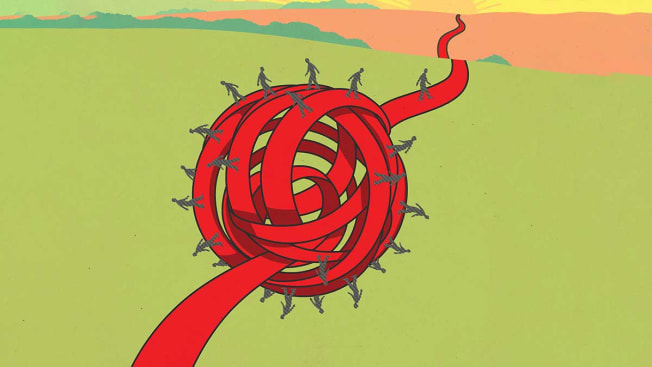 Douglas Dieterich, MD, began experiencing symptoms of COVID-19in mid-March, mainly fever at first, as well as aches. But eight days in, he got hit hard: "I walked out of my bedroom and realized that I couldn't breathe," recalls the 69-year-old Dieterich, the director of the Institute for Liver Medicine at the Mount Sinai Health System in New York City.
He went to the emergency room, and ultimately spent three and a half weeks hospitalized with COVID-19.
Months later, though he's doing much better, he's still grappling with a chronic dry cough, nerve damage in his feet, and a diminished sense of smell.
Dieterich is among a growing group of COVID-19 patients who have been dubbed "long-haulers" because they experience continuing, sometimes severe symptoms long after their diagnosis.
Though initially doctors expected people with COVID-19 to bounce back within a couple of weeks, emerging data has suggested that for many—including some with mild cases—recovery may be a much longer process. A report released by the Centers for Disease Control and Prevention last summer found that 35 percent of COVID-19 patients who weren't hospitalized for the virus had symptoms that persisted for up to three weeks.
Memory and Cognitive Issues
Up to 30 percent of patients hospitalized with COVID-19 show impairments in cognition, according to a July 2020 study published in the journal Lancet Psychiatry. Even people with milder symptoms may experience cognitive aftereffects. A study of 29 people who had recovered from COVID-19, published in the Journal of Psychiatric Research, found persistent declines in their ability to focus.
"We're seeing a lot of short-term memory deficits, where people can't recall conversations or retain information, and difficulty with focus and concentration," says Arman Fesharaki-Zadeh, MD, PhD, a neurologist and neuropsychiatrist at Yale Medicine in New Haven, Conn. Many people also report depression or anxiety symptoms, he says.
What to do: Cognitive problems may be more difficult to detect among older adults, Fesharaki-Zadeh says, because such symptoms may be brushed off as age-related. But if you're noticing problems—you're more forgetful, or losing things, or find you are not able to concentrate as well as you used to—make an appointment for a neuropsychological evaluation at a post-COVID-19 recovery clinic.
Medication may help, or you may be a candidate for cognitive rehabilitation therapy, where a therapist works with you to improve your memory, attention processing, and problem-solving.
Even if you had a mild infection, the effects of COVID-19 on your lungs can last for months. One study of Chinese patients published online in July by the journal EClinicalMedicine found that about 70 percent of those who were hospitalized (mainly with mild to moderate illness) continued to have abnormal lung scans three months later. "Persistent shortness of breath is the biggest complaint I hear among my older patients," Ferrante says.
Lung damage seen after COVID-19 does seem to improve, albeit slowly. Preliminary data from an Austrian study of 86 people who had been hospitalized for COVID-19 found that while six-week follow-up CT scans still showed lung damage in 88 percent of patients, by their 12-week visit symptoms such as shortness of breath had improved.
What to do: If shortness of breath persists for more than three weeks after a diagnosis, see your primary care provider, or even go straight to a pulmonary specialist. He or she can run lung function tests to check for signs of airway inflammation, as well as order a chest CT scan, Condos says. You may need to use an inhaler to reduce inflammation for a while. "The best way to strengthen your lungs again is through exercise, but that can be scary for an older adult who has rapidly deconditioned," Condos says. Rehabilitation therapy—exercising while attached to monitors, with a physical therapist standing by—can be especially helpful.
Almost a quarter of those hospitalized with COVID-19 are diagnosed with cardiovascular complications. There's also evidence the virus may cause heart damage even in people with milder symptoms. A study published in JAMA Cardiology found heart abnormalities in almost 80 percent of recovered COVID-19 patients and ongoing heart inflammation in 60 percent.
"Most older adults are exhausted after COVID-19 and can't function at the activity level they were at before," Rughwani says. "It can be difficult to tease out whether it's a lung issue, a heart issue, or just general fatigue."
What to do: See a cardiologist if you experience heart palpitations or an irregular heartbeat, lightheadedness or dizzy spells, or ankle swelling, Rughwani says. You should also be checked if you have worsening shortness of breath with exertion, especially if you've had normal lung function tests, Englund says. There may be medications that can help.
Watch for These Three Other Aftereffects
The below concerns tend to resolve within a few weeks after you contract COVID-19, but sometimes they can cause problems for a longer period.
Nerve damage: Neuropathy—­damage to the nerve cells that triggers weakness, numbness, and a tingling, pins-and-needles feeling—often shows up in the hands or feet. A neurol­ogist can run blood tests to look for the cause of these symp­toms and conduct nerve function tests to assess damage. Anti-seizure drugs, such as gabapentin or pregabalin, can help.
Loss of smell: Many people with COVID-19 lose their sense of smell early in the disease process. About 20 percent report still having problems after about one to four weeks. Though there have been anecdotal reports of people using nasal steroid spray, vitamin A drops, or omega-3 supplements, there's no good evidence that any of these are effective. "It's generally something that only gets better with time," says Yale's Ferrante.
Stomach upset: Problems such as diarrhea are a common complaint among people with COVID-19, and these can sometimes persist even after other symptoms have resolved. Unfortunately, there's no real treatment other than a bland diet, over-the-counter diarrhea meds or proton-pump inhibitors, and getting plenty of hydration.