First Look: Samsung Galaxy SmartTag+
The new tracking tag uses augmented reality and wireless technology to help consumers find lost items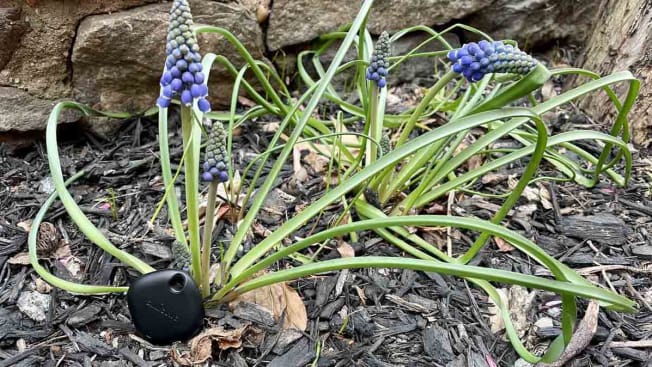 I'll be the first to admit that I'm always losing things—my keys, my phones, that tiny Apple TV remote. Not long ago, after receiving my first COVID-19 shot, I walked away and left my vaccination card on the table.
So the ability to track and find important things has always appealed to me. That's why I was eager to give Samsung's new tracking tags a try.
How the Samsung Galaxy SmartTag+ Works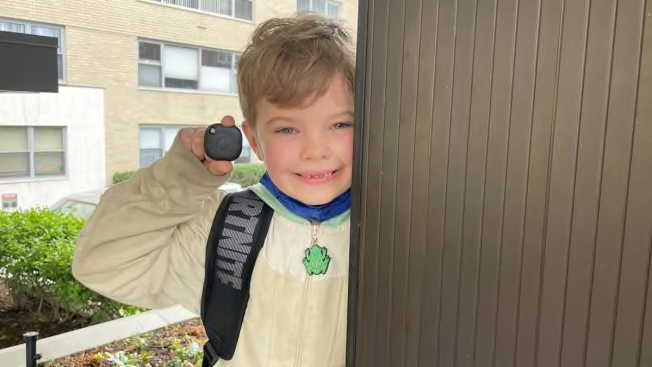 As noted above, SmartTags operate within Samsung's SmartThings system, which uses an app to connect your Samsung devices, everything from the company's phones to its smart refrigerators, TVs, and connected lighting products.
Once you pair the tag with your app and phone, you're good to go. Place it on your key ring, in your purse, or even on that pesky remote control, and it keeps track of the item for you. The tag's last known location can be viewed on a Google Map built into the SmartThings app, letting you know right away, for instance, if your missing item is inside your home or at the restaurant where you just ate.
If the tag is close to you, meaning within range of your phone's Bluetooth or UWB signal, the next steps are pretty simple. Tap "Search Nearby" and slowly sweep your phone from side to side. The app will tell you if the tag's signal is getting weaker or stronger. It's kind of like the kids' game Hot and Cold.
If you're inside or at least generally know where you lost the item with the tag, these features go a long way toward helping you find it. But most Bluetooth signals travel only about 30 feet, making it less helpful if you're searching in a park or a shopping mall.
Once you close in on the item, the app gives you the option of turning on the camera on your phone. This is where the AR functions kick in. You see the scene before your eyes, and arrows that light up on the screen, pointing the way to your tag and indicating how far away it is. When you reach the tag, a little green fireworks display pinpoints the location.
Still don't see the item? The app gives you the option of activating an audible alert, not the ear-splitting burst used by other tracking technology like "Find My iPhone" but a musical tone with adjustable volume controls.
Speaking of audible alerts, the tracking also works in reverse. If you're rushing to leave the house and can't find your phone, just press the button on a tag twice and your phone will play a musical tone, too, even if it's set to silent.
My 6-year-old had a fun time hiding the tag amid his stuffed animals, deep in the couch cushions, and way down in the laundry basket. Each time I was able to find the tag with the help of those handy little AR arrows and fireworks. I also needed the audible alert to dig it out of the laundry pile.
Hide and Seek in the World at Large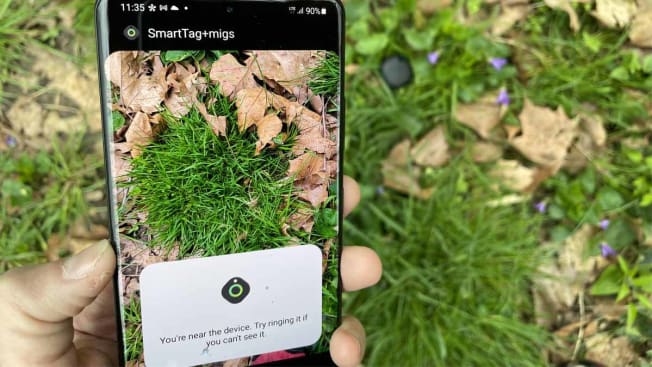 For a lot of people, help finding things in a household packed with clutter might be reason enough to buy a tag or two. But what if you lose your bag on a soccer field or accidentally drop your keys on the sidewalk? Bluetooth can only reach so far.
And while the use of UWB makes the tag more powerful, it requires other UWB-equipped Samsung phones with owners who have opted in to SmartThings tracking to be truly useful. (Even though Samsung pledges that SmartThings connections are encrypted and anonymous, it's up to users to enable it).
Right now the only Samsung phones with UWB hardware are the Galaxy S21+ 5G, S21 Ultra 5G, Note20 Ultra 5G, and Z Fold2 5G. Those are all super-premium models launched in the past year. The least expensive, the S21+, starts at $1,000.
So while there are sure to be many more Samsung UWB phones roaming your streets in the future, I'm guessing there may not be a whole lot just yet. And, without them, you're back to relying on the less powerful, though easily more plentiful, Blutooth connections of other opted-in Samsung phones.
But even in my admittedly quiet New York City neighborhood, I had a tough time connecting with other Samsung phones.
To start, I planted the tag in my building's backyard. I live in a small three-floor walk-up, and about half of the apartments, including my own, face the backyard. I walked about a half-mile away, then tried to get a location on the tag.
In this case, I was successful. The tag connected to a nearby UWB phone (quite possibly a Note20 Ultra sitting in my second-floor apartment) and relayed its location to the S21 Ultra I was carrying, complete with a Google map and navigation telling me how to get there.
But I wasn't as successful when I stashed the tag in some fencing near the main business district in my neighborhood. It was a rainy day and not a lot of people were out and about. There just wasn't a compatible phone nearby.
That was also the case when I hid the tag among the weeds in a neighborhood park. In fact, I actually lost it for a bit and had to comb the park on foot, sweeping my phone from side to side to pick up the signal via Bluetooth.
Once I got close I followed the AR arrows, then set off the audible alert. While the process wasn't fast, it did beat the heck out of crawling through the park on my hands and knees.
In the end, you can't bank on this device bailing you out if you lose whatever you attach to it. There just aren't enough UWB-enabled Samsung phones out there yet to create a robust network. And even with the location accuracy Samsung says that technology provides, it's still not pinpoint precise.
For example, the SmartThings app thinks my devices are located in the building next door, which is one of the drawbacks of trying to digitally track things in a densely populated area.
But that doesn't mean the new SmartTag+ isn't useful.
While Bluetooth connections still provide the meat of the SmartThings network, the AR and UWB make this latest version of the tag a lot more user-friendly and boost the odds that you'll actually find what you're looking for. And as more Samsung UWB devices hit the streets, those odds will only improve.
For those reasons, spending an extra $10 to get a SmartTag+, rather than the previous generation SmartTag, seems like a no-brainer.
Just don't expect it to save you every time.