When you shop through retailer links on our site, we may earn affiliate commissions. 100% of the fees we collect are used to support our nonprofit mission.
Learn more.
A family road trip is a rite of passage. It can be a great bonding experience for making lifelong memories, but if families are cramped and uncomfortable on the long drive, the experience can be miserable.
Nobody runs out to buy a vehicle simply because of an upcoming road trip. But if you're considering a new vehicle, and your vacations frequently take you, your spouse, and your kids (pets too!) to the open road rather than the friendly skies, road-trip-worthiness should factor into your buying decision. After all, you're going to be spending a lot of time together in this vehicle.
Consumer Reports' auto experts have compiled a list of eight suggested vehicles for families—large and small—with an eye to long-distance travel. These are models that have done excelled in our road tests; performed well in government crash and safety crash-tests, if evaluated; and have average or better predicted reliability.
These cars (Toyota Camry Hybrid, Honda Accord, and Chevrolet Impala), SUVs (Subaru Outback, Kia Sorento, Dodge Durango, and Audi Q7), and vans (Toyota Sienna) represent the different needs families have for a trip vehicle, and span a wide range of prices. We've focused on cars that are comfortable, quiet, ride well, and have plenty of space for people and luggage, yet attain reasonable fuel economy.
Fuel Sipper: Toyota Camry Hybrid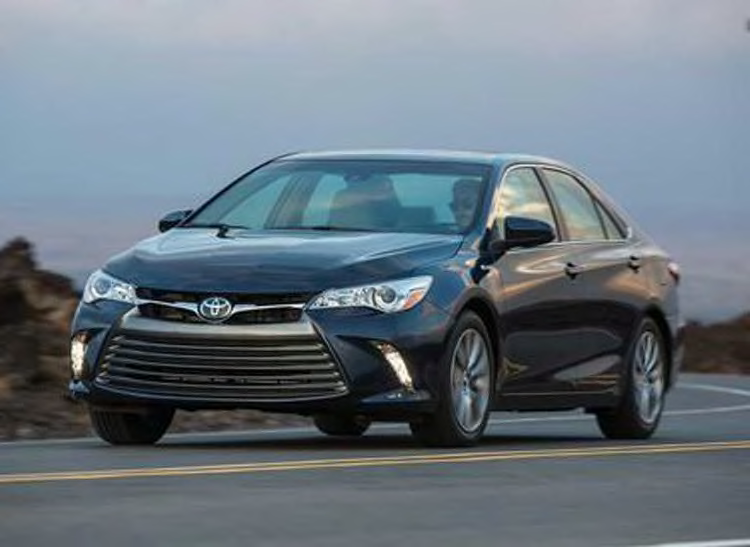 Sure, it might seem vanilla, but the Toyota Camry Hybrid truly delivers what shoppers want in a midsize sedan. And vanilla happens to be the best-selling flavor of ice cream. The no-fuss driving experience—great outward visibility, controls that fall easily to hand, a roomy interior—may not be the most thrilling in its class, but it's far from its undeserved boring reputation. A quiet cabin, slick hybrid powertrain, a comfortable ride, and sound handling make it pleasant and capable. The spacious rear seat has sufficient shoulder, head, and leg room to seat three comfortably. Year after year this sedan delivers outstanding reliability and solid owner satisfaction. The Camry also scored impressive crash-test results, and fuel economy for the Hybrid is 38 mpg overall.

Midsized Sedan: Honda Accord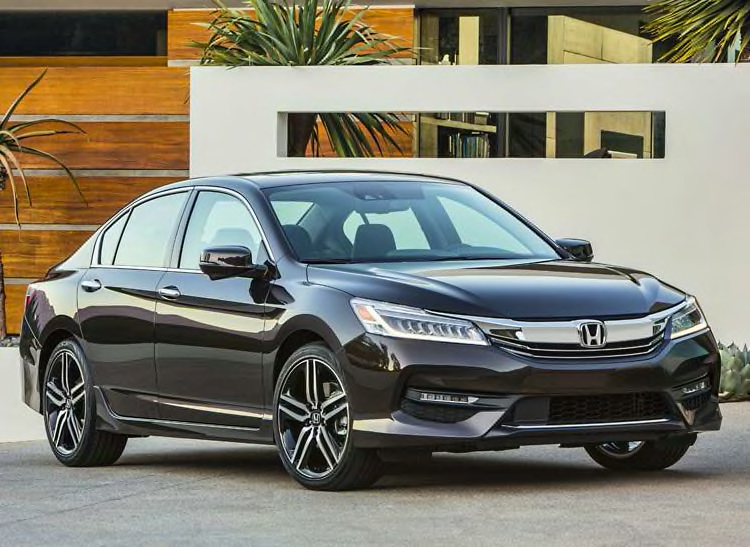 Across all trim lines, the Honda Accord is well-equipped and priced competitively—making it one of our top-rated family sedans. It handles responsively, though the ride tends to be choppy. It has a roomy and well-finished interior, and the base four-cylinder engine gets 30 mpg overall with its mostly unobtrusive continuously variable transmission. For driving purists, the Accord still offers a stick-shift. The V6 is lively and refined, and gets a very good 26 mpg overall. For families with older kids, we found the rear seat supportive and comfortable for two passengers, but tight for three adults. We didn't like Honda's unintuitive infotainment system—the only way to avoid it is to get the base or Sport trims. Honda's "Lane Watch" right-side camera is an ineffective substitute for blind-spot monitoring. At least the Honda Sensing advanced safety equipment, including forward collision warning and automatic emergency braking, is optional on even basic trims.
Large Sedan: Chevrolet Impala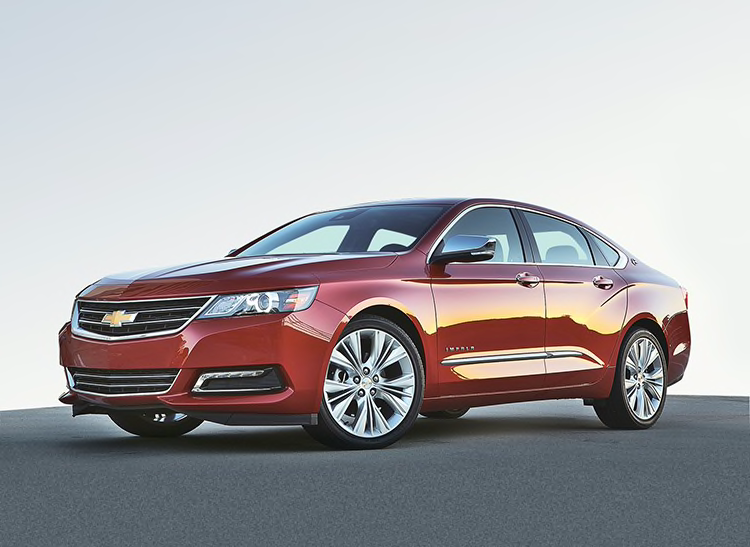 Our 2016 Top Pick for large sedans, the Chevrolet Impala is roomy, comfortable, quiet, and enjoyable to drive. It even rides like a luxury sedan, feeling cushy yet controlled. Engine choices include a punchy V6 and an adequate four-cylinder, both paired with a six-speed automatic. In our tests, the V6 returned 22 mpg overall and had good acceleration. Braking is capable, while handling is secure and responsive. The full-featured cabin stays quiet, and offers a huge trunk. Three adults will fit side by side in the backseat, but a very pronounced center tunnel consumes leg and foot room for the person in the middle. Controls are intuitive and easy to use, but rear visibility is restricted. Advanced electronic safety features are readily available.
Small SUV/Wagon: Subaru Outback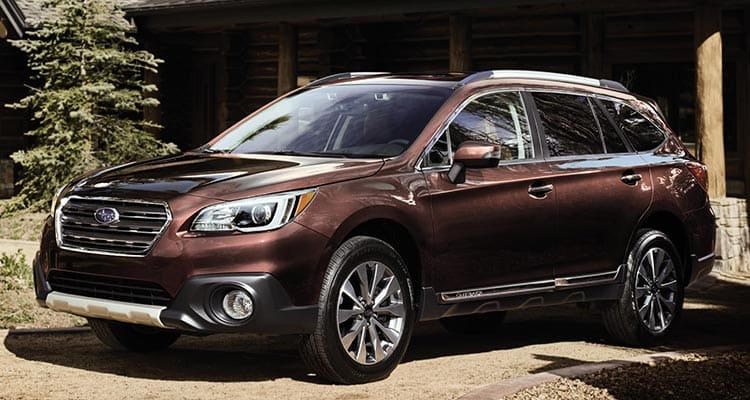 An SUV alternative for the non-conformist, the Subaru Outback wagon is roomy, functional, and appeals to the practical-minded buyer. It rides very comfortably, with secure handling. Standard all-wheel drive delivers reassuring traction in wintry conditions. The four-cylinder returns 24 mpg overall, and drives through a standard continuously variable transmission. Opting for the six-cylinder makes the car quicker, quieter, and thirstier, conceding 2 mpg. The controls are all easy to use, including the touch-screen infotainment system. The wagon's generous rear seat is roomy enough for three adults. The bountiful cargo area has more room and a lower loading height than a comparable Forester or Toyota RAV4, and the Outback's interior is quieter and plusher to boot. Visibility is good and blind-spot warning is readily available. Crash-test results are top-notch, and the affordable EyeSight safety suite adds forward-collision warning with automatic braking.
Midsized SUV: Kia Sorento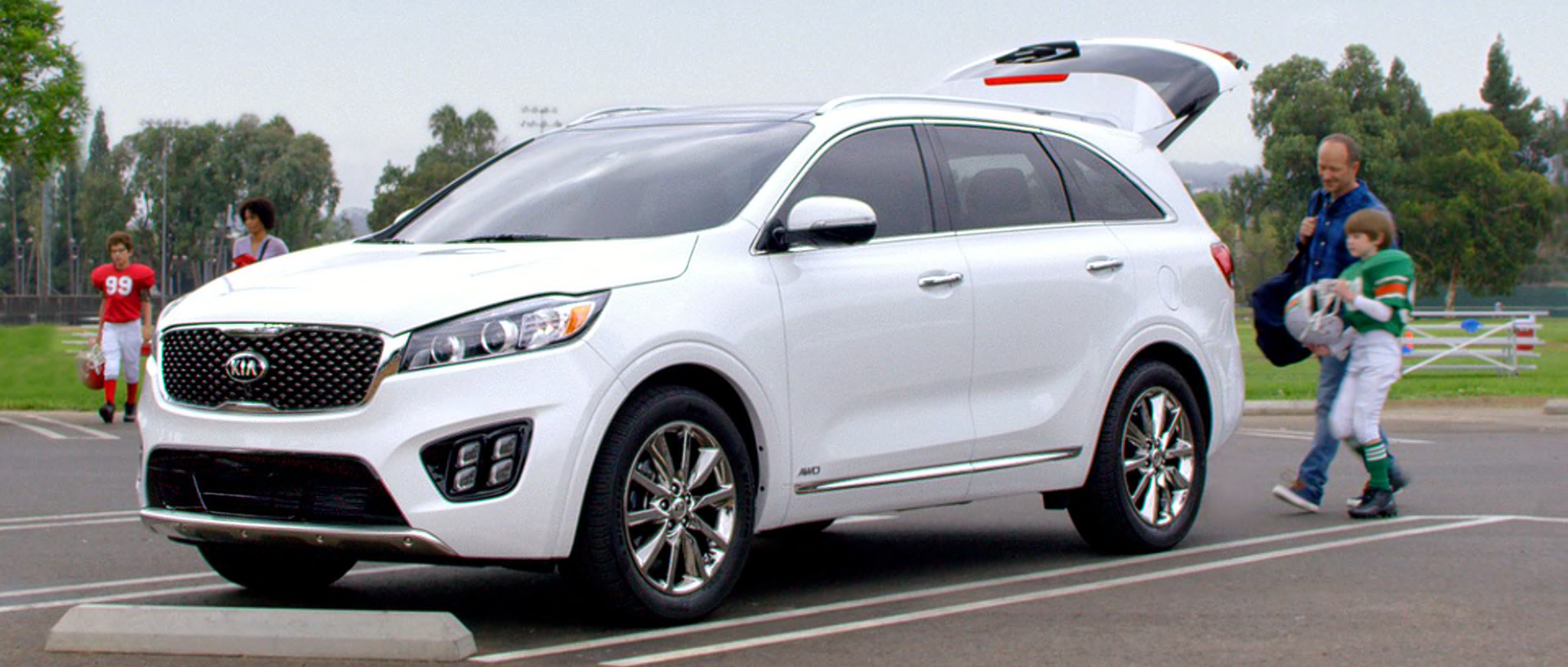 This is a great SUV hiding in plain sight. Most midsized crossovers often feel like uninspiring errand runners. But the Kia Sorento offers class-above elegance at mainstream prices. It's a shade smaller than its midsized competitors, but that allows the Sorento to be city-friendly while still offering the space and features of a larger vehicle—including an optional-but-tiny third-row seat. The rear seats are contoured, well padded, and comfortable for adults, with reclining backrests. The center position is a raised perch, however, and adults will put up with it only for short trips. The smooth V6 is responsive with competitive fuel economy, while the base four-cylinder is no slouch. The suspension absorbs the worst bumps and ruts with dignity while still giving you confidence in corners. The interior design is flat-out gorgeous, with intuitive controls and an easy-to-use infotainment system. For 2017, most trimlines offer advanced safety gear like forward-collision warning with automatic emergency braking as an option. The Sorento comes with well-above-average predicted reliability.
Towing-Ready SUV: Dodge Durango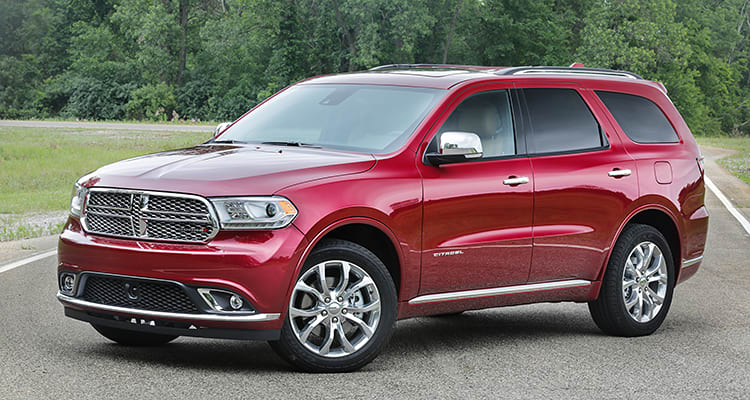 Spacious, quiet, and comfortable, the Dodge Durango impressively blends workhorse utility with ample creature comforts. It shares its platform with the Jeep Grand Cherokee but is longer and adds a third-row seat. Handling is responsive. The ride is composed and comfortable, making the Durango feel sophisticated and substantial. The slick eight-speed automatic improved performance and fuel economy with both the V6 and V8 engines. The optional Uconnect 8.4-inch infotainment system is one of the best, with intuitive operation. Cargo room is generous, and the Durango can tow 1,000 to 2,000 pounds more than competitors. Limited rear visibility is a downside, but a rearview camera is standard on all but the lowest trim lines. Reliability has been average.
Luxury-Living SUV: Audi Q7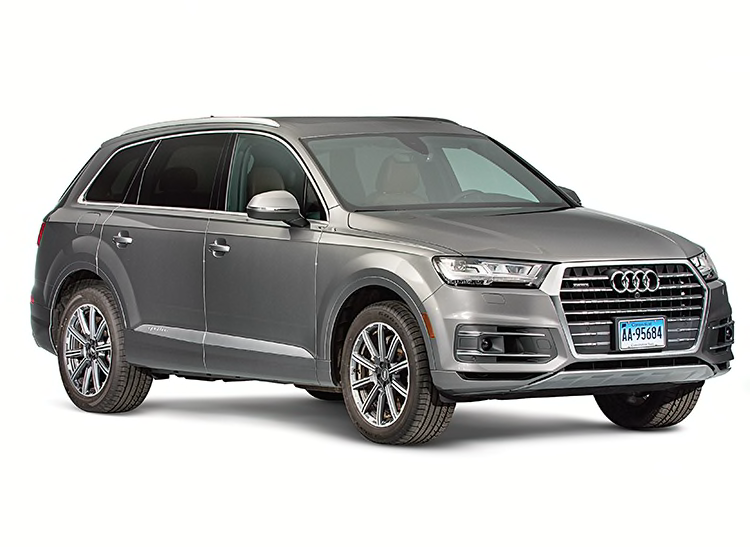 The redesign of the Audi Q7 luxury three-row SUV has resulted in a lighter-weight family transporter that sits lower than the previous generation. It employs Audi's supercharged V6, which is mated to a super-smooth eight-speed automatic. The result is effortless acceleration, and fuel economy of 20 mpg overall in our tests. The new Q7 is very quiet, instilling a sense of calm and tranquility. Ride comfort is commendable, with a plushness and control befitting a luxury car, particularly on the optional air suspension. Handling is responsive and confidence-inspiring. Three adults can fit comfortably in the second-row seat, with plenty of head room. The beautifully finished interior exudes luxury, with excellent seats and a vivid, high-tech digital instrument cluster. But it is a steep learning curve to master the controls. This excellence also comes with a steep price tag: You'll pay more than $60,000 for a Q7 with commonly chosen options.
Minivan: Toyota Sienna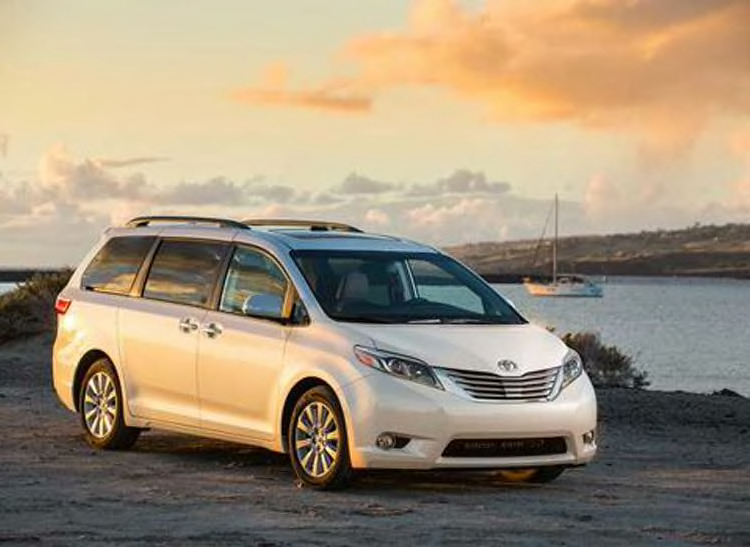 Sure, they're frumpy. But with lots of seats, big sliding side doors, piles of cupholders, and generous cargo room, minivans turn out to be highly desirable road-trip companions. The Toyota Sienna is a sensible choice that rides very comfortably, but its lackluster handling means that many three-row SUVs are more engaging to drive. The 3.5-liter V6 is lively and returns 20 mpg overall. The all-wheel-drive version—the only such minivan presently on the market—sacrifices 1 mpg. That's respectable, but again is matched or bettered by newer SUV rivals. Third-row seating is acceptably comfortable for three adults, but some kids may find the windowsill too high to easily peer out. An eighth seat cleverly stores in the back when it isn't installed in place. Reliability has been above average. That and the availability of all-wheel drive are the Sienna's biggest advantages over the rival Honda Odyssey. However, the Odyssey makes advanced safety equipment available on more trim lines; it's only optional on high-grade Siennas.