Essentials for a Great Day at the Beach
Grills, gear, and a recipe for a perfect beach day
When you shop through retailer links on our site, we may earn affiliate commissions. 100% of the fees we collect are used to support our nonprofit mission. Learn more. A feast at the beach requires a little bit of planning, but the extra logistical lift is worth it. There's something about the combination of sunshine and swimming that makes even great food taste better.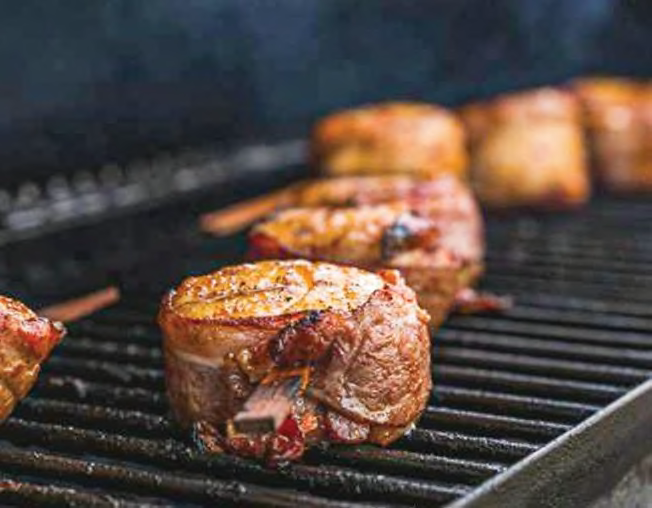 Surf-and-Turf on a Skewer menu:
• Bacon-wrapped scallop kebabs
• Homemade potato chips (seasoned with herbs or Old Bay Seasoning)
• Orange sections or lemon bars for dessert
Serve up a taste of the sea with scallop kebabs that you can assemble at home and grill quickly at the beach. This recipe is from the chef and cookbook author Kevin Curry, whose Instagram profile(@fitmencook) has 1.6 million faithful and well-fed followers. "The scallop kebabs are a great way to get out of your comfort zone and elevate your grill game," Curry says.
If you're planning to grill on a portable or public grill, keep the kebabs under 40° F in a sealed plastic bag in an ice-filled cooler until you're ready to cook them. You can also grill the scallops at home and bring them with you to eat cold.
Kevin Curry's Bacon-Wrapped Scallop Kebabs

Ingredients
1 lb jumbo scallops, about 8
8 slices of beef bacon (Can substitute turkey or pork bacon)

BBQ paste:
1 1/4 tablespoon extra virgin olive oil
2 heaping teaspoons smoked paprika
1 tablespoon coconut sugar

Garnish (optional)
Chopped cilantro
Sea salt & pepper
Wooden kebab skewers, flat ones recommended

1. Fire up the grill and preheat to 375° F. You want it hot enough to crisp the edges of the bacon after a few minutes.
2. Place wooden kabob skewers in water. Allow them to soak for at least 20 minutes before placing on the grill in order to mitigate the risk of them burning or catching fire.
3. Wrap a piece of bacon around a jumbo scallop. Skewer it with the wooden kabob stick. Repeat for the remaining scallops. Place no more than 3 wraps on each skewer.

4. Mix together the ingredients for the paste, then lightly brush the mixture onto the kabobs.

5. Place the kabobs on the grill and cook for about 8 minutes, then flip them over. Cook for an additional 8 to 10 minutes, or until the outside edges of the bacon get crispy.

6. Remove the scallops from the grill, allow them to slightly cool, then garnish.
Music is a treat at the beach until your speaker gets knocked into the water and things suddenly go very quiet. Both of the speakers below are good choices for the beach and can survive a dunking but differ in price and features.
The JBL Flip 4 is a cheap and cheerful speaker that comes in a variety of vivid colors, is small enough to be tossed into a beach bag, and does its job without much fuss. It has a claimed battery life of up to 12 hours, and the manufacturer says the entire speaker can survive being fully submerged, at least briefly. With bass that's a bit boomy and treble that's somewhat subdued, it's not the best-sounding portable, but these flaws are minor given its ruggedness and low price.
Sony's SRS-XB32 features LEDs that can flash to the beat of the music, with customizable colors that can be adjusted with its smartphone app. Its Party Booster feature makes percussion sounds, including a snare drum and cowbell, when you whap on different parts of the speaker. Sony claims that it has a battery life of close to 24 hours (with the lights turned off and the sound turned down) and that it's waterproof and will float.
Whether you want to just grill some hot dogs or you want to try the scallop kebabs, above, a portable grill makes it easy to cook hot food for a day at the beach.
Portable Grill
Price: $80 to $420
Size: Small (18 or fewer burgers)
Temperature range: 150° F to 500° F
Best for grilling: Anything you'd cook on a regular gas grill.
Pros: Light and compact, many, like the Nexgrill below, are built to be used on a tabletop. No table? Choose one with tall legs so you don't have to cook on the ground (check our portable grill ratings to find a model).
Con: Many run on 1-pound propane cylinders, which last only 1½ to 2 hours.
Grilling tip: Take a few extra propane cylinders, or choose a model that takes a 20-pound tank. Telling people that they can't have a burger because you've run out of propane before everyone's been fed is a sure way to spoil a cookout.
Editor's Note: This article also appeared in the June 2021 issue of Consumer Reports magazine.