Keep Calm and Come Together
Whether you're planning to gather with family and friends virtually or in person, here's advice on how to be festive and safe Update: With rates of COVID-19 surging around the country, the CDC now recommends against traveling or gathering with people outside of your household for Thanksgiving. That means you may want to have a virtual holiday; see our advice below. This article was originally published on Nov. 4.
For the past 15 years, Maya Feller has given a Christmas Eve party for family and friends, transforming her Brooklyn, N.Y., home into a winter wonderland and serving an elaborate sit-down dinner for up to 18 people. This year she's brainstorming ways to safely hold a much smaller gathering, one that may include just her 71-year-old mother and stepmother traveling from Massachusetts and possibly step-siblings flying in from California. "We've given up on celebrating with friends," she says. "If we can see our close loved ones, we'll consider it a victory."
Around the country, countless families are grappling with similar concerns as they try to preserve their holiday traditions without exposing themselves to the coronavirus. In a Consumer Reports nationally representative survey of 2,020 U.S. adults in September, only 36 percent said they planned to attend or host in-­person seasonal events with people outside their household. "There's no doubt that this year's holiday season is going to be a challenge," says Daniel Griffin, MD, an infectious disease specialist and clinical instructor at Columbia University in New York City.
But with a little ingenuity and adherence to social distancing guidelines, there are plenty of ways to keep the season celebratory, he says. Whether you're considering virtual gathering or face-to-face ones, our expert advice can help.
Have a Festive Virtual Gathering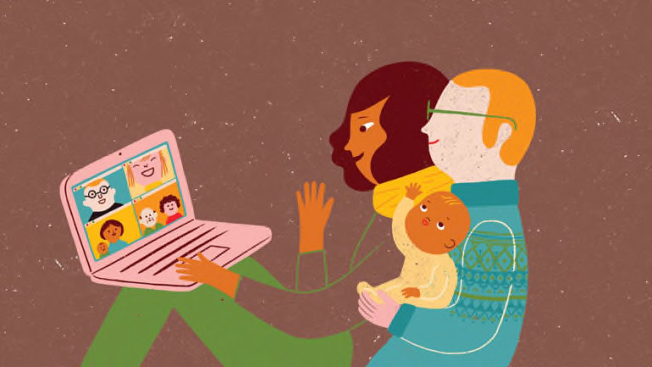 If you choose to celebrate from a distance, you have plenty of ways to hold on to traditions or create new ones. A bit of creativity and simple tech tools will help make it meaningful.
Share Favorite Goodies
This year, instead of visiting relatives in Puerto Rico, Laurita Tellado, a writer in Orlando, Fla., will be sending them polvorones, the dense, buttery cookies the family traditionally eats during the holiday season. If you're sending baked goods, choose those that are moist, firm, and hard, such as quick breads, cookies, muffins, pound cakes, and scones, says Nancy Farrell Allen, RDN, a spokesperson for the Academy of Nutrition and Dietetics.
Shipping temperature-sensitive items? Place them in an insulated cooler with packs of dry ice, and pop the cooler into a sturdy corrugated cardboard box, says Angel Planells, RDN, another spokesperson for the Academy of Nutrition and Dietetics. Label the box "Keep Refrigerated," pick a fast shipping option, and let your relatives know it's en route.
Choose a Virtual Meeting Service
If you'd like to gather the gang for an online singalong, meal, or toast, the Zoom teleconferencing service, where up to 100 invited guests can see and talk to each other onscreen, is a great option. Attendees don't need to be tech-savvy or have an account, though you need one person with a Zoom account to host, email invites, and run your group chat. (If you have a particularly tech-challenged relative, consider having a family member quarantine for two weeks, then join him or her in person to help.) Zoom's tile-screen interface—think "The Brady Bunch" intro on steroids—is fun and works on almost any computer or phone. Plus, you can choose a seasonal virtual background, such as an idyllic image of snowy woods, to hide that cluttered bookcase. (Zoom is just one of several videoconferencing options.)
Zoom sessions have a 40-minute limit unless the host has a $15-per-month paid account, so if you want free video sessions of unlimited duration, consider app-based options. Apple FaceTime, which uses software built into iPhones, iPads, and Mac computers, can handle up to 32 revelers. Google Duo welcomes up to 32 iOS and Android users, and Facebook Messenger Rooms allows up to 50 participants.
Glitch-Proof Your Tech
A stable WiFi connection is critical so that your Zoom call with the cousins doesn't stutter and freeze midconversation. Several days before your holiday gathering, measure the WiFi signal strength in the room you'll join the virtual party from. You can do this easily at speedtest.net using your phone or laptop; you'll need only about 1.5 megabits per second for a Zoom call, according to the company's website. If your WiFi tends to be unsteady in the virtual party room, try moving your router closer so that signals aren't blocked by walls or doors.
Another option is a mesh router. These devices excel at spreading WiFi far and wide in your home while keeping the signal stable. Several $200 mesh routers have done well in our ratings, including the TP-Link Deco and Eero Home WiFi (second generation).
Put Your Party on a Big Screen
Why crowd around a laptop when you can see your virtual guests on a TV screen? Here's how: Open the Zoom app on your smartphone, tablet, or computer. Then simply connect the device to your TV's HDMI input with a cable. (Devices with a USB or Lightning port, as iPhones have, require an adapter.)
If you want to avoid dealing with cables and adapters, you may be able to "mirror" or display what's on your iPhone, iPad, or Mac computer screen on your TV with Apple's AirPlay. You'll need a TV with built-in AirPlay support, which many newer models have, or an Apple TV streaming player. Windows 10 computers can mirror wirelessly using a technology called Miracast.
Similarly, many Android smartphones and tablets will let you mirror, or "cast" your screen, so you can watch a Zoom meeting you've joined on your TV. If your TV doesn't support mirroring/casting, you can buy a Google Chromecast dongle, about $30, and plug it into an HDMI port on your television. That will let you mirror your screen from an Android phone. (If you have a Roku streaming device, you can mirror from an Android or Windows device.)
Make It Brighter and Clearer
Optimizing lighting can be as simple as holding your end of the party near a window or in a brightly lit room. A dedicated external webcam, which can cost $20 to $200, can provide better image quality, especially if lighting isn't ideal, and allow you to fit more people in the shot. CR doesn't test webcams, but Logitech and Razer products, such as the Logitech StreamCam, have a good reputation. As for sound, the built-in microphone in your laptop may be fine for general use, but a separate USB omnidirectional microphone with noise cancellation, from $12 to $250, may capture conversation from a group around a table significantly better.
Get Virtually Playful
Challenge each other in online Scrabble or other games at a site such as Pogo. You can also view movies with far-flung family and friends via Amazon Prime, Hulu, and Netflix. With Netflix Party, invited virtual participants can use a chat box to comment on "The Grinch" or other holiday classics in real time.
Cook Together Across the Miles
Yearning for Aunt Judy's famous baked ziti? Using a service such as Zoom, she can do a live demonstration so that you and other relatives can make the dish at the same time, says Danielle Alexander at Posh 5 Productions. If you're the host chef, "send the ingredients list to your guests a week before the event, or even include it in the invitation, so they can follow along," she says. Or have everyone sign up for the same virtual cooking class. Dozens of options are available online.
And last, keep in mind that breaking with tradition right now might give you a break and a lift. For example, instead of waiting for the holidays to cook a traditional Puerto Rican Christmas Dinner, Tellado and her parents made the special meal in August—complete with roast pork, rice with pigeon peas, and coquito, which is something like eggnog—just for the fun of it.
So celebrate when and how it works best for you, with safeguards. "We're all just trying to get through the next few months, and these big celebrations, as well as we can," Tellado says. "As long as you connect with loved ones in some way, whether it's in person or online, that's all that's important."
Do In-Person Parties Right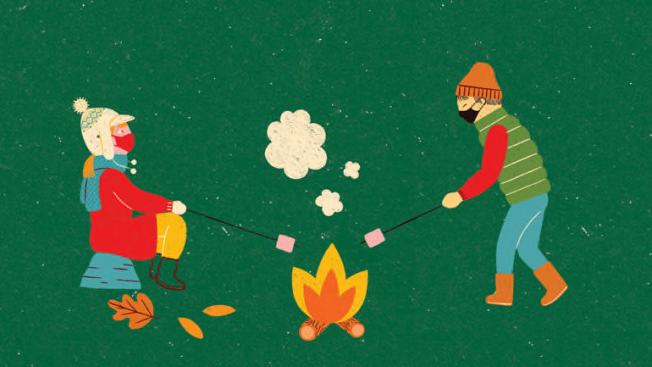 Give Guests Clear Info
"If possible, request that guests self-quarantine for two weeks prior to their visit, and then travel to your home in a way that reduces the possibility of exposure," says Donald Schaffner, PhD, a specialist in quantitative microbial risk assessment at Rutgers University in New Brunswick, N.J. You may also want to ask everyone to be tested for COVID-19. Let invitees know you'd like them to wear masks except while they're eating or drinking, and to maintain social distancing—leaving 6 feet between themselves and those not in their household. And tell guests whether you'll gather outside, which experts say is much safer than an indoor event, so they can dress warmly. (For colder areas, have extra gloves and hats, and encourage guests to dress in layers, which they can remove and put back on as weather demands.)
Prep Your Home
Disinfect high-touch surfaces, such as doorknobs and bathroom faucets, and place liquid hand soap, paper towels, and disposable disinfectant wipes in bathrooms. Stock up on face masks, tissues, and hand sanitizer to leave where guests can easily find them, such as at the entry area to your yard, in hallways leading to bathrooms, and on tables outside.
Pick Your Spot and Time
Weather permitting, just about any outdoor space—a backyard, patio, covered front porch or deck, or even a park or campground—can stand in for the traditional dining room. In chilly climates, consider scheduling festivities for the afternoon, when temperatures may be warmer.
Add a Heat Source
A portable wood-burning fire pit, which can cost as little as $10 to thousands of dollars, provides light, charm, and plenty of heat; some can reach 1,000° F or more. But the smoke it produces can overwhelm anyone sitting downwind, and it requires open space away from combustible materials, such as your house, your deck, and overhanging trees. (A mesh cover can help prevent embers from floating away.) A modular propane-burning version, from $90 to well into the thousands, is easier to start and creates less smoke or none at all, but some don't generate a roaring flame. Celebrating in a park where fires are permitted? Consider a small metal fire pit bowl, about $40 to $570. One with a mesh screen will keep sparks contained.
Patio heaters, about $80 to $1,900, which may run on the same propane tank that fuels your grill, are another option. According to advertising claims, a 42,000-Btu floor-standing version can warm about a 16½-foot radius; an 11,000-Btu tabletop model covers a radius of about 5 feet.
Feller's patio heater lets her host one family at a time in her front yard in cooler weather. "We can't serve a five-course dinner, but it keeps us warm enough for an hour to enjoy some drinks and appetizers," she says. Draping throws and blankets over chairs can also help guests feel cozy.
Go for Smart Seating
Guests are more likely to stay outside and preserve social distancing if they're seated and comfortable, which can easily be achieved by adding a seat cushion to a metal or plastic folding chair. CR doesn't test such chairs, but the GCI Outdoor FirePit Rocker, $65, sounds appealing. It folds and has a spring that encourages gentle rocking and a sleeve to hold your drink. Assign everyone his or her own chair, and arrange them so that each bubble of chairs is 6 feet from the others, facing the heat source. Have a separate table for each bubble or individual tray tables for each guest.
Light Up the Night
String lights add a festive touch, but flashlights or lanterns are a must to help guests navigate the area. You can suggest that invitees bring their own, but also have a few on hand. Newer rechargeable lanterns, from $5 to about $255, should adequately light up your gathering. Leave lights on inside your home, so guests can get to and from the bathroom easily.
Have a Simple, Safe Menu
Guests probably aren't expecting a traditional holiday dinner, so feel free to serve anything from individually wrapped sandwiches to takeout food—with separate containers for each household bubble. You can also have a platter for each group or ask guests to bring their own nibbles. (Skip sharing with other households.) Opt for disposable flatware, and serve drinks in individual cans or bottles, or provide a pitcher for each group. Try to stick to nonalcoholic sips because drinking can make partygoers relaxed about social distancing.
Think Beyond Dinner
Amp up the celebratory feeling with a hot cocoa and roasted marshmallow party around the fire pit or park campfire, says Danielle Alexander, owner of Posh 5 Productions, an event planning company in Los Angeles. "It's fun for everyone, including the older adults, because it evokes nostalgia," she says.
Insulated canteens can keep the hot chocolate piping hot. CR doesn't test them, but the makers of the Stanley Classic Legendary Vacuum Insulated Bottle, for $45, say it will keep 2 quarts of hot chocolate warm for 45 hours. Give each bubble its own container of hot chocolate and make sure everyone has long sticks for roasting marshmallows, so they can maintain their social distance. But skip the around-the-campfire carols or any in-person singing with those outside your bubble. Small particles released when people sing could increase the transmission of the coronavirus.
Do Indoors With Extreme Caution
One indoor-outdoor option is gathering in an easy-to-ventilate area, such as a garage, leaving the roll-down door open. Another is renting or buying a tent for guests to sit under, with the flaps open to allow air to circulate.
Christine Kistler, MD, an associate professor in the division of geriatric medicine at the University of North Carolina School of Medicine in Chapel Hill, and other experts discourage indoor holiday gatherings right now. If you choose an inside get-together, keep it under an hour, open windows, and maintain mask-wearing and social distancing, says Griffin of Columbia University. Try to seat each household in a different room or have them eat at staggered times. Ceiling fans may help with ventilation, but skip floor fans. "They could inadvertently blow infected air onto someone," Griffin says.
Consider placing humidifiers in the rooms where people are gathering, Kistler says. "The virus that causes COVID-19 loves dry air," she says, adding that the lack of humidity means infectious droplets can remain airborne for longer.
If you need more space than your home allows for proper social distancing, it may be reasonable to consider a small gathering in a private room at a restaurant or community center. But proceed with caution, and make sure state and local regulations permit it. "Each household can eat at their own separate table, including higher-risk grandparents, and everyone should wear their mask when they are up and about," Griffin says.
Editor's Note: This article also appeared in the December 2020 issue of Consumer Reports magazine.