Preview: 2022 GMC Sierra Gets New Flagship Trims, Interior, Key Standard Safety Features
New AT4X and Denali Ultimate versions help the Sierra cover more ground Much like its Chevrolet Silverado 1500 twin, the GMC Sierra 1500 receives a significant midcycle refresh for 2022, with revised interior and exterior designs, new off-road and luxury trim levels, and the availability of General Motors' Super Cruise driver assistance and monitoring system. We applaud GMC for including a lengthy list of active safety features as standard.
Slightly elongated daytime running lights and an altered grille shape make up the bulk of the exterior changes, and the whole effect is subtle compared with previous model years. Things are less familiar on the inside, where there are new driver and center displays, and a completely different layout of the buttons and controls.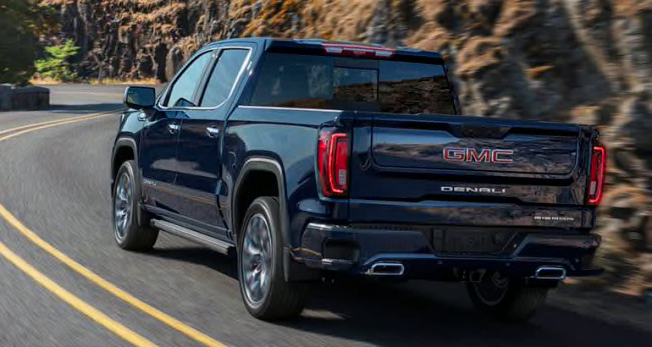 The GMC Sierra and Chevrolet Silverado are fine trucks, but in many ways, they already felt outmatched by the competition when the current generation debuted in 2019. GM is smart to significantly update both trucks as it faces tough competition from Ford and Ram, as well as from Toyota with its upcoming redesigned Tundra. 
The new interior appears to address a major shortcoming with the current Sierra and also further distinguishes it from its corporate Silverado cousin. 
GMC is taking the opportunity to launch two new trim levels, the hardcore off-road-capable AT4X and the leather-bound Denali Ultimate, that simultaneously satisfy both the off-road and luxury pickup-truck trends. 
We're glad to see that important active safety features, such as automatic emergency braking, are now standard across the board. This had previously been a disadvantage when compared with the Ford F-150 and a general shortcoming, especially given the inherent dangers big trucks present. The addition of Super Cruise, with its ability to provide hands-free assistance while towing, is also notable. 
The current Sierra's exterior design is rather reserved and offers a generally pleasing look. The midcycle freshening is subtle, and a casual observer will likely not notice the changes.
The daytime running lights are stretched out vertically, but the general shape remains. More noticeable is the lack of a frame around the new grille that creates a more seamless transition between the grille and the rest of the fascia. 
Thankfully, much more attention has been paid to the interior. The base trim carries on with the same cabin, but the SLE and higher trims gain a completely reworked interior that is more modern and quite different from that in the related Yukon and Yukon XL SUVs. The Silverado also received significant interior changes for 2022, but the two trucks are now more differentiated and offer their own unique interior aesthetic.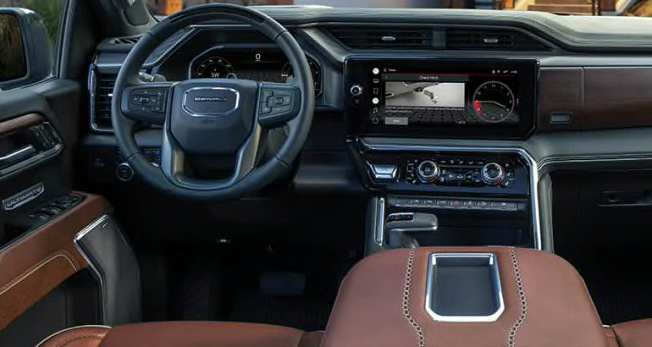 With the redesigned interior comes a configurable 12.3-inch instrument display screen and a wide 13.4-inch touch-screen infotainment system with wireless Android Auto and Apple CarPlay connectivity. It also integrates built-in Google functions, such as Google Maps and Google Assistant voice commands.
Exclusive to the Sierra is an available 15-inch head-up display.
Models with bucket seats have a monostable electronic gear selector in the center console, which returns to a center position once tilted to pick a gear. Trucks with a bench seat continue to use the steering column-mounted gear lever. 
The new AT4X may be the off-road standout of the bunch, but it does not compromise on luxury. Its interior is flooded with leather and real wood trim and the seats receive unique contrast stitching and piping.
The existing Sierra Denali is already quite luxurious. But the new Denali Ultimate makes sure its occupants' hands hardly ever touch plastic, as almost all surfaces are covered in leather, suede, or other premium materials.
Although it still generates the same 310 hp as before, the 2.7-liter turbocharged four-cylinder engine has been significantly updated. Its peak torque output is increased by 20 percent to 420 lb.-ft., boosting its maximum tow capacity to 9,600 pounds for two-wheel-drive models. This engine is paired with an eight-speed automatic transmission. 
The 277-hp, 3.0-liter diesel engine also was updated, with its maximum tow capacity increasing to an impressive 13,300 pounds. 
The mainstay 355-hp, 5.3-liter and up-level 420-horsepower, 6.2-liter gasoline engines carry over. 
Both V8 engines and the diesel use a 10-speed automatic transmission.
The AT4X gets extended-travel off-road springs and special spool-valve shocks similar to what GM uses on other high-performance off-road models. A locking rear differential is available on existing Sierra models, but the AT4X adds a front locking differential and 33-inch mud-terrain tires for even greater off-road traction and capability.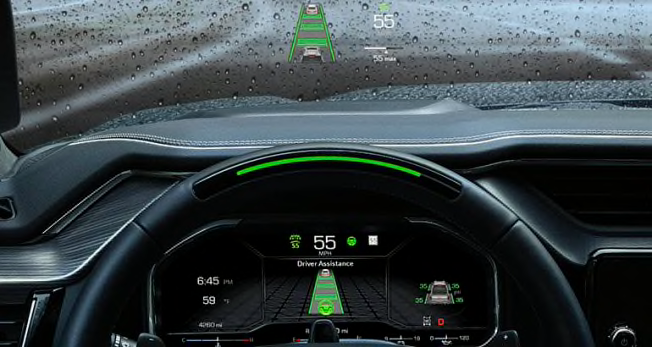 Safety and Driver Assistance Systems
GMC addressed a notable shortcoming with the 2021 Sierra by making key active safety features standard equipment on all trims. Previously, it could cost buyers thousands of dollars to upgrade a lower-trim truck to get forward collision warning, automatic emergency braking with pedestrian detection, lane keeping assistance, lane departure warning, blind spot warning, and automatic high beams, which are all standard for 2022.
GM's Super Cruise driver assistance system is available on the Sierra Denali and comes standard on the new Denali Ultimate. Super Cruise 2.0 combines various sensors and systems, including a driver attention monitor, to enable the truck to operate hands-free on more than 200,000 mapped roads in the U.S. and Canada. This latest version has lane-change capability. Super Cruise is distinguished from similar systems offered by other automakers by clearly communicating whether the driver or the vehicle is in control, using colored lights on the steering wheel rim. With the Sierra, Super Cruise allows hands-free towing.
GMC has expanded its electronic towing assistance features for 2022, with up to 14 camera views, trailer-factored blind spot warning, trailer-specific adaptive cruise control, a payload monitor, and an in-vehicle app for tuning various factors.