7 Reasons the New Ford F-150 Is the Most Advanced Version Ever
This innovative full-sized pickup boasts a foldaway shift lever, multifunction tailgate, hybrid powertrain, and more Competition is relentless in the full-sized pickup truck arena. With major redesigns from the Chevrolet Silverado 1500 and Ram 1500 in 2019, Ford needed to hit back hard to make sure the F-150 retains its grip on the title of "best-selling vehicle in America."
And Ford did strike in a big way, in the form of the redesigned 2021 F-150. The new truck has updated exterior styling, an all-new interior, numerous job-site innovations inside and out, and a generous roster of standard and available active safety and driver assist features.
The biggest news of all is the hybrid powertrain, the first for the F-150. Dubbed PowerBoost, the hybrid combines a 3.5-liter turbocharged V6 with a lithium-ion battery and a 35-kW electric motor, producing 430 hp and 570 lb.-ft. of torque, making it the most powerful engine in the F-150 lineup. It uses a unique 10-speed automatic transmission crafted for the hybrid application, and the 4WD version is rated at a thrifty 24 mpg combined by the EPA.
The F-150 Hybrid Drives Like a Truck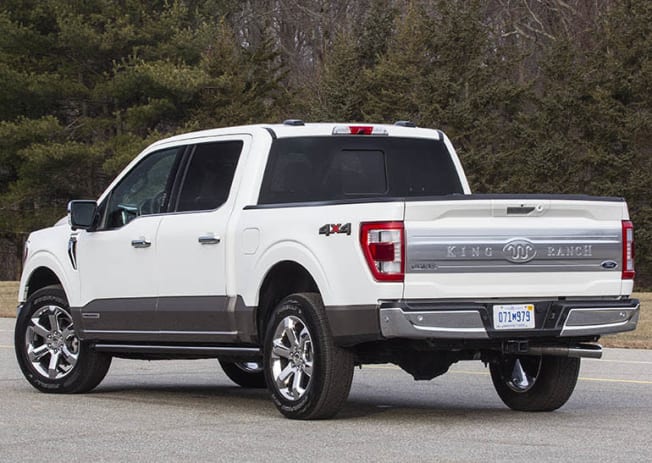 So far, we've been pretty impressed with the integration of the hybrid powertrain, especially considering that this is still a highly capable truck at its core. The best news is that the hybrid possesses what feels like an almost bottomless pit of power, delivered in an effortless and smooth fashion. It will use electric propulsion—under a light throttle—up to about 30 mph, and it shuts off the gas engine when coasting.
A slight downside is that there is some hesitation when the truck switches between electric and hybrid modes. We noticed this primarily when cruising under electric power, then dipping into the throttle pedal quickly when looking for more acceleration. There are also occasional clunky shifts from the transmission, although this isn't out of character for a truck, or all that bothersome.
The other slightly disappointing detail of note is that, although the hybrid 4WD is rated at 24 mpg combined by the EPA, we've been seeing closer to 18 mpg from the truck's onboard computer. We will conduct our own fuel-economy tests as the truck makes its way through our full test program.
The Hybrid Can Be Used as a Mobile Generator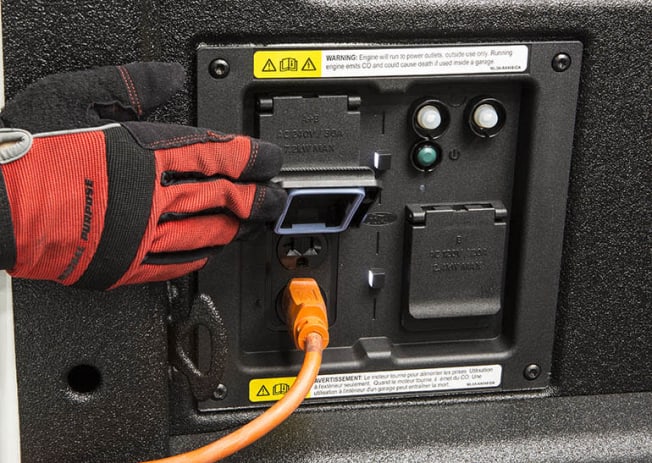 The F-150 Hybrid comes with a Pro Power Onboard feature that allows the truck to be used as a mobile generator producing 2.4 kW, with dual 120-volt 20-amp outlets in the bed. A slightly less powerful version is available on nonhybrid models. Ford claims the 2.4-kW system can power a couple of saws and an air compressor with an 85-hour run time on a full tank of gas. The hybrid's optional 7.2-kW system, which includes four 120-volt outlets plus a 240-volt outlet, could certainly run a heater and your refrigerator in the event of a power outage, if not power your entire house. In fact, we heard stories about F-150 Hybrids being used for exactly that purpose during the recent winter storm crisis in Texas.
The Interior Has Numerous Cool Innovations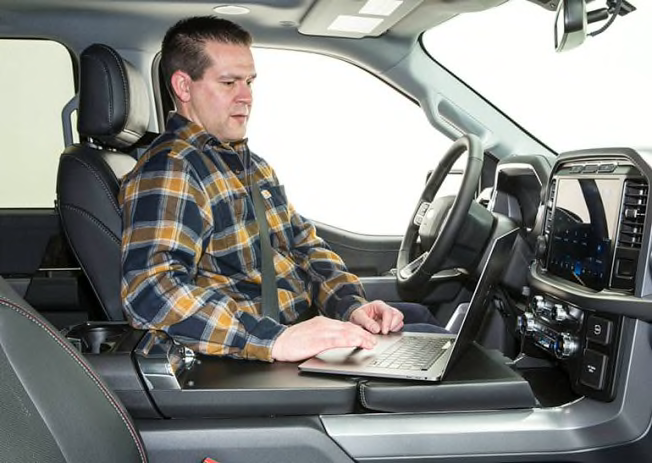 The F-150's reworked cabin has some clever features. The one that stands out the most to us is the available Interior Work Surface, a $165 option, which both of our test trucks have. Here's how it works: When the gear selector is in Park, it can be power-folded down and out of the way into the center console. This allows the center armrest to unfold and create a large, flat work surface between the front seats that can be used for all manner of tasks, including using a large laptop, doing paperwork and signing documents, or eating lunch. We used it for inputting test notes about the F-150 into a laptop, and it worked great.
The Interior Work Surface option is available in both bench and captain's chair seating configurations, from the base XL trim up to the top Limited.
This setup does eliminate the very large storage bin that's usually found underneath the center armrest. We haven't missed that storage capability yet, because the F-150 has generous door pockets and lots of open cubbies, along with two glove boxes.
Power Tailgate Doubles as a Workbench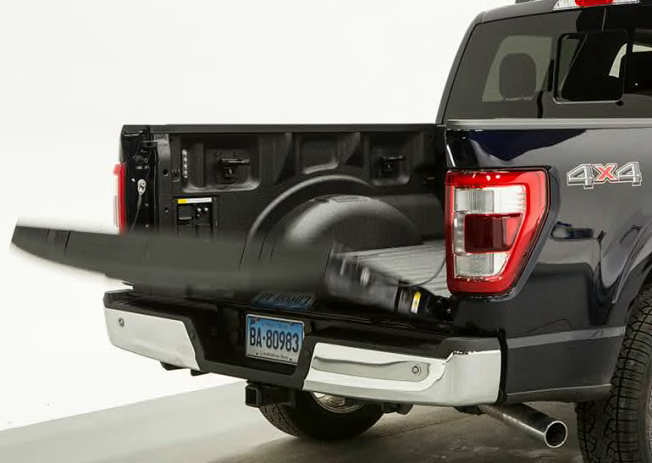 Recognizing that many owners use the tailgate as an impromptu workbench, every F-150 now comes with built-in clamp pockets on the tailgate to hold materials—such as lumber—when making cuts with a saw. Cleats mounted on the sides of the tailgate act as tie-down locations to hold extra-long items in the bed when the tailgate is dropped, a common event thanks to the short, 5 ½-foot bed configuration that most F-150s come with these days. The cleats also do double duty as bottle openers.
An available Tailgate Work Surface includes an integrated 48-inch ruler, and it has niches to prop up a cell phone, hold a cup, and store pencils. An integrated tailgate step and grab handle are also included in the option, which makes it easier to get in and out of the tall bed. Midlevel Lariat and higher trims are available with a power-operated tailgate. We can't even begin to tell you how nice and convenient it is to have a power tailgate that opens and closes via the key fob.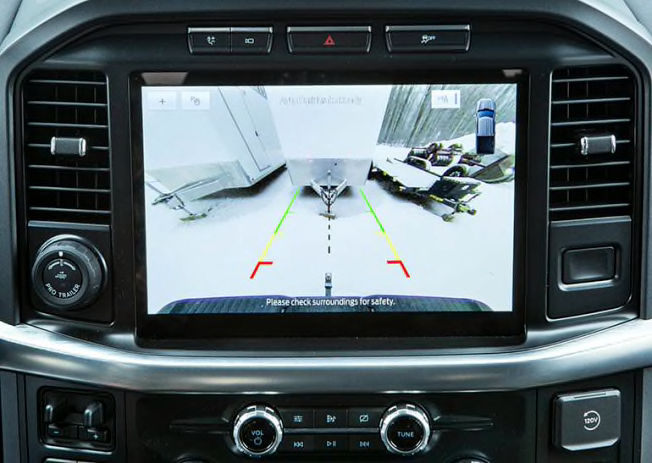 For those who will be towing trailers behind their F-150, the $880 Tow Technology package includes several useful features.
Pro Trailer Backup Assist: A camera tracks the trailer's backward motion while you rotate a knob on the dashboard in the direction you want the trailer to go as the system controls the F-150's steering wheel for you. We've used it, and it's a real boon for trailer-backing novices. Of note, there is an initial setup process to sync the system with your specific trailer.
Trailer Reverse Guidance: This system uses high-resolution cameras to give multiple views of the trailer behind you, which can be very helpful anytime you're backing up your trailer, especially if the space behind is tight or tricky.
Smart Trailer Tow Connector: Gives warnings to the driver about any trailer lights that aren't operating correctly.
Active Safety and Driver Assistance Systems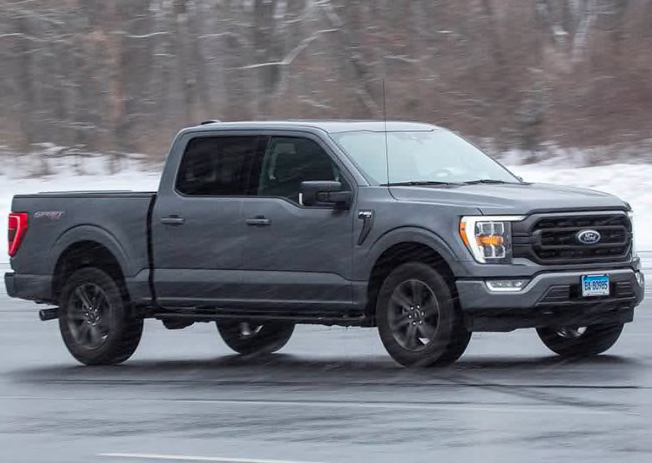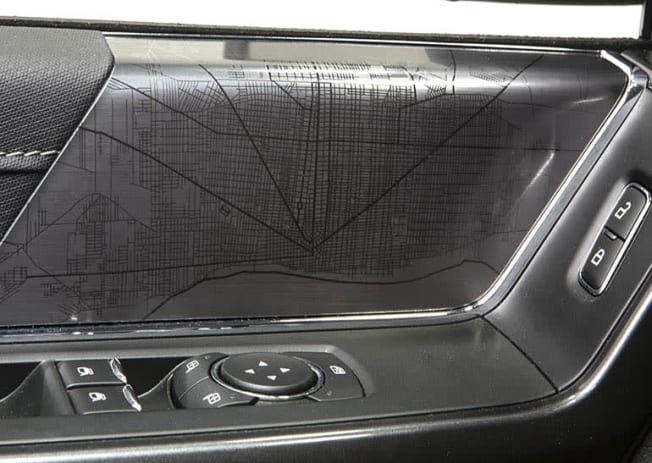 Hop into the new F-150 and you'll notice that Ford did a nicer job with the design and quality of the interior than with last year's model. What isn't as obvious are the hidden treats Ford has sprinkled here and there. For instance, our F-150 XLT test truck has a subtle map of Detroit, Mich., on the upper section of the front door panels, while both our XLT and Lariat Hybrid have American flag emblems on the ends of the dashboard. Are there more hidden treats to be found? Stay tuned.