6 Things We Love About the New 2022 Ford Maverick
This entry-level pickup has appealing features beyond its small size and small price tag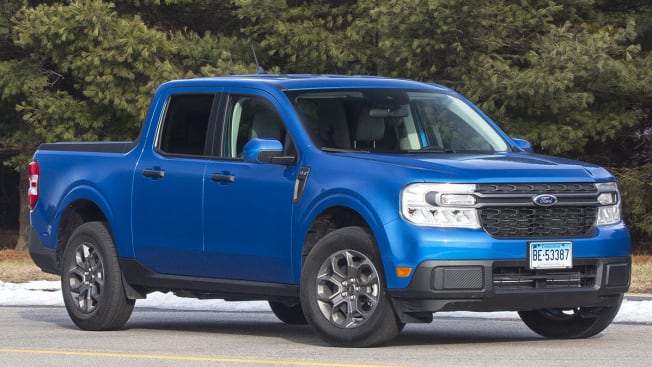 Ford has upended the truck scene with its new Maverick, a small pickup truck that starts at only about $20,000 with a hybrid powertrain. This compelling combination has driven such strong demand that the automaker said it was suspending taking orders this week. The diminutive four-door is positioned below the Ranger and faces another smallish newcomer, the Hyundai Santa Cruz. 
First, let's address the baby elephant in the room. Most versions of the Maverick, including the hybrid, can tow 2,000 pounds—on a par with some small SUVs. But a towing package is available for all-wheel-drive turbo models that doubles its rating to a more mighty 4,000 pounds. While nowhere near that of a full-sized pickup, it should have no trouble pulling a small camping trailer, a jet ski, or a dirt bike. Ford claims that all Mavericks have a payload rating of 1,500 pounds. The sticker in the doorjamb of our truck says 1,447 pounds, varying slightly due to optional equipment.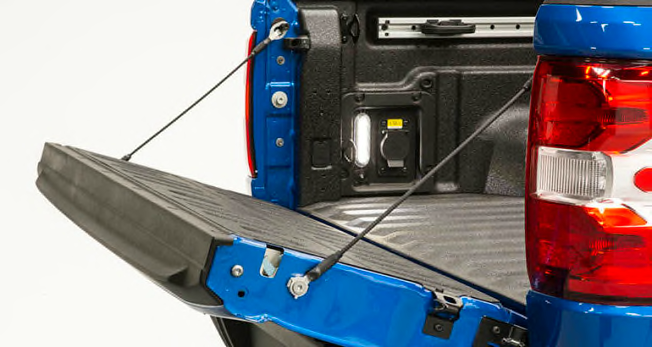 The Maverick's bed measures 4.5 feet in length, which is a foot shorter than the smallest bed available on the F-150. But an attempt was made to extract more usefulness from its dimensions with molded-in pockets designed to fit typical 2x4 and 2x6 boards, enabling the bed to be partitioned in various configurations to suit your storage needs.
The tailgate (shown above) also can be positioned at an upward angle which, in conjunction with the tops of the rear wheel wells and ratchet straps, makes it possible to carry standard 4x8 sheets of plywood.
As with many vehicles, the manufacturer and various aftermarket companies are happy to sell you accessories to personalize your truck. In a twist, Ford is encouraging Maverick owners to create some of these items themselves. 
New owners will discover two QR codes placed on the vehicle–one in the bed and the other underneath the rear seat. Scanning either of them with your smartphone brings you to Ford's website, which gives ideas on how to create your own accessories.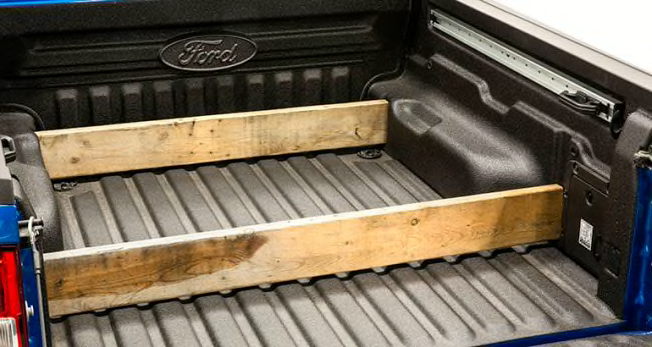 A small wiring harness with an electrical connector is stashed inside the glove box or seatback pocket of each Maverick—not because someone missed a step on the assembly line, but because there are two panels in the bed with a matching plug that together allow direct access to the 12-volt electrical system. This makes wiring your own accessories easier and safer compared with tapping into the system yourself. 
Ford's site gives a few examples, like how to create in-bed LED lighting or wire in a small air compressor using the supplied harness. Other videos on the site show how to build bed side rails and even a bike rack using basic materials and the slots integrated into the bed. We think this is a nice benefit to owners that makes personalization easier and potentially less expensive.
Less noticeable are the various T-shaped slots (shown below) placed in the second row: one on the back of the center console and others underneath the bench seat. These "Fits" slots, as Ford calls them, are intended to provide a mounting point for accessories that owners can design and 3D print themselves. Think of an additional cup holder or small trash can, for example. So far Ford hasn't published the dimensions of the "Fits'' slot but says it will soon.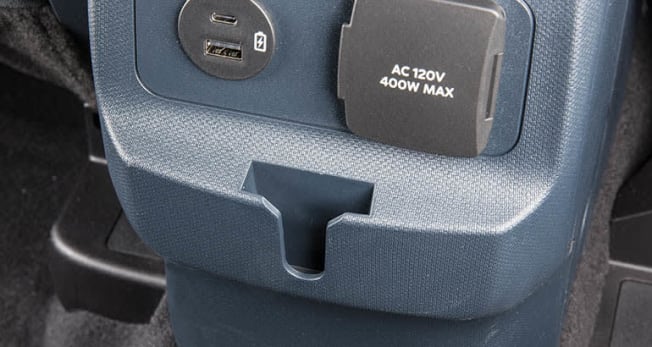 A small footprint does not necessarily translate to a lack of storage. Aside from the bed itself, many of the interior surfaces and voids that may be seen as a design canvas in other vehicles are instead treated as a block from which storage space can be carved.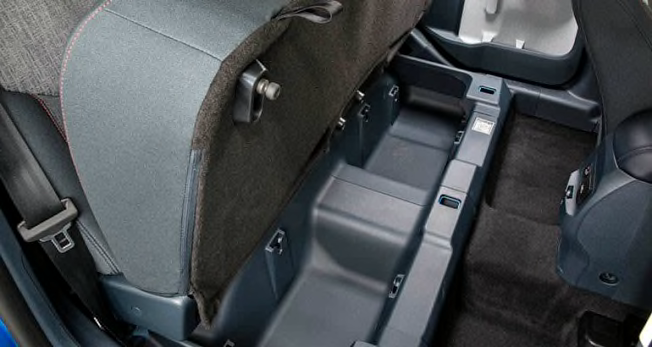 You'd be lucky to fit a large water bottle in the front door pocket of most vehicles. The Maverick doors easily hold a tall 32-ounce bottle and a Thermos with room to spare, and the rear door pocket is almost as big. The center console has a tiered cubby in front of the gear selector that can hold multiple smartphones or other items, and there is even a small tray on top of the dash. We are not sure what we would put in the cutout next to the screen, but with more time its usefulness (or lack thereof) will become clear.
Every Maverick comes standard with a rear bench seat that lifts upward to reveal fairly substantial storage wells underneath (shown above) that could be handy for tools or anything else that you may always want to carry with you. 
Behind a small door on the passenger side of the bed is a small cubby with a removable floor section for taller items. Lariat models get a second compartment on the driver side.
While most of the unique features throughout the Maverick are strictly functional, it is not without some fun touches similar to what can be found on the new Bronco and Bronco Sport. Exposed screw heads around the cabin of the Maverick add to its utilitarian and purposeful feel. Look closely and you will see "FORD" engraved into the top of each one. And tailgaters will rejoice over the integrated bottle openers on the sides of the tailgate (shown below).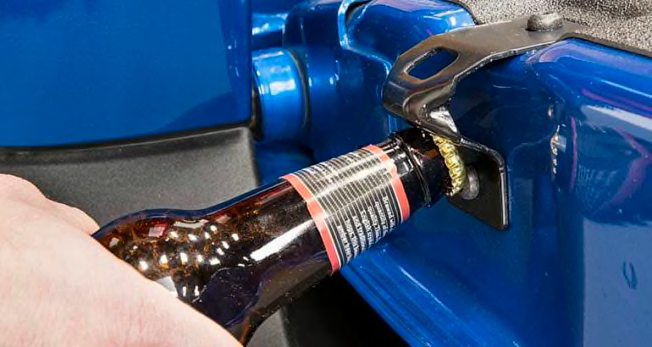 In a time where the average transaction price of a new vehicle has eclipsed $47,000, the Maverick's starting price of about $20,000 is refreshing. But you need to make compromises for that low price. For example, XL and XLT trims come with a traditional key (no push-button start) and the rear window doesn't have a defroster—two options, among others, available on the top Lariat trim. Some seemingly basic features, such as heated side-view mirrors, are not standard on any trim.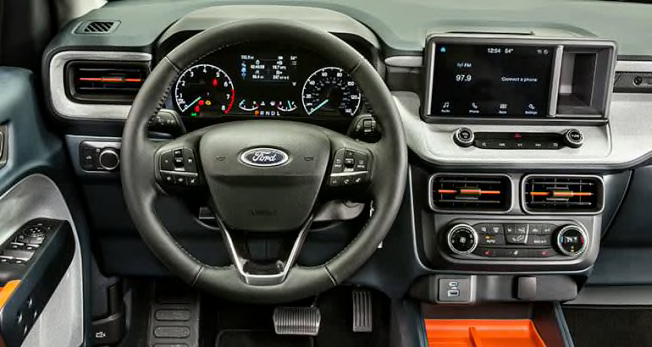 If you're hoping to equip the Maverick with the latest infotainment technology, you may be out of luck entirely. Lariat models use Ford's previous Sync 3 infotainment system, while XL and XLT have a more basic stripped-down version. All Mavericks have Android Auto and Apple CarPlay compatibility, but a wireless option is not possible.
Regardless of which trim you choose, the Maverick has traditional controls with physical buttons and knobs for almost everything, which we like.