When you shop through retailer links on our site, we may earn affiliate commissions. 100% of the fees we collect are used to support our nonprofit mission.
Learn more.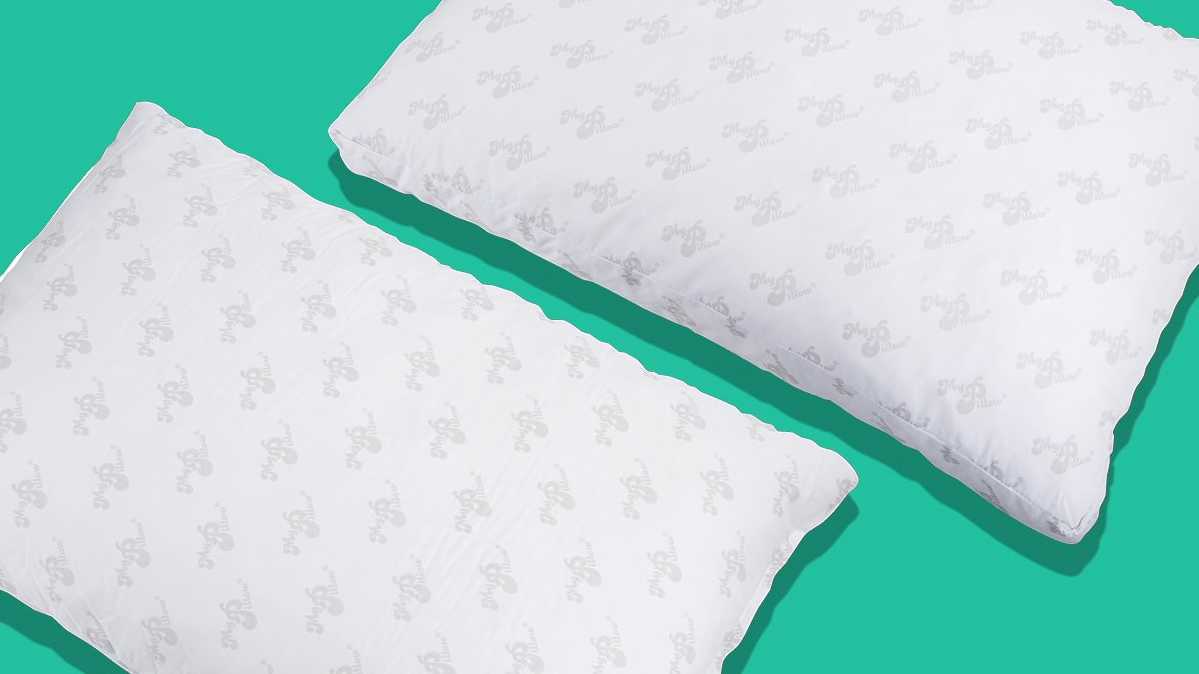 MyPillow pillows are instantly recognizable on store shelves and online. The packaging features a photo of the mustachioed CEO Michael J. Lindell hugging—what else?—a MyPillow. But it can be hard to tell one version of a MyPillow from another.
"On the surface, the Classic and Premium MyPillows might look the same, and they even have similar-sized chunks of foam filling," says Chris Regan, the project leader who oversees Consumer Reports' pillow testing. "But there are small differences that affect their performance in our tests."
The Classic costs $60, while the Premium costs $80. Both offer a 60-day return policy if you buy directly from MyPillow.com. Neither will cure insomnia, sleep apnea, fibromyalgia, or multiple sclerosis—all of which are misleading claims the Federal Trade Commission has fined MyPillow $1 million for advertising.
But which of these widely sold pillows will give you the better night's sleep? Read on for a play-by-play of the MyPillow Classic vs. the MyPillow Premium battle. For more on all the pillows Consumer Reports tests, check out our pillow ratings and buying guide.
Vitals
MyPillow Classic: The Classic comes in standard size and king size. Its exterior is made of cotton, and its interior is filled with chunks of polyurethane foam. MyPillow says this pillow is machine-washable and can go in the dryer.
MyPillow Premium: Like the Classic, the Premium comes in standard and king sizes, and is made with a cotton cover and a filling of polyurethane foam chunks. The Premium appears to have slightly more filling than the Classic. This pillow can be machine-washed and can go into the dryer.
Test by Test
Support: To get a good night's rest, you need a pillow that keeps your head and neck in a neutral position, whether you sleep on your side or your back. In our pillow testing lab, we use a pressure mat to analyze 1,600 pressure points, and note areas where the pillow doesn't offer adequate support.
Both the Classic and the Premium earn top ratings for supporting side sleepers, but the Classic has better-than-average support for back sleepers while the Premium receives only a middling rating. The Classic takes the lead in this round because it's better for more types of sleepers.
Resilience: It's essential that a pillow hold its shape if it's going to do its job. That's why we evaluate how well pillows maintain their loft over time. We place an evenly distributed 225-pound weight on each pillow in a room set to 98.6° F to mimic body heat and 80 percent humidity for 96 hours. Then we measure the height and firmness of each pillow both before we fluff it and after fluffing. The closer a pillow's height and firmness is to what it was before the test, the higher its score for resilience.
This is where the Classic fails: It rates below average in our resilience tests because it doesn't regain its full height. The Premium bounces back more than the Classic does and earns a slightly higher rating. The Premium edges out the Classic here.
Use and preference: In addition to using machines to evaluate pillows in our tests, we ask a panel of human testers to use the pillows and rate them on how they look and feel.

Our testers found that both the Classic and the Premium have a good height, but they remarked that the cotton covering and stitching on both looked downmarket, and they had to adjust the pillows when sleeping on them because the foam chunks sometimes gather in one spot. Still, our testers rate the Premium higher than the Classic overall in this test; it receives a Good rating compared with just a Fair for the Classic. The Premium wins out here.
Breathability: Feeling sweaty at night does not make for good sleep. To see whether a pillow sleeps warm, we use a humidity sensor to gauge how breathable it is—some pillows trap moisture between you and the pillow, making it uncomfortably hot. The more moisture the humidity sensor measures, the worse the pillow's breathability rating.
Perhaps not surprisingly—because these pillows are made of foam chunks that allow air to pass between them—both MyPillows earn an Excellent rating in this test. The airflow allows moisture to dissipate in both pillows. Tie.

The Winner
Although these MyPillows have many similarities, the Premium is the better bet for a good night's sleep. Even though it costs about $20 more (you may find a better deal at online retailers), it holds up better than the Classic, and our testers found it to be more comfortable to sleep on than the Classic.
If you are a back sleeper, however, you may prefer the Classic because it offers better support than the Premium in that position.