When you shop through retailer links on our site, we may earn affiliate commissions. 100% of the fees we collect are used to support our nonprofit mission.
Learn more.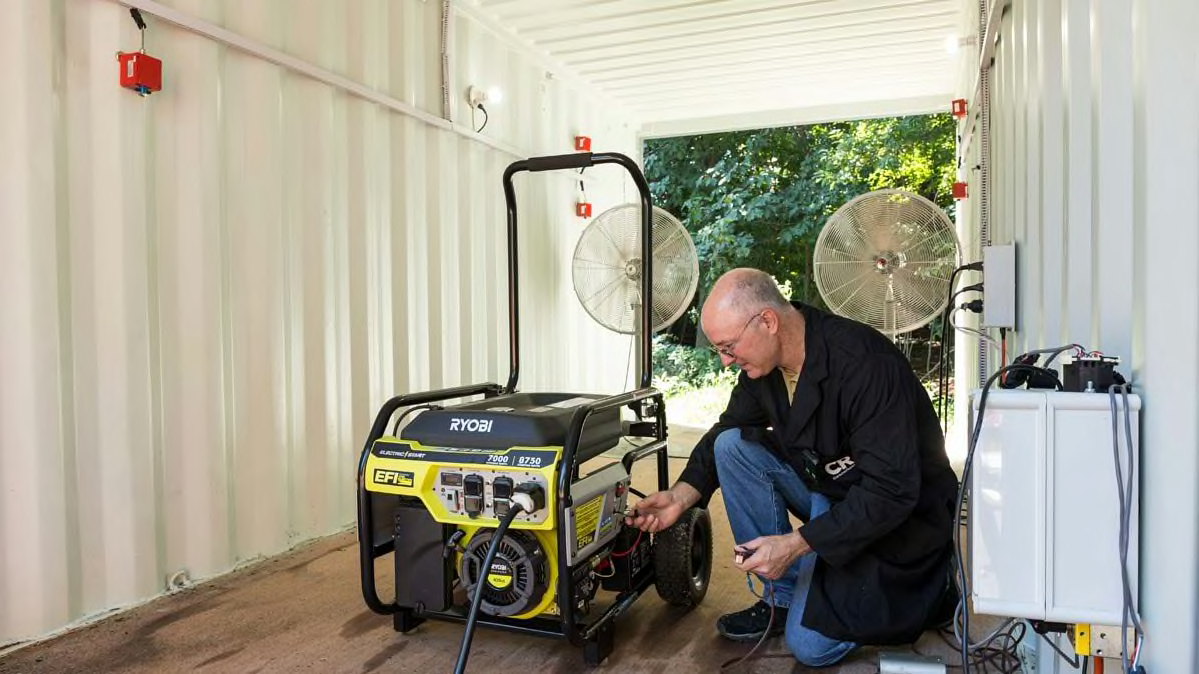 Consumer Reports has revamped its ratings of portable generators to reward models that implement new safety features—and to penalize those that don't. Now, only three of 20 models earn a spot on CR's list of recommended products.
From 2005 to 2017, more than 900 people died of carbon monoxide poisoning while using portable generators, according to the Consumer Product Safety Commission (CPSC), and about 15,400 people were sickened enough to require treatment at an emergency room.
To reduce the risk of carbon monoxide poisoning, some new generators feature a built-in sensor that triggers an automatic shutoff if CO builds up to dangerous levels in an enclosed space, and some also have engines that emit less CO in the first place.
These safety features are likely to save lives, according to recent test data from our labs, and because of that CR will only recommend models with some form of the safety features.
CR's Findings
We recently tested five new portable generators with an automatic shutoff, and all five passed our new CO safety technology test, shutting down before carbon monoxide reached specified limits in an enclosed chamber. Three models also did well enough in our performance tests to earn a CR recommendation: the 7,000-watt Ryobi RY907022F, $1,165; the 8,000-watt DeWalt PMC168000, $1,050; and the 8,000-watt Generac 7675, $1,050. They all have the capacity to power the essentials in a typical home, save for central A/C. CR members with digital access can see the ratings for these three models below.
Two models, from Champion and Craftsman, got a boost to their Overall Score by passing the CO safety test but didn't perform well enough otherwise to earn a CR recommendation.
Twenty models in our ratings that lack the technology saw a drop in their Overall Score, and all 14 previously recommended models lost that status. (For more details, see our portable generators ratings.) CR's CO safety technology test does not apply to home standby generators. These permanently installed machines also produce CO, but they don't pose the same threat because they're usually subject to building codes designed to ensure safe installation.
Portable generators with safety features began appearing in fall 2018. Now there are more than a dozen models on the market, and our experts expect to see many more in the near future.

The generators are all between 4,000 watts and 8,000 watts, and range in price from $600 to $1,150. You might see marketing terms such as "CO Guard," "CO Protect," "CO Detect," "CO Shield," or "CO Sense." The way to verify whether a generator meets one of the two standards is to look for one of these references on the packaging:

• ANSI/UL2201 Certified for Carbon Monoxide Safety.

• ANSI/PGMA G300 Certified Safety & Performance.

CR tests both types the same way.

How CR Tests Portable Generators for Safety
Our new safety technology test is scored pass/fail based on two factors: whether a portable generator has an automatic CO shutoff feature and whether it shuts off in an enclosed space before the gas builds up to levels specified in the applicable standard. (Note that CR tests products for the purpose of comparison, not compliance with any standard.) A model with a shutoff that works passes the test, earning a rating of Excellent; a model without a shutoff fails, earning a rating of Poor—disqualifying it from CR's list of recommended products. And if we were to test a model with an automatic shutoff that didn't work, it, too, would earn a rating of Poor.
In order to conduct tests safely in an enclosed space, we bought a 20x8x8-foot shipping container and hauled it onto the grounds of our headquarters in Yonkers, N.Y. We cut off one end and replaced it with a garage door to allow for various simulations, then outfitted it with laboratory-grade carbon monoxide sensors to record levels of the gas in different sections of the 1,280-cubic-foot enclosure.
"The idea is to capture readings from the entire space," says Dave Trezza, CR's test engineer in charge of the project. "Carbon monoxide is a gas and doesn't build up uniformly throughout."
Trezza and his team ran each of the five new models with various loads to simulate different ways a consumer may use the product. (The higher the load, the more fuel the engine burns, the higher the CO emissions.) They collected data on time, temperature, humidity, and CO levels throughout the test, and monitored for outside factors such as wind and temperature. All five models aced our test—shutting down well before the limits set out in the applicable standards.
Generator Safety Technology at Work
Here's a simulation of CO emissions from two different portable generators building up in an enclosed space. One has an automatic CO shutoff, and one does not.
PPM = Parts per million
By Andy Bergmann
In our testing, although all of the generators shut off well below their maximum threshold for CO, the results reveal differences in how the safety features work, based on which standard a generator meets. There are potentially life-threatening gaps that an automatic shutoff fails to address.
When we ran an experiment simulating someone using a portable generator at the threshold of their garage, with the door open for ventilation but the exhaust directed inward—something people could do without recognizing the hazard—all five generators failed to shut off as levels of CO quickly built up to unsafe levels.
This is a scenario in which a low-CO engine could give a homeowner who makes a mistake a fighting chance. In our experiment, though the automatic shutoff features failed to kick in on any of the generators, the Ryobi, with it's low-CO engine, had notably different results. In this limited trial, carbon monoxide did not reach life-threatening levels.

"This new class of generators represents a big first step, and we want manufacturers to push the technology even further," says Don Huber, CR's director of product safety. "Based on our test results and analysis of death and injury data, we believe it is both feasible and necessary for manufacturers to install safety measures that limit carbon monoxide exposure on all their portable generators."
CR will continue to evaluate models tested to either of the two standards as they come on the market. In the meantime, whichever generator you use, follow this critical safety guidance: Always place it 20 feet away from your home or any other structure, with the exhaust directed away from the structure.