Amazon's Fix for Echo Dot Kids Speaker Works, but It's Frustrating to Use
Parents can now delete info kids provide to Alexa, but it requires patience Amazon has fixed a bug in the privacy settings for its Echo Dot Kids Edition smart speaker that prevented parents from deleting personal information shared by children. But the process is cumbersome, Consumer Reports has found.
A feature called Remember This allows a child to tell the Echo Dot Kids Edition personal information, anything from a dog's name to a phone number. Parents should be able to use the FreeTime feature in the Amazon Alexa app, which controls the speaker, to review and delete any sensitive information.
On Thursday, consumer advocacy groups filed a complaint with the Federal Trade Commission, saying, in part, that the Delete function didn't work, and Consumer Reports confirmed that finding. When we told the Echo Dot Kids Edition to remember personal information, the details immediately appeared in the app. But clicking a Delete button alongside each detail didn't make the Echo forget the information.

Amazon informed us overnight that it had fixed the feature.
To test the solution, we asked Alexa to remember three pieces of information—a fictitious name, a birthdate, and the detail that we had a blue dog. We then asked: "Alexa, what did I ask you to remember?" and the speaker immediately repeated all three items.
Next, we went to the app to delete that information, but the exchange wasn't available at first. We tried refreshing the app, but there was a long delay—as long as 15 minutes—before the app reflected a record of the conversation. To make sure this experience wasn't an outlier, we tried the experiment several times, and rebooted the speaker and the phone running the app.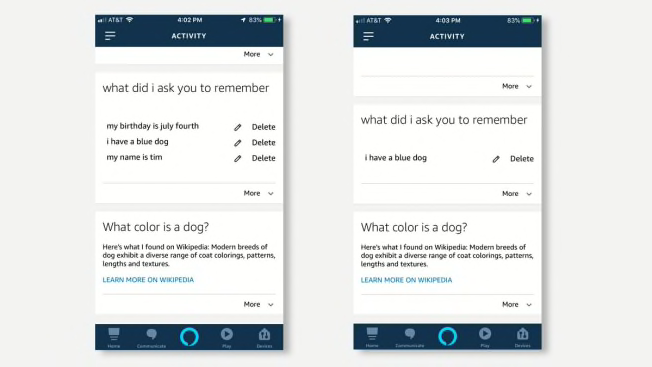 For parents concerned about removing an address or a birthdate inadvertently shared by a child, the delay in having data show up in the app is troubling, Fisco says. It could lead them to give up on the process prematurely, he says, especially given how quickly the device responds to most requests.
Amazon didn't immediately respond to a request for information on why there was a delay and whether it would be addressed.

In their complaint to the FTC, the privacy advocacy groups, which include the Campaign for a Commercial-Free Childhood, the Center for Digital Democracy, Public Citizen, and U.S. PIRG, also claimed that the Amazon Echo Dot Kids Edition didn't require adequate parental consent and that many of the child-oriented skills for the device lacked privacy policies.
A bipartisan group of senators—Ed Markey, D-Mass., Richard Blumenthal, D-Conn., Dick Durbin, D-Ill., and Josh Hawley, R-Mo.—drafted a letter to the FTC urging the agency to investigate Amazon's potential violations of the Children's Online Privacy Protection Act, or COPPA.
Protecting Your Privacy From Smart Speakers
How much is your smart speaker listening to you? On the "Consumer 101" TV show, Consumer Reports expert Bree Fowler explains to host Jack Rico how you can protect your digital privacy.